4 spring island tours with 500 USD
Visitors can spend 2-3 days playing and relaxing in warm waters such as Phu Yen, Phu Quoc, Con Dao.
For a warm spring trip at the beginning of the year, you should try to the Central and Southern seas. Below are suggested itineraries within a budget of 10 million VND, for the number of people and the number of days vary by destination.
Da Nang – Hoi An
The weather at the beginning of the year in these two localities is cool and can travel to the sea. Tourists should spend a day in Cu Lao Cham , go to a deserted island to swim, dive and watch coral, visit a hundred-year-old pagoda, drink water from ancient Cham wells, enjoy seafood. 
The tour to visit Cu Lao Cham during the day usually ends before 17:00. After that, visitors can roam Hoi An ancient town until evening, near and after Tet, the old town is brightly decorated. In addition, An Bang beach in Hoi An is also a beautiful and quiet beach for guests to relax and eat if they do not want to go to the island.
In Da Nang, visitors often pray at the beginning of the year at Linh Ung Pagoda in Son Tra Peninsula, Ngu Hanh Mountain, Bai But. Con Market is a gathering place for many local specialties serving tourists from early morning to 18:00.
Round-trip airfare to Da Nang on average 1.5 – 4 million VND from Hanoi, Hai Phong, Vinh, Nha Trang, Buon Me Thuot, Pleiku, Da Lat, Ho Chi Minh City, Can Tho, Phu Quoc. Hotels and homestays in Da Nang as well as Hoi An cost an average of 300,000 VND to 3 million VND per night. 
Tour price of Cu Lao Cham is approximately 500,000 VND / person. Including food costs, a budget of 10 million can be spent for 2-4 people on a 2-3 day trip , if not to Ba Na Hills (adult ticket 1,030,000 VND, child 700,000 VND).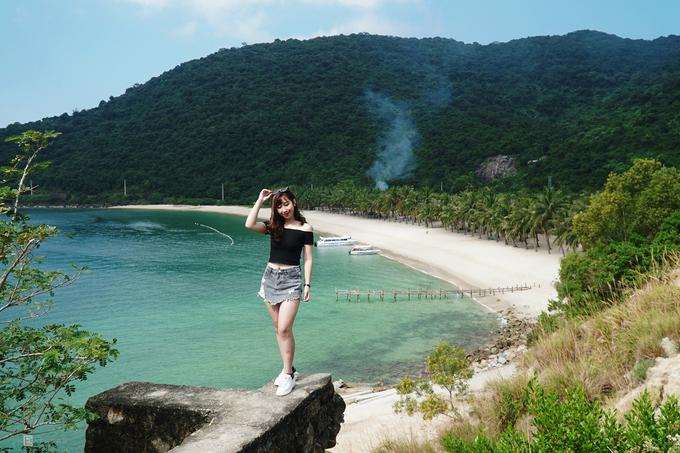 Cu Lao Cham has not strong sunlight, clear blue sea water from February to April. Photo: Phong Vinh
Phu Yen
Phu Yen travel time is ideal from January to August, dry season and blue sea. Most of the beautiful beaches are located along the mainland, easily accessible by motorbike and car.
Sea tourism is divided into two directions. On the first day, visitors should experience Hon Yen, Ganh Da Dia, Ganh Den, O Loan lagoon, Mang Lang church, Ong Cop wooden bridge. 
The second day for the lighthouse of Mui Dien, Bai Mon, Bai Xep "yellow flowers with green grass" is the attraction for many guests to check-in when coming to Phu Yen. If you have time, you can go further to Vuc Hom waterfall, Nhan Tower, Chop Chai mountain.
Phu Yen has many delicious specialties in Tuy Hoa city. Visitors should not miss the chives soup, tuna, chicken rice, banh xeo, banh beo, cockles and O Loan apricot fish …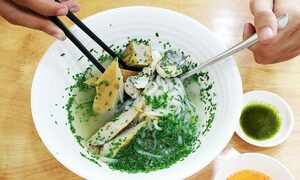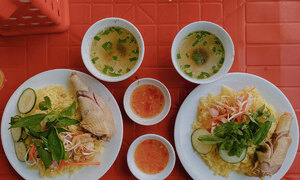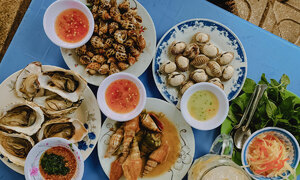 Round trip ticket price from Hanoi, Ho Chi Minh City to Tuy Hoa airport is about 1.5 – 3 million VND. The price of accommodation in Tuy Hoa city is about 250,000 VND to 3 million VND. Eating and drinking in Phu Yen is not too expensive, each guest usually spends an average of 1 million VND in three days. Groups of 3 – 4 people can have fun in Phu Yen for 10 million VND .
Phu Quoc
November to April is the ideal time for tourists to explore the pearl island because the sea is calm, less rainfall, warm weather suitable for spring break. This time you should not miss watching the sunset, sitting the longest sea-crossing cable car in the world – these experiences are suitable for all ages.
Tourists arrange a day to experience 4-island tour to Hon Thom, Hon May Rut, Hon Gam Gh, Hon Mong Tay for swimming, fishing, diving to watch coral, walking on the seabed. You can go to Hon Thom by cable car and then tour from here, or go from the big island of Phu Quoc.
The remaining time is spent on attractions and resorts on the big island. From 16:00, you can go to bars, cafes, beaches in the south of the island, or from coastal accommodation to watch the sunset "specialty". In addition, the island city also attracts visitors to the semi-wild zoo where "animals are locked up", "starfish kingdom" in the fishing village of Rach Vem, night market, pepper gardens, craft fish sauce workshop. , prison monuments, Dinh Ba and Dinh Cau.
A round-trip ticket to Phu Quoc is about 1-4 million VND, with direct flights from Hanoi, Hai Phong, Ho Chi Minh City, and Can Tho. Staying at homestays, hotels from 500,000 VND to 5 million VND, resorts up to 14 million VND per night. Tour price for playing sea, diving and watching coral is from 650,000 VND to 1.2 million VND / person.
 Two-way cable car tickets cost 350,000 VND / adult, 250,000 VND / child. With these prices, 10 million can be used for a trip of two adults or an extra child for 2-3 days .Video Player is loading.DừngPresent 0:04/Time 2:31Loaded : 0%Progress : 0%Bỏ tắt tiếngFull screen
6 must-try experiences in Phu Quoc. Video: Spirituality
Con Dao
From October to March, Con Dao is dry. It is also the monsoon season, causing great waves in the waters of Con Son Bay. However, visitors can change the direction to visit the west and southwest waters of the island, as the sea is still calm and does not rain. This is also the season of colorful confetti blooming on many routes in the island, attracting tourists' lenses.
In it, visitors should take a day to swim at Dam Trau beach, Ong Dung beach, join a diving tour to see coral in Hon Tre Nho, Hon Tre Lon, or trek through the primeval forest Ong Dung, climb to the top of the mountain The Cross watching Con Dao from above.
Con Dao Museum, prison ruins, island lord mansion, Hang Duong cemetery, Hang Keo cemetery, temple of Mrs. Phi Yen, Nui Mot pagoda, Con Dao market are all-year-round places to visit, are not affected by weather. Destinations are not far apart, you can explore during the day.
10 million dong could be enough for a two-person trip for three days . In particular, each round-trip flight ticket to Con Dao ranges from 3 – 6 million VND, with direct flights from Hanoi, Hai Phong, Vinh, Ho Chi Minh City, Can Tho. The cost of staying in hotels, resorts in the center of the island is from 300,000 VND to more than 10 million VND, depending on the needs of tourists. Snorkeling tours cost an average of 650,000 VND per person.
vnexpress
TAG: