Red winter peaches, tens of millions of gold buffalo playing Tet
This year, many people like to choose expensive imported flowers such as reddish peach, American apricot blossom or golden buffalo statue … up to tens of million dong to play Tet.
Spend tens of millions to buy foreign flower vase
As noted by the reporter, these days, the Tet flower market is in full swing. This year, there are many expensive imported flowers chosen by many consumers.
The shopkeeper at the Liti Florist flower shop (Hue Street, Hanoi) said that to serve the needs of customers during the New Year, the store imported a variety of exotic flowers such as reddish peach, American apricot, flower Japanese cherries …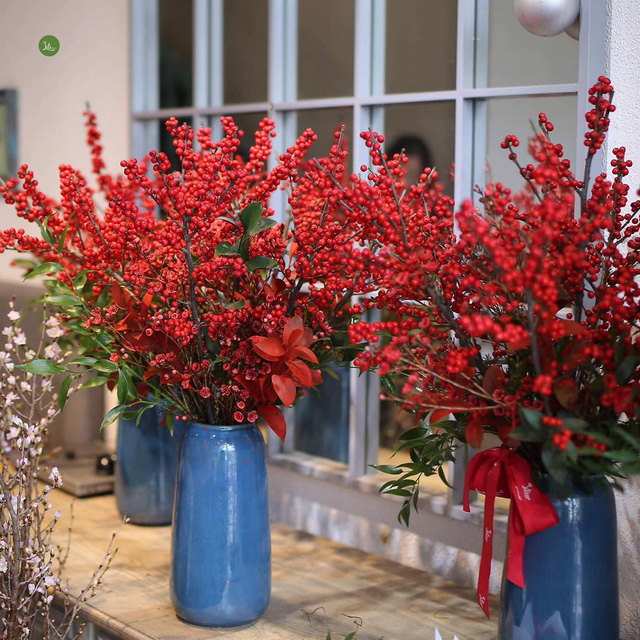 Dutch red-winter peach blossoms are popular with many people ..
Currently, this shop is selling Dutch reddish peaches with prices from 450,000 – 780,000 VND / branch, depending on size. According to this employee, to have a beautiful and eye-catching winter peach vase, each vase must have from 5 to 10 branches, so when buying, customers have to spend at least about 3-6 million VND for a jar. Because of the high price, customers who choose winter red peaches are often VIPs who buy them to play or as gifts.
The price for each vase like this is about a few million to several tens of million dong
"Currently, if you want to buy reddish peaches, you must order in advance. It takes 1-2 weeks for the shop to have flowers. Now many customers have ordered, the highest is 30-40 million VND / vase, the lowest is 5. – 7 million VND / bottle ", this employee said.
In addition to reddish-winter peaches, other types of foreign flowers are also hunted by many people such as Japanese cherry blossoms for 400,000 VND / branch, snow plums for 200,000 VND / branch, snow apricot for 180,000 VND / branch …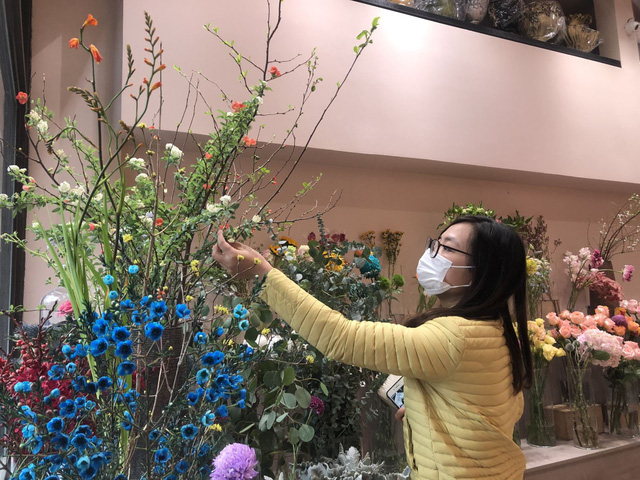 Customers watch Japanese cherry blossoms at a flower shop on Hue Street (Hanoi).
"Fever" gilded buffalo statue
In recent years, the trend of displaying, giving and giving feng shui items symbolizing the year has become popular because many people believe that this gift will bring luck and prosperity to the homeowner. To prepare for the Lunar New Year of Tan Suu 2021, many businesses have launched gilded buffalo products to the market.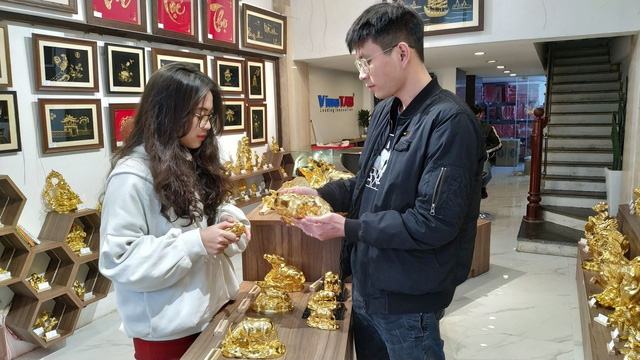 Customers see the golden buffalo statue at the store.
According to reporters' surveys, the price of gilded buffalo statues ranges from 3 to 65 million VND depending on the size. Mr. Hoang Minh Huy, owner of a gift business on Xa Dan street (Hanoi), said, grasping the needs of customers, the company launched a set of golden buffalo products including 4 types: An Lac, Nghe Phuc, Kim Nguu Vuong, Kim Nguu Dai Bao with many different sizes from 11 cm to 45 cm, priced from 4 million to 65 million. In which, Nghenh Phuc gold buffalo model is the best-selling this year; The statue is cast in monolithic gold and plated with 24K gold. Along with that, the giant buffalo statue Kim Nguu Dai Bao is cast in monolithic copper, the surface is 24K gold plated with 45 cm length and costs 65 million VND.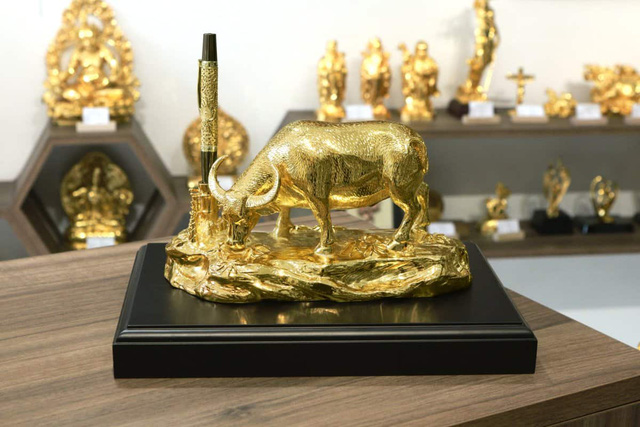 An Lac golden buffalo statue, priced at 4-18 million VND.
According to the production facilities, it takes up to 4 months to produce a new model of buffalo through 6 stages: Idea, 3D design, 3D printing, molding, copper casting, gold plating. With products in the high-end segment, customers are mainly companies, businesses or individuals wishing to give gifts to partners, politicians at home and abroad.
"Up to this point, we have sold more than 200 statues and are preparing to deliver more than 300 gilded buffalo statues according to the order. Last year the company also launched the gilded mouse statue, but the purchasing power year. This is higher than last year, customers prefer larger models of buffalo with a budget of 25-65 million VND ", said Mr. Hoang Minh Huy.
Theo Thu Trang/Bao Tin tuc
TAG: