List of famous homestay Tuyen Quang
The rich land Tuyen Quang is known for many famous tourist destinations. Because this place has made a special mark on the hearts of visitors. Therefore, every year the number of tourists coming here is very large. The list of homestay Tuyen Quang below will help you easily choose your place to stay when traveling to the Northwestern mountains.
These places of stay are all ideal places for you to choose as a place to rest and relax for your trip. 
1. Find out about the development of homestay open service Tuyen Quang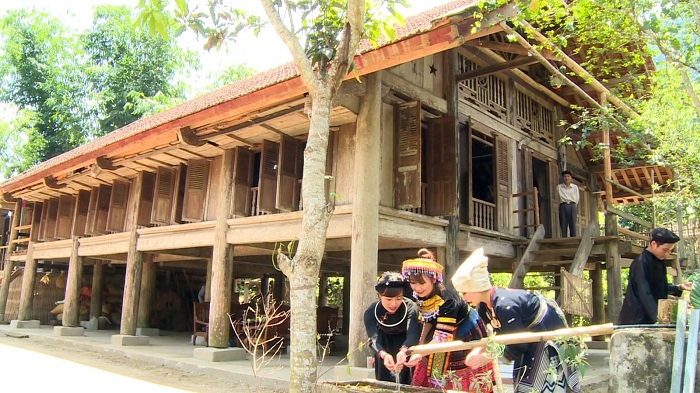 Homestay is a very developing service in Tuyen Quang
Currently, homestay is a very developed type of tourism service. Tuyen Quang has focused on this issue and expanded investment in some districts such as Lam Binh, Na Hang or Yen Son, Son Duong … These are all places that attract a lot of tourists to visit, discover. Therefore, building homestays in these locations is very reasonable. It will be the premise to promote the Tuyen Quang tourism industry to develop more and more.
The special feature of this mountainous province is that there are many ethnic groups living together in the area. Therefore, the traditional culture of this place is very diverse and rich. This has created a great attraction for tourists. Tourists come here because they want to discover the unique culture of the ethnic groups here. Because in addition to the beautiful and attractive scenery, the experience of culture and life is also what makes visitors feel excited when traveling here. 
Coming to this land of cultural beauty, you will join the people in their daily activities. Eat together, live together and work together. This will really be an enjoyable experience for you when traveling here.
2. List of famous homestay Tuyen Quang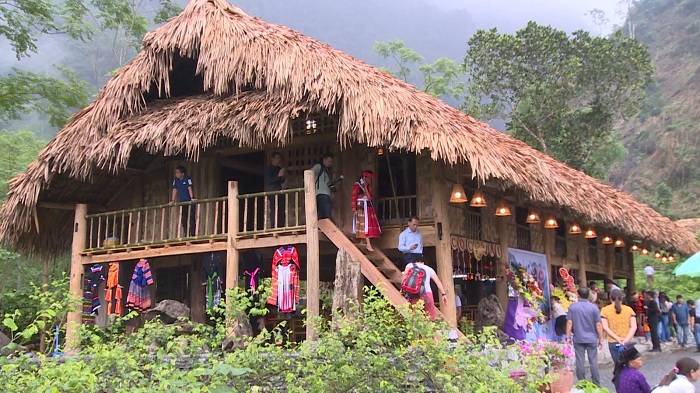 Tuyen Quang has many famous homestays that are known to many people
Homestay service in Tuyen Quang is very developed. Therefore, there are many places to stay for you to choose from. Among them, the most famous are some names such as homestay Ban Bon, Lam Binh, Green Vietnam … These are all very attractive accommodation. Let's find out about these homestays with luhanhvietnam! Surely these stops will make you feel satisfied when choosing.
Homestay Ban Bon Tuyen Quang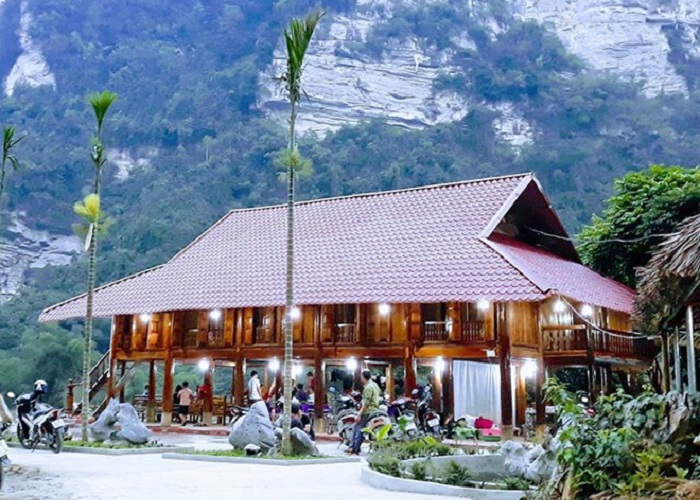 Ban Bon is one of the homestay with extremely attractive beauty of Tuyen Quang
This is the most famous homestay Tuyen Quang today. Located in Phuc Yen commune of Lam Binh district, Ban Bon is a destination with a special attraction for tourists. Therefore, the construction of a homestay here to serve the accommodation needs of tourists is essential. In particular, what keeps visitors coming here to rest is the rustic scenery with simple wooden houses on stilts made with rustic palm leaves. Recently, with the support and investment of the Five-Star Trade and Tourism Company, the Ban Bon homestay has built a new sanitation facility for 4 households who are doing homestay services in this village. This makes the resort service here more attractive because it has been invested in accordance with the wishes of visitors for a comfortable, clean and beautiful place to be close to nature.
Homestay Lam Binh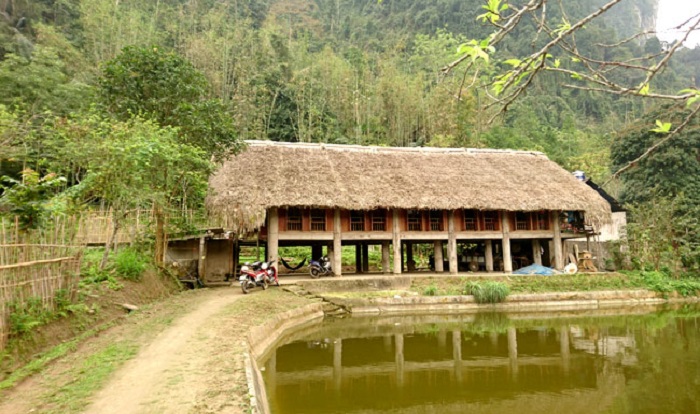 Lam Binh is one of the districts investing in developing a strong homestay accommodation
Among the districts of Tuyen Quang, Lam Binh is the land that possesses the most tourism potential. Because this land has many beautiful landscapes for tourists to visit. In this district, people have focused on developing and building into a group of famous homestay.
When traveling to Lam Binh, you will be able to visit a lot of attractive sights of this place. Especially the cultural beauty of the ethnic minorities here will make you feel excited and want to learn immediately. Thanks to these activities, the lives of people in Lam Binh have been reduced in poverty.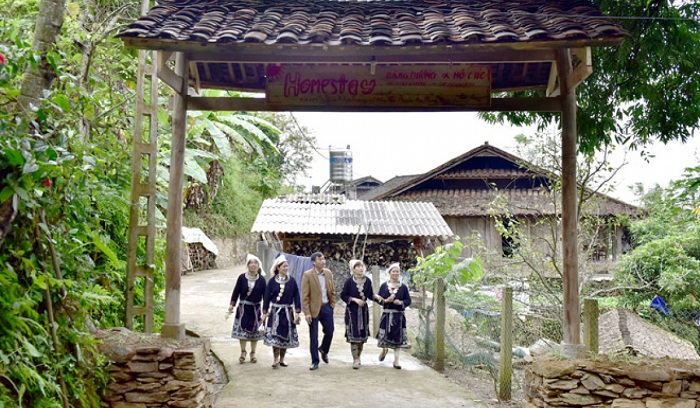 Although not too luxurious, the homestays here have a great attraction for visitors
Although the homestay here is not too lavish as in other places, in return homestay Tuyen Quang is designed very comfortably. The houses are simple but very airy and always create a pleasant feeling for those who come to rest. Here, you will learn firsthand about the lives of the ethnic minorities here. Not only domestic tourists but also international visitors to Lam Binh homestay resort.
Especially, when you rest here, you will be able to eat the delicious dishes of the people here. Although it is not a delicacy, the dishes in Lam Binh are very delicious and delicious. When enjoying, you will feel very impressed because these are all refined dishes of the people here.
In addition, around these homestays, there are many beautiful scenes for you to explore. The mountain scenery of wild natural forests will make you feel more at ease. 
Green Vietnam homestay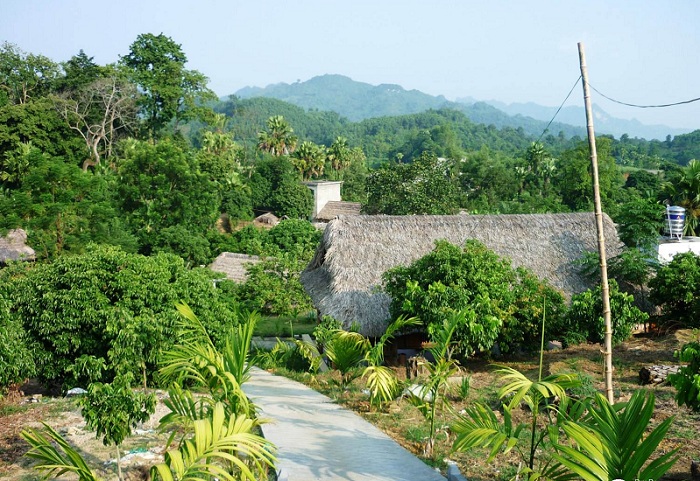 Green Vietnam homestay is always filled with fresh green
This is a place of stay that is loved by many tourists when traveling to Tuyen Quang. This place has rooms designed in the form of open space, so you will experience a life close to nature. This is most interesting when you live in a noisy and crowded place, you will feel very excited to live in a peaceful, quiet space and breathe the fresh air of this place.
The homestay around this Tuyen Quang Green Vietnam is surrounded by mountains and rivers, so you will be spoiled for fun and explore nature. In addition to providing ideal accommodation, Green also serves a variety of delicious Vietnamese dishes. It can accommodate about 200 guests. In particular, you can swipe the card when you want to pay, so it will be easy for guests to come here to rest without having to pay in cash.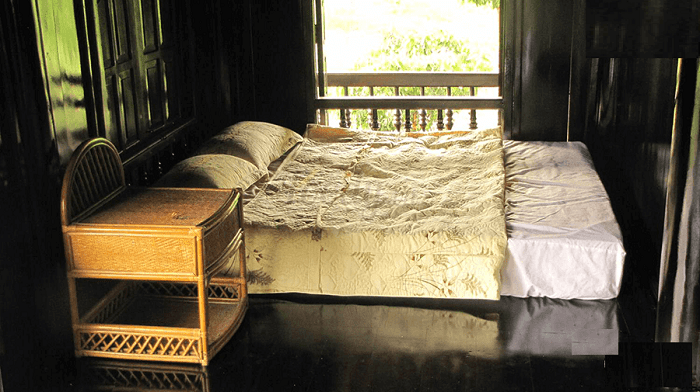 The rest room design is very clean and tidy
Green Viet's address is actually a place for those who want to live in a green environment filled with mountains, rivers and streams. Those who want to live and enjoy a life completely separate from the noisy and bustling world of the outside. 
The room rate here ranges from 500,000 VND to 1,000,000 VND. The rooms are fully equipped and have wifi to serve visitors to surf the web. 
In addition to the above homestay Tuyen Quang , there are many other cheap homestays such as homestay Hoang Tuan, Pham Xuan Truong, Hoang Lau or Le Chien Thang, Quan Van Suu …. are all places to rest and rest. Ideal for you to choose from. Depending on where you plan to travel to Tuyen Quang, you will have a suitable place of residence.
TAG: