Discover the beauty of the Tien Tuyen Quang cave
Dubbed Phong Nha Ke Bang of the Northwestern mountainous region, Tien Tuyen Quang cave is considered a famous tourist destination known by many people. 
1. Introduction to Tien Tuyen Quang Cave
Dong Tien is one of the most prominent scenic spots of Tuyen Quang province. This cave complex is located in Thong Nhat village, Yen Phu commune, Ham Yen district.
This place is only about 55km from the city center, so moving and traveling are not too difficult. You just need to go along Highway 2 in the north to reach Tien cave complex.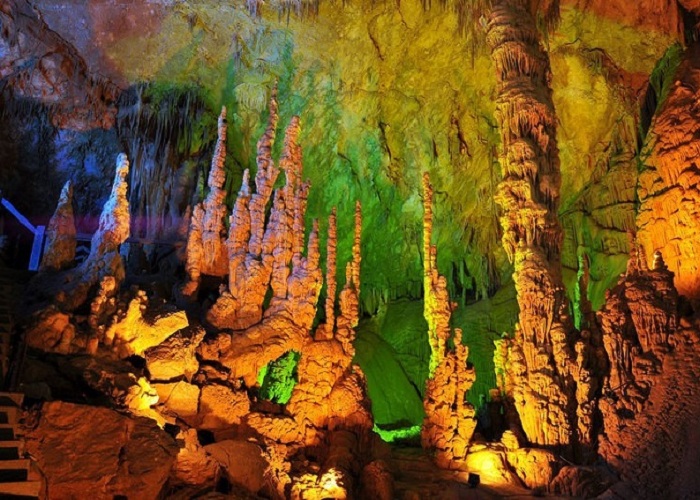 Tien Son Cave is a very beautiful and famous landscape of Tuyen Quang
This complex includes seven different caves that are: Tien cave, Dan Da cave, Thien Dinh cave, Thien Cung cave, Thach Sanh cave, Tam Cung cave, Am Phu cave. All of these caves are arranged in an arc forming a very beautiful and unique landscape complex.
Around this cave area is very peaceful and quiet
Among them, Tien Tuyen Quang cave is the most beautiful cave. This cave belongs to three mountainous regions of Chau Quy, Bach Ma and Ly mountain of Yen Phu commune. This place is associated with many old stories. Therefore, when you come here to visit and travel, in addition to sightseeing, you will hear a lot of thrilling stories around this enchanting Tien cave landscape.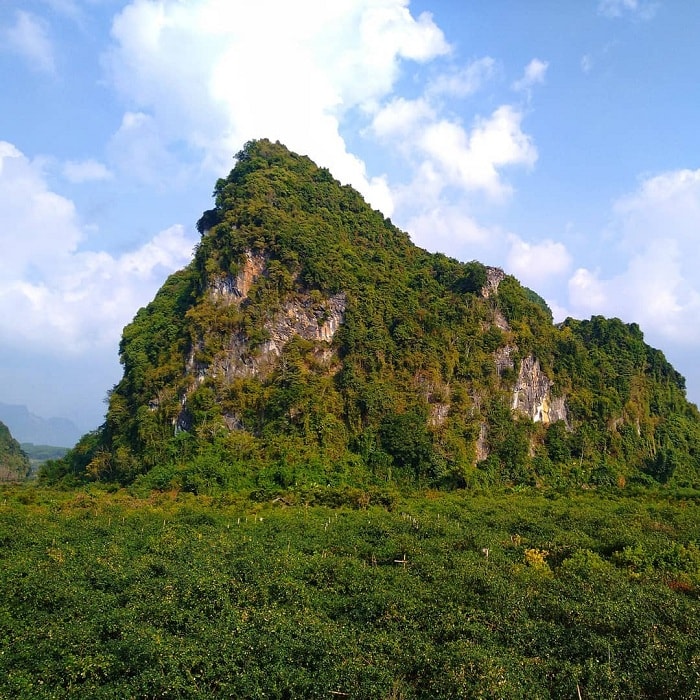 Photo: @luxuryofrunway
2. Legend of Tien Cave in Tuyen Quang
The old story recounts that the moon is located very close to the earth, the full moon shines brightly everywhere. Suddenly one day, fragments of the moon broke off and fell into the sky. At that time there was a handsome young man with extraordinary strength carrying stones to mend the moon. When carrying a stone, the young man left a rock that was Ly mountain. The next time he carried the rock, he was broken because the beam was broken, so he threw another stone out and formed Chan Quy mountain.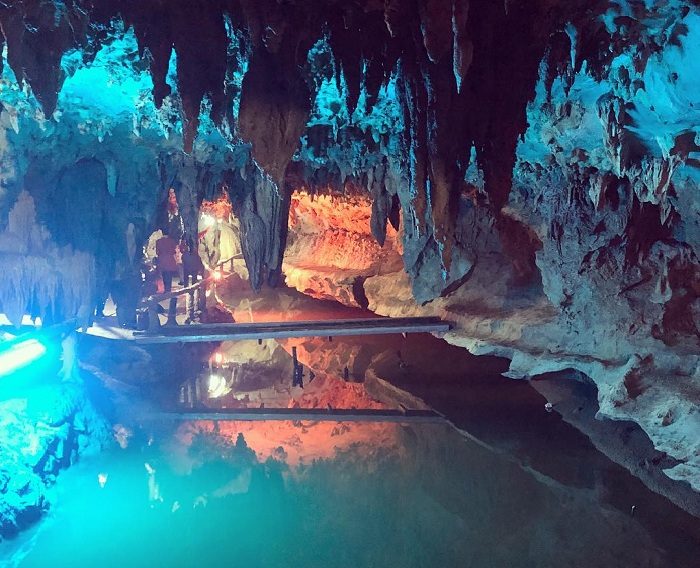 This cave is associated with a thrilling story from ancient times
While carrying rock and moon, he saw a fairy running by a horse, so he asked to help patch the moon. Both tried together but because the crate was too much, the horse sank into the stream. Both the man and the horse turned to stone shortly thereafter. Since then, Bach Ma island appeared. It is this thrilling story that makes the caves of the Tien cave complex even more mysterious and attractive to visitors.
3. The beauty of Tien Cave 
When coming to Tien cave to visit and travel, visitors will be surprised by the beauty of this place so attractive and magical. It is the wilderness and greatness that nature has bestowed on this Ham Yen land that has helped this place become more and more attractive to domestic and foreign tourists. Among them, Tien Cave in Tuyen Quang is the most attractive tourist attraction today.
Here, you will see stone steps stacked up to create a path, just keep turning right, you will see stone gates with all different shapes. This is a stone gate that was crystallized thousands of years ago. Therefore, it is not wrong to say that the stone gate area belonging to Tien Tuyen Quang cave is the manifestation of nature of nature.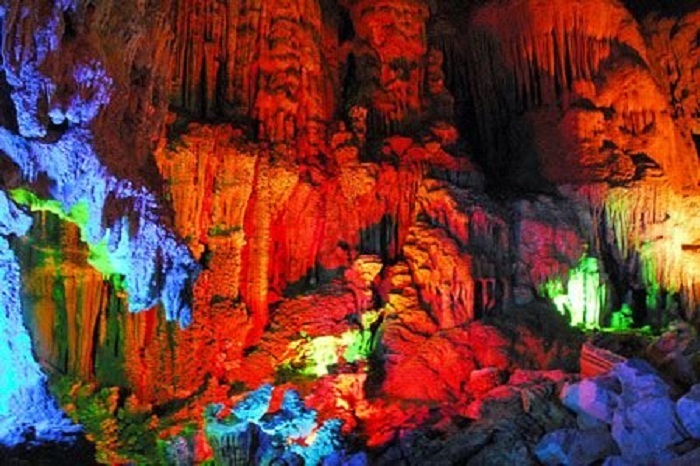 Dong Tien possesses wonderful beauty that not everywhere
During the festival season, when visitors visit, everyone must admire the beauty of this 1-0-2 masterpiece. In addition, when coming to Tien cave to explore, you will admire and explore a large area of ​​Yen Phu commune.
The feeling of being able to breathe fresh air and receive cool breeze swaying is wonderful. It helps your soul more relaxed and more serene and gentle. Therefore, Tien Cave is one of the magical tourist destinations of Tuyen Quang that you should visit when you have the opportunity.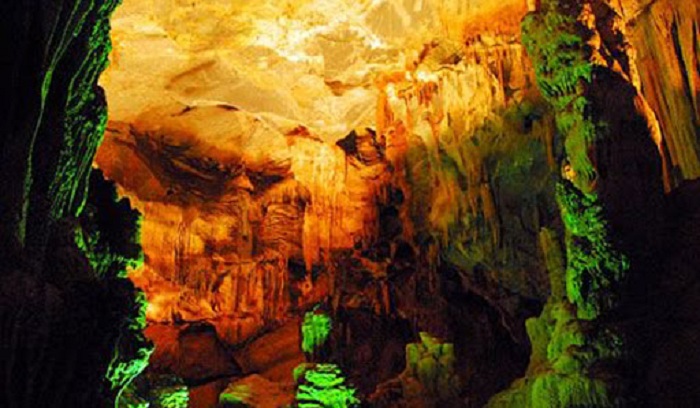 The beauty of Tien Cave is shimmering and fanciful
Visitors entering the cave entrance area will be able to see firsthand a sparkling and magical world that nature has bestowed on Tien Cave. It is difficult to have a place like this. 
Over time, under the erosion of the wind of water, these stalactites have transformed into many different forms. Therefore, you will admire a lot of earthly images when visiting this unique landmark.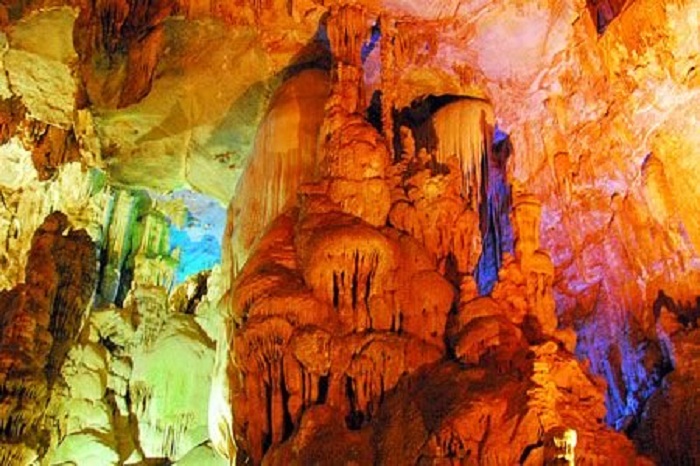 This unique cave will bring visitors a lot of new and impressive things
Which is the image of Tien Ong sitting thoughtfully, or the picture of a father, crocodile, dinosaur and many different animals and animals are all gathered here. In particular, on the high and wide rock arch, there is also a picture of a Linh Dieu with spread out wings stealing a young girl flying into the cave entrance area. This image reminds us of the old Thach Sanh story.
Next, when you go deep inside Tien Tuyen Quang cave , you will see a stone pillar against the sky with very shimmering and fanciful colors. Behind this pillar area are blocks of marble in the shape of a woman standing in a semicircle. This is the image of a pregnant mother.

The scene inside the cave is so fanciful
The deep path winding down the cliffs will lead you to the huge cave entrance. Here, you will be able to breathe the cool air and see the vast natural scenery with the blue mountains, the spots on which are the red banana flowers or the blue stretches. . Along with that is the image of a rustic and peaceful village. All of them have contributed to creating an unusually rich and attractive natural picture of Tien.
4. Festival held in Dong Tien
Every year on the 8th and 9th of the first lunar month, the festival is held again at Tien Tuyen Quang Cave with the aim of promoting the image of people, the land and the traditional cultural identity of the people here. . This is considered the biggest Tuyen Quang festival of the year that many awaits. 
This part of the festival will consist of two parts, which are the ceremony with Dinh rituals, incense offerings and the procession from Tien cave to the foot of the mountain. After that, it will carry out the distribution of fortune for people and visitors to participate.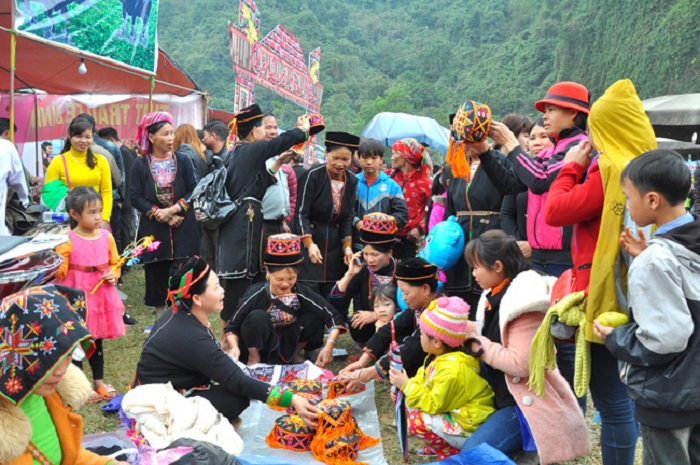 The festival at Dong Tien includes many unique activities
Every year, on the day of Tien Cave Festival, the number of tourists coming here is very dynamic. Because in addition to admiring the scenery and enjoying the scenery, you can also participate in many attractive sports here. Some sports games or folk games will be played at the Tien cave festival such as tug of war, stilts, blindfolded duck or pole climbing, kicking the ball around or playing volleyball, tossing …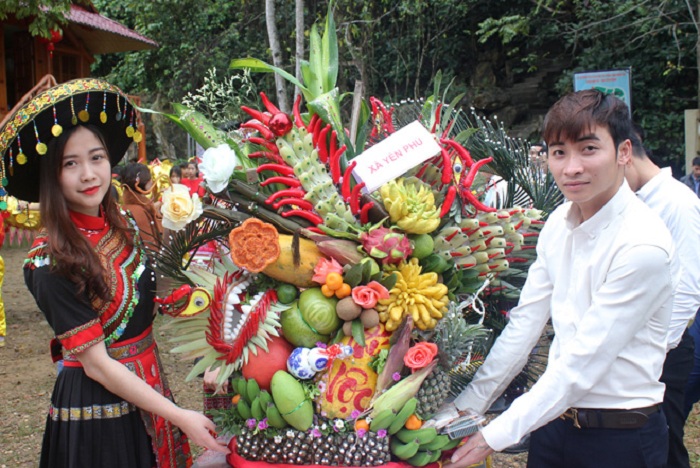 Coming to Tien Cave during the festive season, visitors will experience and participate in many different interesting activities
In addition, at the Fairy Cave festival, visitors can also participate in many activities held at the Country Fair. Here, you will enjoy many famous products of the Ham Yen land such as stream duck, connoisseur oranges, pickled pork or wild honey, horns … All these attractive products are very suitable for you to buy as a gift for your friends and relatives.
Therefore, visiting Tien Tuyen Quang cave at the beginning of the year will be a great suggestion for your spring travel activities. Have a very happy trip to Tuyen Quang.
Photo: Internet
TAG: