Let's go back to the cool green areas in Son Tho Hue lake
Ho Son Tho Hue, surrounded by green meadows, creating a romantic and cool scene, has quickly become a picnic spot, attracting many tourists to have a new travel experience in Hue.
Hue is very famous for many historical relics, tombs and ancient architectural works such as Dai Noi – Hue Citadel, An Dinh Palace, Thien Mu Pagoda. This land of peaceful Huong River is also known for its poetic landscape and endowed with many famous landscapes throughout the country such as Lap An lagoon, Ru Cha mangrove forest , Thuan An beach ,. .. Recently in the list of attractive destinations in Hue, there is the presence of Son Tho lake and creates a very popular picnic trend here. Along LuhanhVietNam explore romantic places them!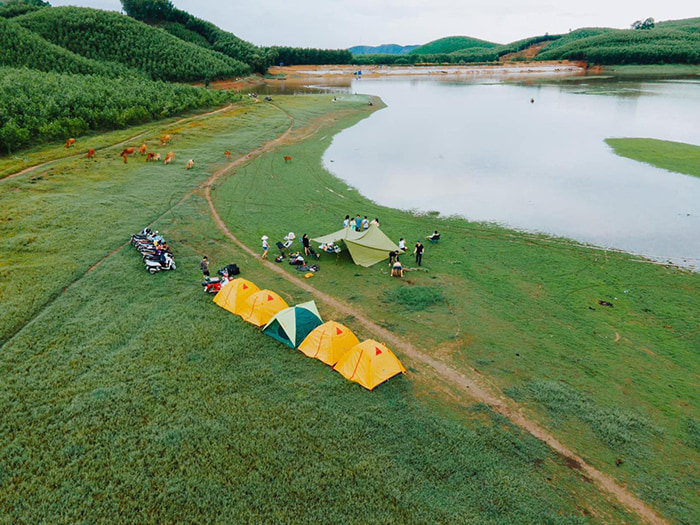 Brand new picnic spot of Hue youth. Photo: Hoan Nguyen – Fanpage Thua Thien Hue
Road to Son Tho lake Hue
Son Tho Lake and the surrounding landscape have created a charming landscape picture in the middle of the ancient capital. Ideally, it is quite close, just 12km from Hue city. This beautiful lake belongs to the mountainous commune of Huong Tho, located upstream of Huong River, southeast of Huong Tra town and 13km from Tu Ha ward.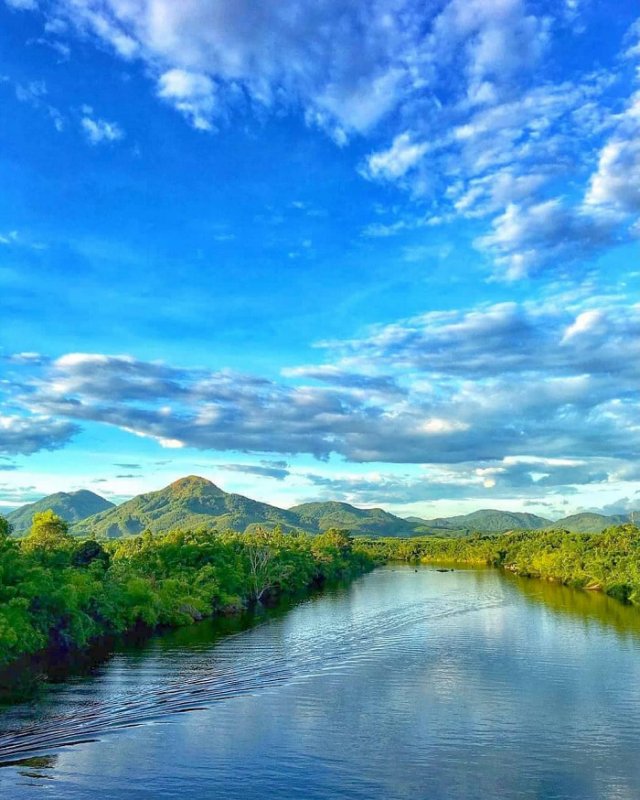 Cool green lake in the heart of the ancient capital. Photo: hoaiian.21
To get to this poetic place with lakes and green grass, you need to go to Tuan market by following Minh Mang street, the direction to Khai Dinh mausoleum . According to the experience of Hue tourism and exploring Son Tho lake of many young people, after you arrive at the market, go straight for another 500m and cross Thuy Bang Primary School, at this time remember to notice about 100m to the right. there will be a small slope leading down to the pontoon bridge. After passing the bridge made of plastic containers connected together, remember to pay the fee. Next, ask the toll collector for directions to the lake and lawn.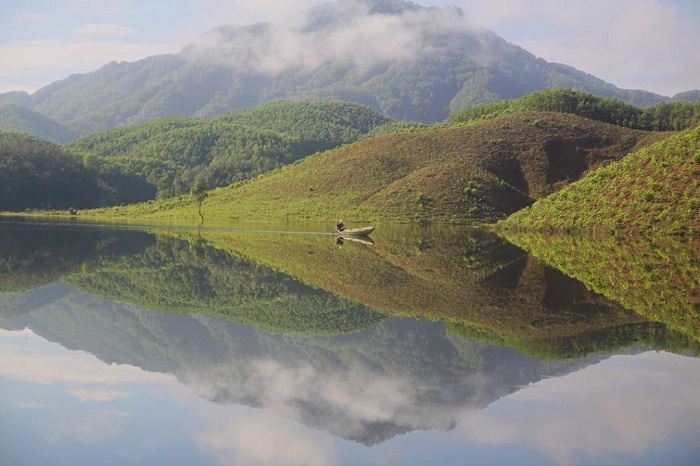 Son Tho Lake is located in Son Tho village, Hue city. Photo: deuxdk
Ho Son Tho Hue – green steppe in the middle of the ancient capital
Ho Son Tho is called with a poetic name of the green steppe in the middle of Hue city because not only has a green landscape but also is blessed with fresh air by nature, different from the noisy smog of big cities.
Currently, this lake is a favorite destination of young people in the ancient capital in particular and tourists in general when they have the opportunity to travel to Hue . Especially on the cool autumn – winter days, this place is extremely suitable for camping, picnics and especially taking a set of cool virtual live photos for the new year.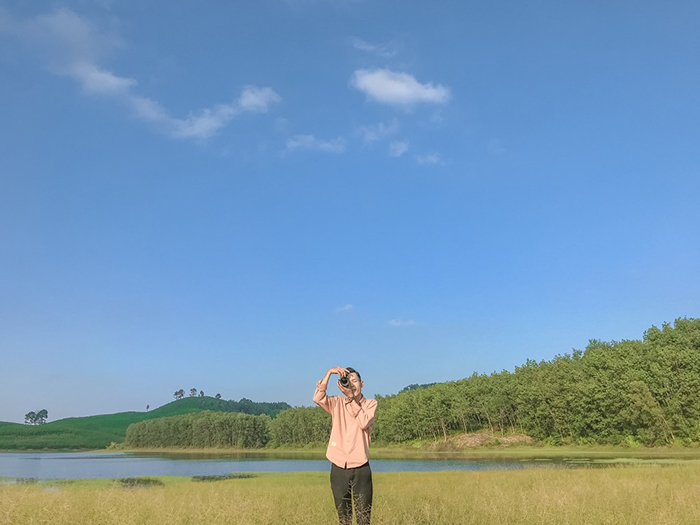 Golden valley in Hue. Photo: gody.vn
Possessing poetic natural scenery and fresh, green air, when coming to Son Tho Hue lake, everyone likes to walk around the large but still lake, watching the clear water. In addition, touching small feet on the green grass, sitting and relaxing in the shade of a few green trees and then occasionally raising your face to enjoy the clear air of the suburbs in this peaceful land is also spread. extremely unforgettable experience for those who are used to the bustling, noisy and polluted city.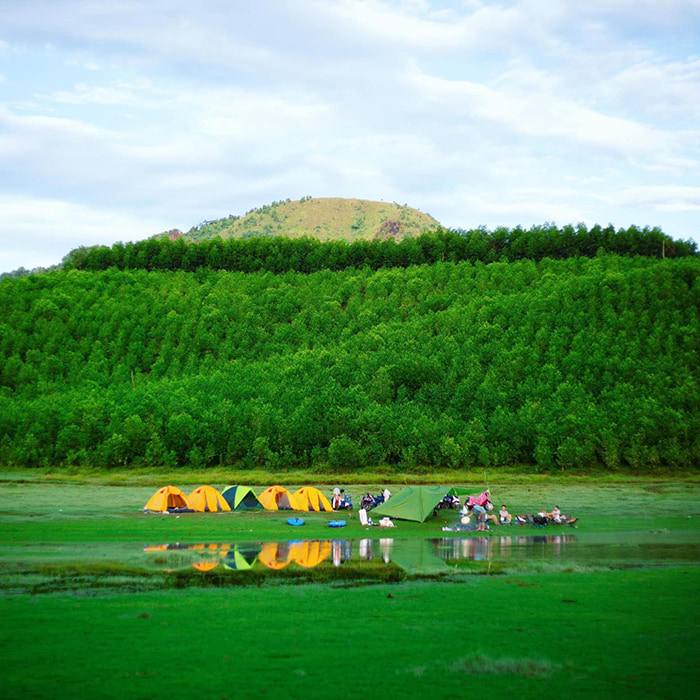 Immerse yourself with the cool green nature. Photo: Hoan Nguyen – Thua Thien Hue fanpage
It's great that you don't have to go anywhere too far from the old capital, but you can immerse yourself in the interior with blue grass, clear water, blue sky and enjoy a refreshing mood at Son Tho Hue lake .
Revealing interesting activities in Son Tho Lake
Located not too far from Hue city, more and more tourists fall in love with the beauty of the lake located in Son Tho village. But the first attraction is the road leading to the lake shore. This place is quite ideal for those who love cycling to enjoy the airy and fresh space, not to mention the scenery around the road is also extremely poetic and interesting.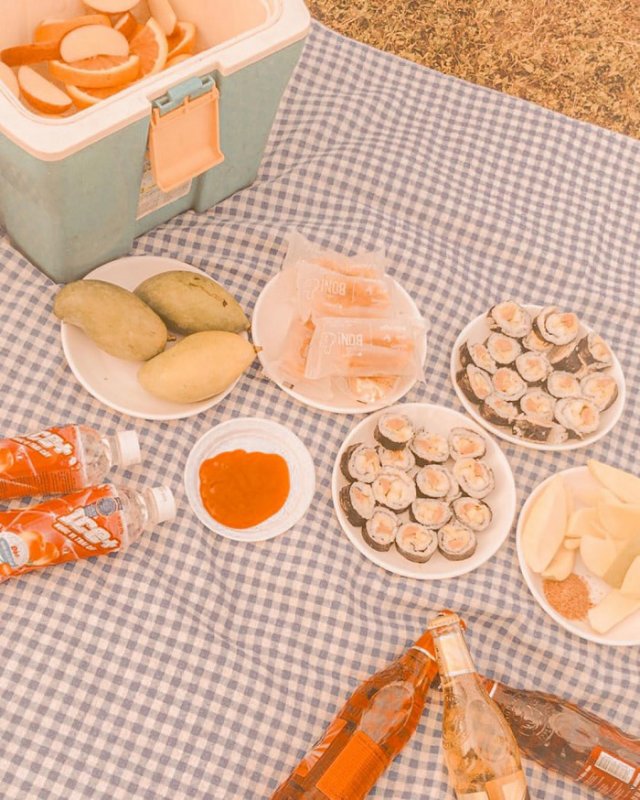 Picnic by the lake. Photo: tra.g99
Besides, Son Tho Hue lake also particularly impresses visitors with the wild, natural scenery, especially suitable for overnight camping. If you have plenty of time for the trip, be sure to prepare more for a BBQ by the lake. Moreover, the good news is that in the near future, more homestays will grow to serve the increasing needs of tourists.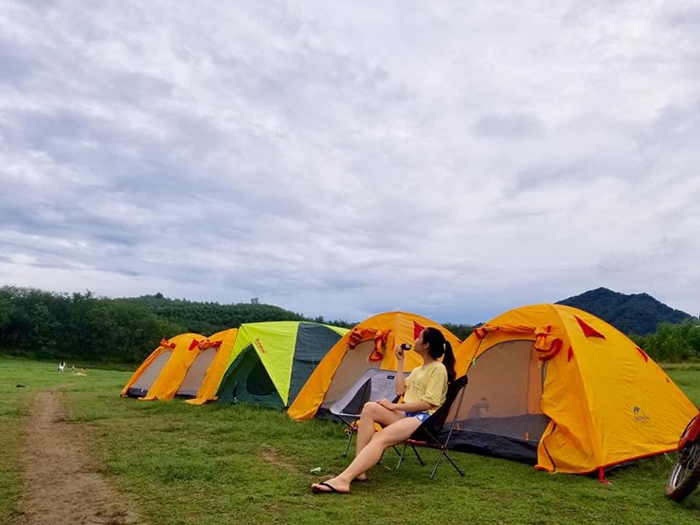 Experiences at Son Tho Lake. Photo: reviewhue
Along with Hon Giay mountain , Vong Canh hill, Son Tho lake also contribute to the list of impressive picnic spots. Coming to this calm lake, you can freely enjoy peaceful moments and watch the lush green grass stretching right before your eyes. Especially since it was discovered and checked in by young people until now, this lake has become a famous virtual living spot in Hue. 
Almost anyone who comes here after walking can not ignore the virtual live parrot with the "chill" outdoor scene. You will not be hard to find beautiful backgrounds for yourself to drop shape because everywhere stretches of grass, clear lakes and forests block one color. Especially for the wedding couple, the blue sky and the romantic lake surface is the place to capture beautiful photos for the big day.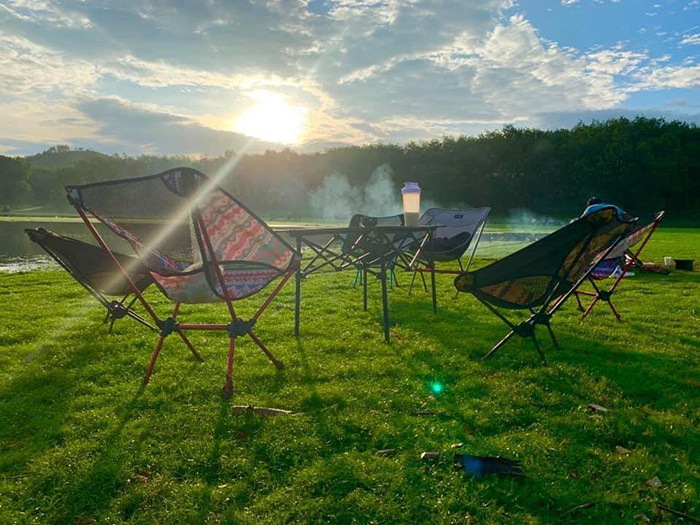 Take a trip to dust and camping in Ho Son Tho. Photo: reviewhue
Besides sightseeing and taking pictures, Son Tho Lake Hue is also quite suitable for sup-popping on the lake. According to many Hue tourists, you should actively bring a sup boat to make it more convenient for the trip, to surf on the smooth lake surface, with your fresh water.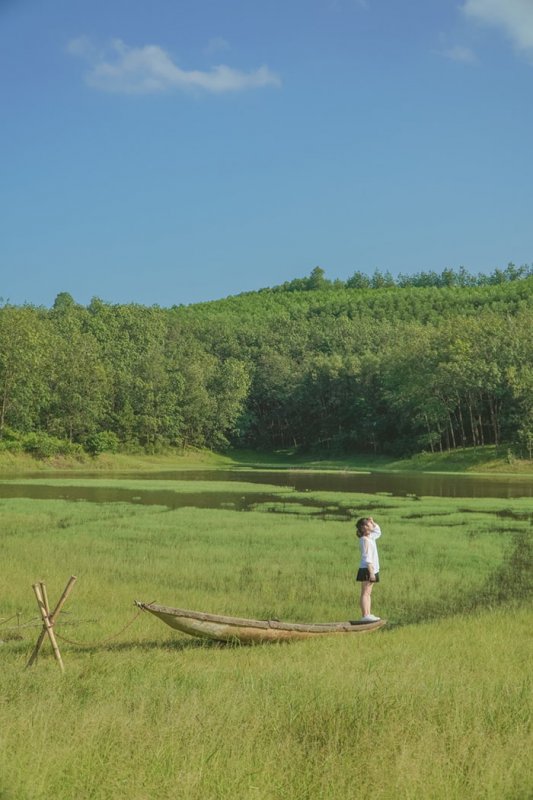 Son Tho Lawn is about 30km north of the city center. Photo: gody.vn
With the above fascinating experiences, do not hesitate to leave the opportunity to leave the city dust to rest camping in a cool and beautiful lake as well as to keep yourself and your group of beautiful photos here. It will certainly not be inferior to the virtual live photos in Tam Giang lagoon, Lap An lagoon or Ru Cha forest somewhere.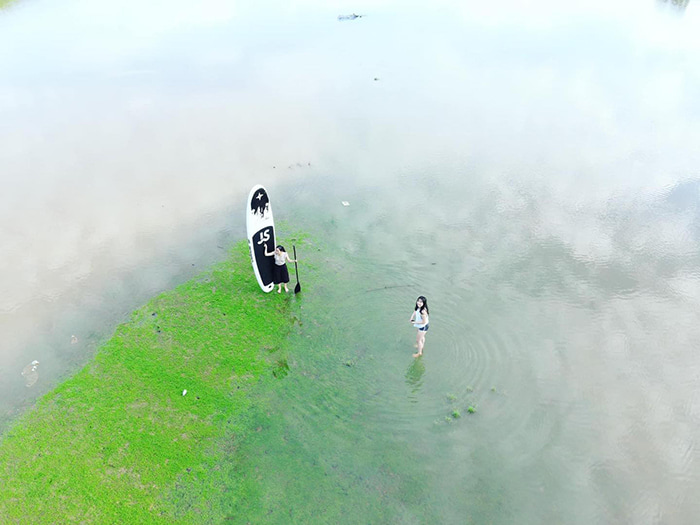 Enjoy the fresh air, poetic scenery. Photo: Hoan Nguyen – Fanpage Thua Thien Hue
Sharing experiences of hiking and camping in Son Tho Lake
Tourists should go to Son Tho by motorbike or bicycle, it is easier for parking than by car. If you have to travel by large car, you must dump far outside and walk in.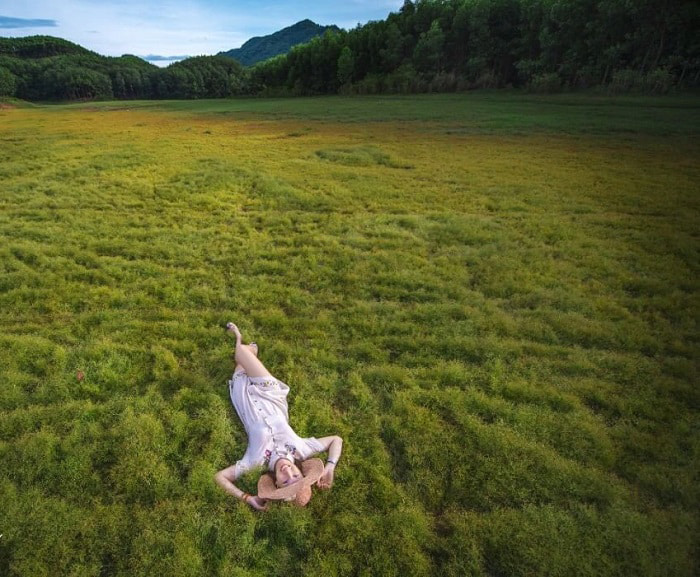 Beautiful grass stretches around the lake. Photo: visithuevietnam
If you plan to camp overnight, you should prepare tents as well as sup so that if you like you will be able to paddle on the lake, enjoy the fresh air.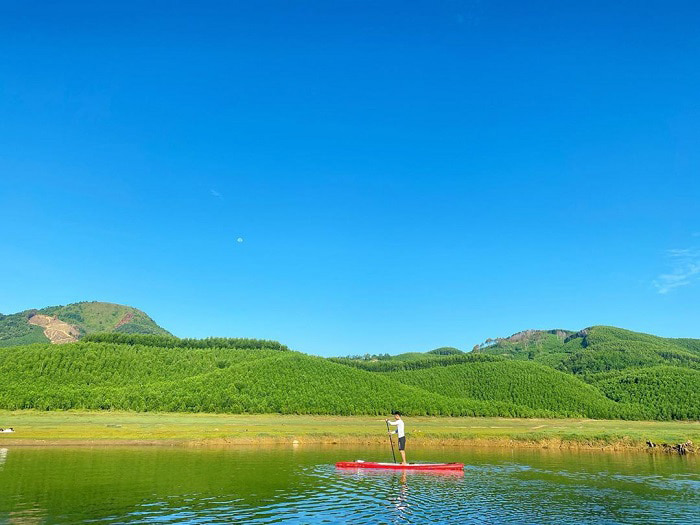 Paddle on Son Tho Lake. Photo: trung.den
Regarding the best time to take pictures at Son Tho Hue lake , you should come here between 6am and 10am, especially for couples coming to wedding photography. If past that time frame, please wait until the afternoon from 4 o'clock onwards to avoid the intense heat at noon.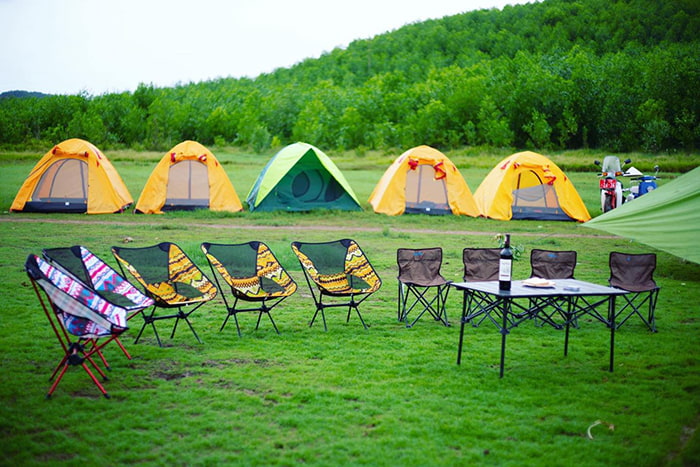 Remember to prepare tents, sup for paddling on the lake. Photo: Hoan Nguyen – Fanpage Thua Thien Hue
Finally, the costume preparation stage. Because the scene forms a cool green background, you should choose dresses or clothes with vibrant colors, because only that can make the stand out. Also do not forget to equip yourself with accessories such as hats, sunglasses or tote bags so you can check in quality at Son Tho Lake.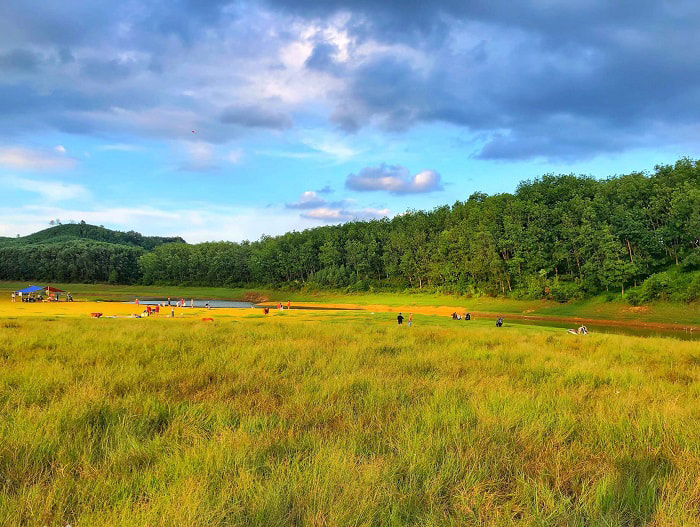 Morning from 6 to 10 o'clock is the best time to take pictures. Photo: Nhan Nhan
Note when exploring Son Tho Hue lake
Although it has been known by many young people, up to now, Son Tho lake is still a new destination in the ancient capital. Not only has the attractive natural beauty but this place is also completely free for anyone who has the opportunity to come here to have fun and experience. That is why visitors need to preserve the surrounding landscape as well as ensure environmental sanitation, do not leave garbage, for this place to stay green, after camping or eating.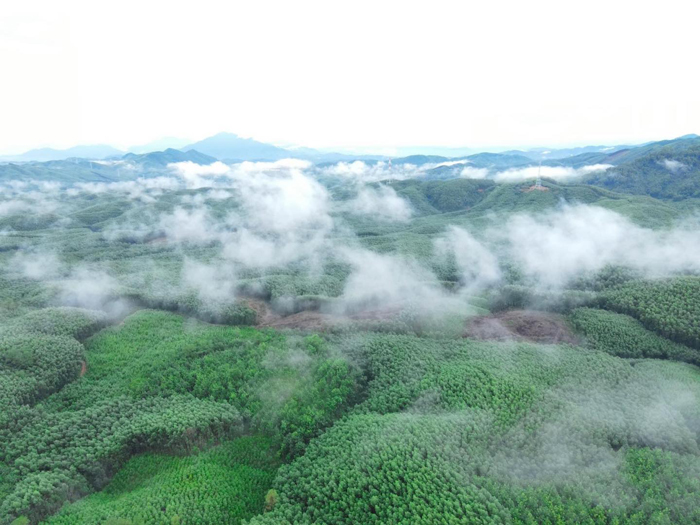 A peaceful cloudy sky. Photo: Hoan Nguyen – Fanpage Thua Thien Hue
Besides Son Tho lake, Huong Tho commune in Huong Tra district has many other prominent historical relics such as Minh Mang mausoleum in Lien Bang, Gia Long mausoleum in Dinh Mon, Hon Chen Palace in Hai Cat, Chang Phuong stream and O O stream. , … All of them are impressive and well-known destinations, so don't forget to add a note to your list of destinations when visiting Son Tho Lake for your Hue tour more convenient.
Ho Son Tho Hue, with its purity and peace, will definitely be a memorable place to stop and relax, especially those who are looking for peace of mind to overcome the pressures of life. . Let's explore this cool green steppe!
Photo: Internet
TAG: