Quail cocktails are only available in Saigon
HO CHI MINH CITY – THE cocktail is a combination of quail eggs, typical Western rice wine, tamarind juice, and spicy sriracha chili sauce.
To enjoy a cocktail quail, you have to taste the egg first, then take a deep breath, tilt your neck back, slowly drink it up and feel the full flavor seeping down your throat. The strange name of this drink attracts many curious visitors to the bar of chef Peter Cuong Franklin on Ton That Dam street to try.
Vu Hong Quang, 29, Ho Chi Minh City, shared that he found the cocktail taste quite similar to fried quail and tamarind. "It's strange to drink while chewing, the taste is not too strong, easy to drink, different from my imagination before," he said.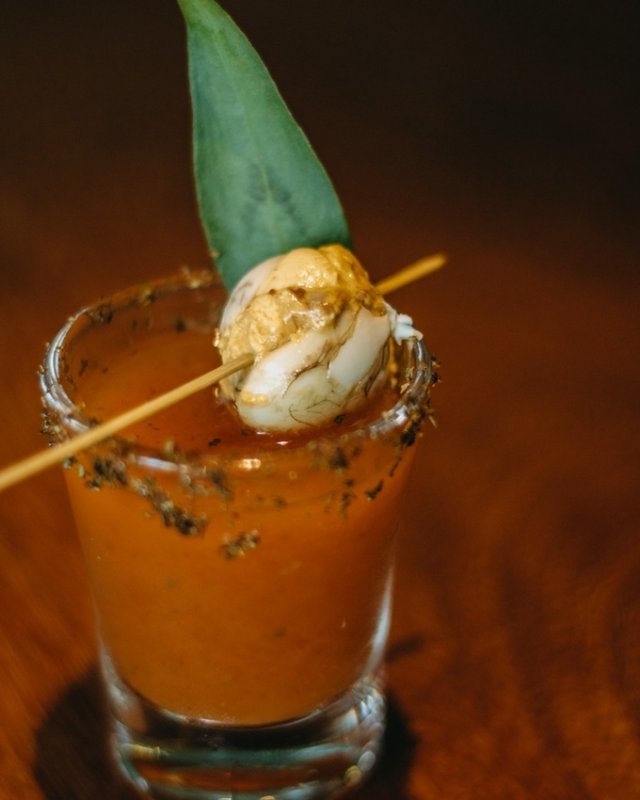 Quail is fixed with a bamboo toothpick, served with herb leaves, around the mouth of the cocktail is salt and pepper. Each cup costs 125,000 VND. Photo: Drinking Drinking
Inspired by the creation of cocktails from flipped duck eggs, Franklin found that this is a popular dish favored by generations of Vietnamese people. But in the eyes of international visitors, this is still a scary dish that they are not willing to try if they come across on the street.
Therefore, Franklin hopes the new drink will bring this dish to more visitors. Vietnamese people know quail eggs well, he said, they are not afraid to experience this dish in a new way. As for Western guests who have never eaten a quail egg, they have reason to be willing to try it in a bar. Because, according to Western tradition, diners will be attracted to the drinks that bring both fun and challenging experiences in the bars.
The difficulty when embarking on creating a new cocktail recipe of this Vietnamese-original chef is the size of a duck egg, he quickly found an alternative solution is a flipped quail egg. His philosophy is to keep everything as simple and as fresh as possible, and at the same time make Vietnamese ingredients the "star" in every cocktail. The simple things that anyone can buy in the market will be transformed into something more upscale, called new cuisine.
Remembering the countless failed tests and the insensitive ones, Franklin laughed: "The biggest memory is when I mixed quail with a sweet coconut wine, I had to spit it out immediately because of the taste. its too awful ".
He came up with a variation of a new cocktail with Bloody Mary – a cocktail with tomato juice, vodka and spicy spices. To enhance the flavor of quail, he took the rice wine instead and slightly modified it with sriracha and lemon chili sauce, to bring the drink more Vietnamese flavor. When drinking a cocktail, diners will taste a sour, spicy taste that is torn by the flavor of rice wine in the aftertaste.
"Quail has a strong taste so I want to find a balanced wine so that nothing will be overwhelmed. Rice wine is the best thing to make you" wow "from the first sip," he said.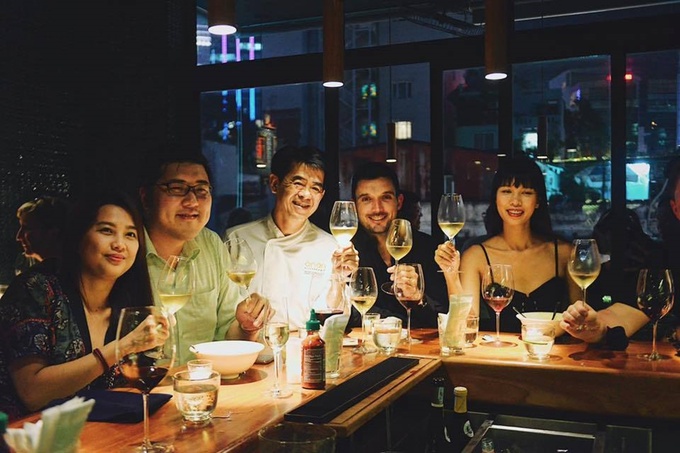 Peter Cuong Franklin (white shirt) is mainly inspired by the Old Market, Ton That Dam Street (District 1). Photo: Drinking Drinking
Quail cocktails are not the only drink. The restaurant also has a pho cocktail, a cocktail of laksa leaves or even an iced tea cocktail – combining a Western drink with traditional Vietnamese ingredients. These drinks have received praise from many diners. In the future, Franklin said he will continue to develop beverages inspired by Vietnamese cuisine such as Nha Trang oysters, crickets …
TAG: