Peaceful Saigon on the corner of the apartment coffee
HO CHI MINH CITY – Step through the old stairs, visitors gradually feel a bit nostalgic, separate, and peaceful.
In Saigon, it is easy to find a place to drink coffee, from sidewalks to luxury restaurants, in winding alleys to old apartment buildings. Some people say that the apartment coffee is a character of Saigon, a city with more than 300 years of establishment and development.
When placing a coffee shop in the apartment building, the owner wants to have a suitable rental price, quiet and private space. But above all, it also comes from love the old things of the city or want to connect with others by familiarity, intimacy in a space just enough.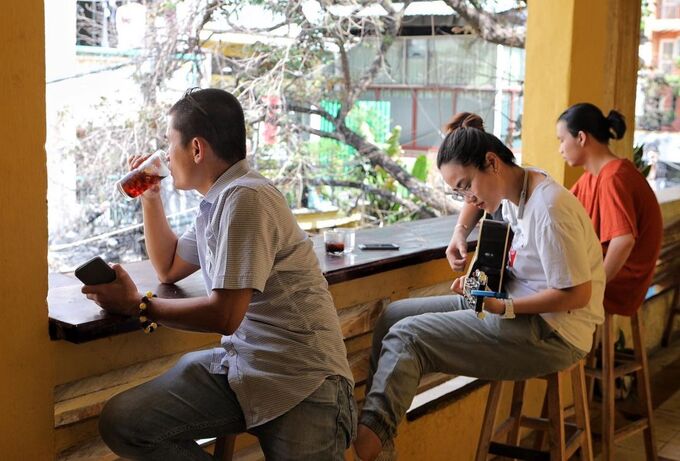 Visitors to the shop can sit along the hallway playing the piano, singing and watching the alley below the cafe, Photo: wide_focus / Instagram.
Tran Lam Anh Cuong (46 years old) is an apartment coffee shop owner at Alley 19, Nguyen Thi Minh Khai Street, District 1. He loves photography and during a street photography, he discovered in alley 19 that a row of old apartment buildings with thick, timestamped walls of yellow paint. Realizing that this place is quiet, ordinary space, suitable for creation, he chose to be a stopover for art lovers such as photography, film, painting.
"I like photography, so I want to open a small, just enough and familiar water shop to connect with young people who love photography, form a group of photographers, newspapers, street, materials together to study together. ask questions, share skills, "he said.
Unlike cafes with large spaces, easy to set up tables and chairs, to arrange everything, his coffee shop is located in an old apartment block. Because there are no people living around, he takes advantage of every position in the apartment to make seats for guests, sometimes catch two rows of chairs along the corridor, sometimes a high row of chairs next to the railing for guests to watch their children. alley 19 below. He also cleaned up a long table in his room and set chairs outside well for those who needed quiet work. This is a great plus point for guests who like to open up, are not tied to an enclosed space like other coffee shops with air-conditioned rooms.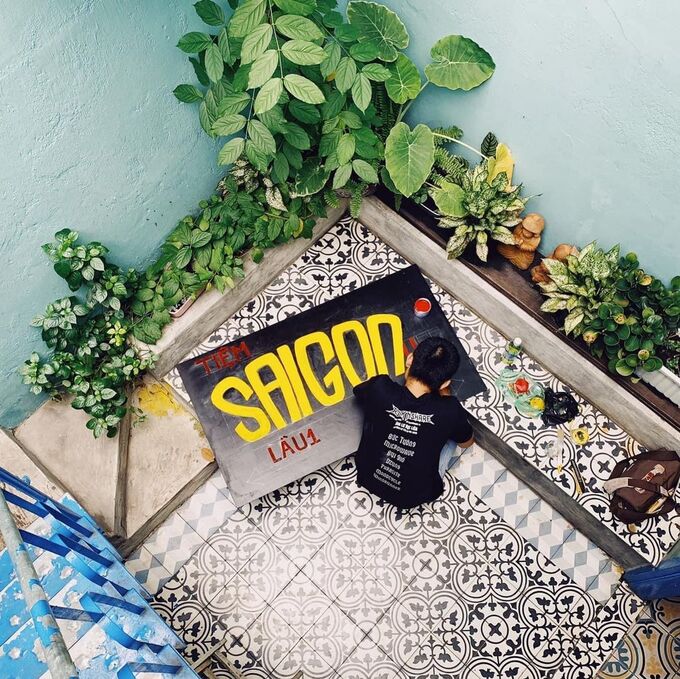 The old apartment building has sky-wells, which are used as a place to work and create pictures of customers. Photo: tiemcaphesaigonlife / Instagram.
The owner of another coffee shop on Nguyen Trai Street, District 5, Mr. Dong Lam Thanh Tung (32 years old) was impressed with the space around the old apartment building where he opened the shop. It is a place that captures the full beauty of the red-tiled roof of Ha Chuong Assembly Hall over 200 years old, a valuable cultural work that exists in parallel in the life of the Chinese people in Phung Hung market, district. 5.
"I choose to open the shop here because I see the specialness, so that young people can learn more about Chinese works, where they live and feel the soul of Ho Chi Minh City," Tung said.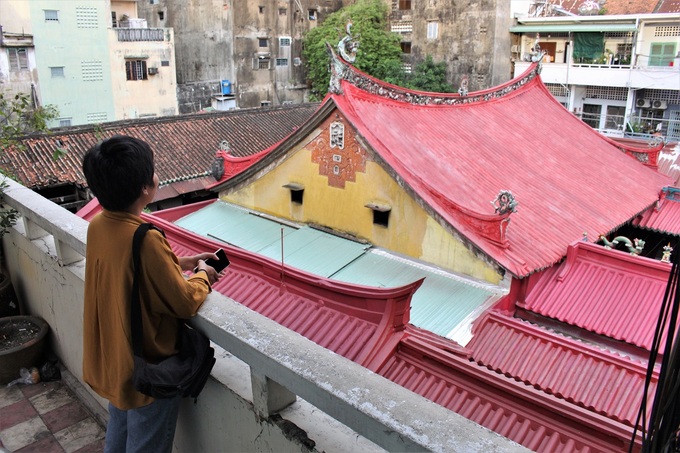 From the coffee corridor in District 5, overlooking the Ha Chuong Assembly Hall. Photo: Huynh Nhi.
Bao Duy (19 years old), an art lover often visits cafes with small, quiet spaces to play guitar and do homework with friends. Duy likes the space in the apartment cafe because it has privacy, it feels like home. "It is not as loud as the cafes along the street, so it makes others feel relaxed and gentle," Duy said.
Although it is loved by many people, apartment coffee also has certain drawbacks. According to MSc Pham Duc Thang, a lecturer in Architecture, Ho Chi Minh City University of Technology, cafes located in apartment buildings built before 1975 often have simple design standards, only enough safety. in terms of escape.
"Over time, with improved social life, the need to ensure safety for building users is higher. The apartment cafes sometimes cause disturbances in life for residents or areas. If there are noisy activities, not suitable to the living time of residents. However, it all depends on the agreement and concessions of each person, "he said.
Apartment coffee or any other coffee shop in Ho Chi Minh City also reflects the life of this city, when dynamic, modern, but also old and quiet. It is not too much to say that the apartment coffee is a character and memory of the city for people with similar interests to go there to meet, find some peace of mind.
vnexpress
TAG: