An emerging land of sea and sun
Ninh Thuận has a reputation as the land of "little rain and too much sun and wind". Rocky hills and mountains extend down to Viet Nam's south-central coast of bays, white sands, golden sunlight, and turquoise waters.
The province also boasts a range of historical relic sites and diverse cultures, along with agricultural products that make for great souvenirs. It now has plans to become a new travel hotspot in the country and the region by identifying what measures will make it so.
The strategic vision in Ninh Thuận's tourism development master plan to 2020 and vision to 2030 is to develop the sector by exploiting potential in marine resources, ecology and culture, offering the best service quality possible, and diversifying tourism products to become a destination of choice.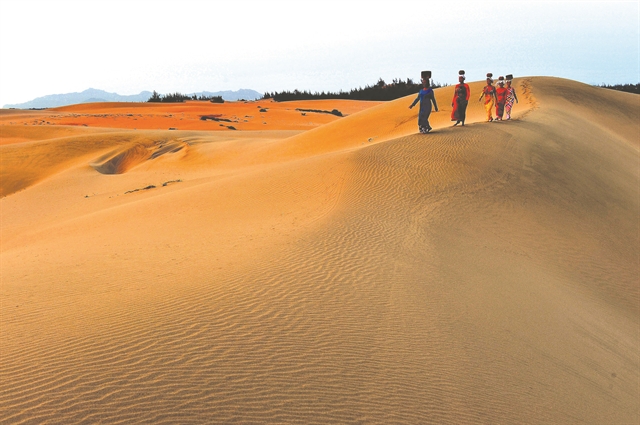 ROLLING BY: Local people walking along the Nam Cương sand dunes. VNA/VNS photo Thanh Ha
The Chairman of the Ninh Thuận Provincial People's Committee, Trần Quốc Nam, spoke of the promise the local area holds.
"Ninh Thuận lies at the intersection of three strategic transport axes: the North – South railway line, National Highway 1A, and National Highway 27, which extends into the southern reaches of the Central Highlands," he said.
"HCM City is 350km away, the beachside hotspot of Nha Trang 105km, and the hill town of Đa Lạt 110km. It therefore boasts an important geographical location, where the key economic regions of the south, south-central coast, and Central Highlands come together."
Ninh Thuận is also well known for its network of Chăm towers and beautiful landscapes such as Ninh Chữ and Bình Tien beaches, Nam Cương, Mũi Dinh, and Ca Na sand dunes, and the Bình Tien – Ca Na coastal road.
Most notably, Vĩnh Hy Bay is regarded as one of the eight most beautiful in Viet Nam and is recognised as one of nine biospheres in the world.
The province is also rich in history and culture, featuring the customs and traditions of the Chăm, Raglai, and Chu Ru ethnic minorities.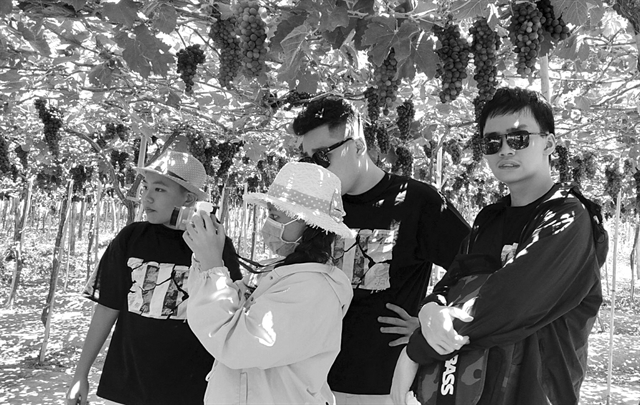 DAY OUT: Tourists visiting local vineyards in Ninh Thuận. Photo VNA/VNS
"Ninh Thuận's tourism sector boasts the ancient Po Klong Garai Tower complex, the Bau Truc pottery village in Ninh Phưoc District, which has preserved the traditional pottery of the Chăm people, and the Mỹ Nghiep weaving village, also in Ninh Phưoc," said Nguyễn Văn Hòa, deputy director of the Ninh Thuận Department of Culture, Sports and Tourism.
While its climate can be quite harsh, it possesses impressive strength in agricultural production.
"I have been to many places around Viet Nam, but Ninh Thuận surprises me every time with its beautiful scenery of sea and forest," said Associate Professor Trần Xuan Lạc from the Huế University of Agriculture and Forestry.
"I greatly admire how local farmers toil away on land with little rainfall and an excess of sunlight, diligently cultivating vineyards and successfully incorporating agricultural products into tourism to increase their value, diversify tourism products, and attract tourists both new and returning."
Ninh Thuận's coast gives it a range of tourism resources that are quite similar to neighbouring localities. Identifying specific products, focusing on investment, differentiating itself, and positioning its brand via cooperation and joint development is the correct approach for the province to take in boosting tourism. It has gradually posted breakthroughs and created its own mark, clearly positioning its brand on Viet Nam's tourist map.
​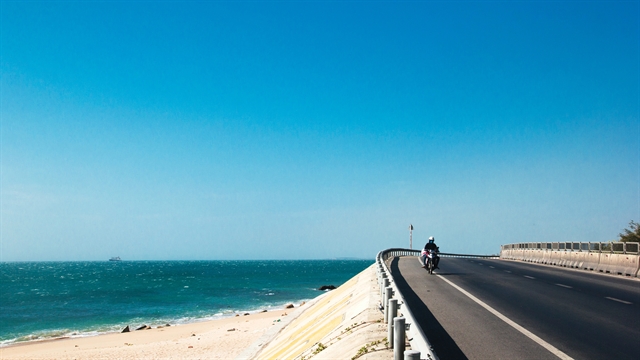 BY WATER'S EDGE: A beautiful coastal road in Ninh Thuận. Photo Unsplash Lưu Thai Quang Khải 
The province is surrounded by different types of terrain, with mountains, hills, and coastal plains under a tropical Savanna climate that gives it an average monthly temperature of 18 degrees Celsius and a dry season.
Travelling northeast from Phan Rang City along Provincial Road 702, with picturesque views of the coastline, visitors reached Nui Chua National Park, which straddles Ninh Hải and Thuận Bắc districts and sits on an area of 31,000ha, with a dry forest ecosystem unique in Viet Nam where sea turtles lay their eggs each year and which features the largest coastal coral reef in the country.
"Nui Chua National Park is home to the most beautiful and pristine beaches in this part of Viet Nam," said Nguyễn Minh Hoang from the Centre of Environmental Education and Services at the park.
"Its sandbars, white sands, mountainous shoreline, and bright sunlight brings a unique beauty to the landscape. The 350 types of coral found along the coast make it an attractive destination for hundreds of thousands of tourists every year."
Tourists can also explore areas such as Rai Cave (Otter Cave), also known as the "Waterfall on the Beach". Waves strike upon its rocky shoreline, with beautiful caves created by rocks being stacked upon one another over time. It is also home to otters, hence its name.
​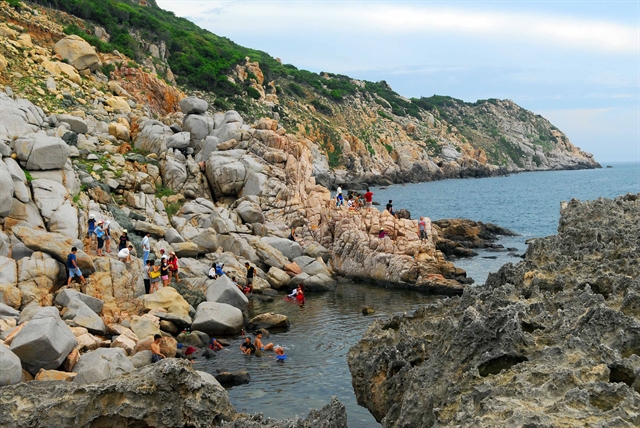 SITE TO SEE: Rai Cave, home to otters, is a popular destination for tourists when in Ninh Thuận. VNA/VNS photo Mạnh Linh
​The view is incredible, with one side being Chua Mountain and the other side pristine blue waters. Tourists to the cave can not only admire the beautiful scenery but also walk on coral that is tens of thousands of years old, which is said to be like walking on Mars. Just past the rocks are lustrous green fields squeezed in between mountains and the sea — a sight unique to Ninh Thuận.
Also on offer are water sports like swimming among colourful fish or fishing from a coracle, or basket boat. Of particular appeal are glass-bottom boats taking tourists out to admire offshore coral reefs, while there are also mountains to conquer or forests to trek or just wander through. Wildlife appears to be everywhere.
Ninh Thuận also showcases the unique cultural values of its ethnic groups.
Po Klong Garai Tower in Phan Rang City is a national cultural and historical relic and where tourists can learn more about the Chăm.
Built in the 13th-14th centuries from crimson red terracotta bricks joined together with otter oil, Po Klong Garai consists of the Main Tower, the Lửa Tower, and the Cổng Tower.
Considered the most majestic and beautiful Chăm temple cluster in Viet Nam today, it is where the Chăm practice their cultural beliefs and religions, with festivals such as Ka Te – the New Year of the Chăm who follow the Balamon religion – taking place in July under the Chăm calendar, which is from September 25 to October 25 on the solar calendar, and featuring rituals that reveal the customs and beliefs of the Chăm.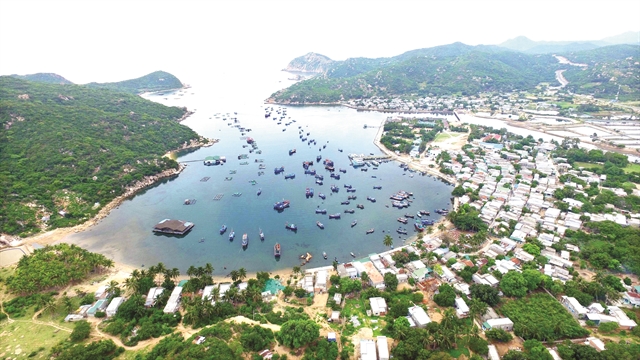 COASTAL CHARM: Vĩnh Hy Bay, a picturesque mountainside fishing village known for boat trips and local seafood. VNA/VNS photo Mạnh Linh
Visitors to Po Klong Garai Tower can also watch pottery and brocade being made or objects that are part of the lives of local people, such as buffalo carts, rice mills, traditional musical instruments, and costumes worn by Chăm monks.
Its unique sunny, windy weather gives Ninh Thuận a host of special attractions, like pastures of sheep and vineyards of juicy grapes.
I had the opportunity to visit Lang Phượng vineyard in Thai An Village in Vĩnh Hải Ward, Ninh Hải District, along Provincial Road 702. Not only could I pick grapes myself, there were also products such as wine, syrup, honey, and jam to buy, together with a relaxing and peaceful atmosphere.
The owner, Nguyễn Thị Phượng, shows visitors how to pick the grapes and where the best photos can be taken.
Also in Vĩnh Hải Ward, Cầu Gãy Village has a name for community tourism.
"Many visitors are excited to learn how to thread beads into bracelets or key chains," said Cao Thị Thủy, a Raglai ethnic woman and representative of a handicraft workshop that uses wild tree seeds. "They can also learn about the culture and daily lives of the Raglai."
"Moving towards digitalisation in the field of tourism is a necessary step for us to take," according to Hòa from the department of tourism.
"Ninh Thuận has already created a tourism portal. Visitors need only install our app to discover tourism sites, accommodation, and restaurants, with information updated regularly. The department also holds competitions from time to time, such as writing contests on destinations and relics or video contests introducing and promoting images of Ninh Thuận to local and foreign visitors." VNS
Source: http://ovietnam.vn/travel/an-emerging-land-of-sea-and-sun_321627.html
TAG: