The bakery sells more than 1,200 pieces an evening
HAI PHONG – Only sells pate bread, buttermilk, the bakery on Hai Ba Trung street still attracts customers every night.
The bakery of Thang and Mrs. Hieu opened in 1978 in Hang Ga alley, and then moved to her own house at 244 Hai Ba Trung. There are only two types of pate and buttermilk sandwiches here but are recommended by many locals to visitors who want to eat at night at the port land.
Formerly a chef for a French hotel, Mr. Thang processes pate and butter with European taste. In the early days, the bakery had no name, people just knew the old lady and the old owner selling together. Gradually, many patrons called them the grandparents' bakery, and the shop also adopted the same name. Currently, the two men are not selling, but only supporting their daughters.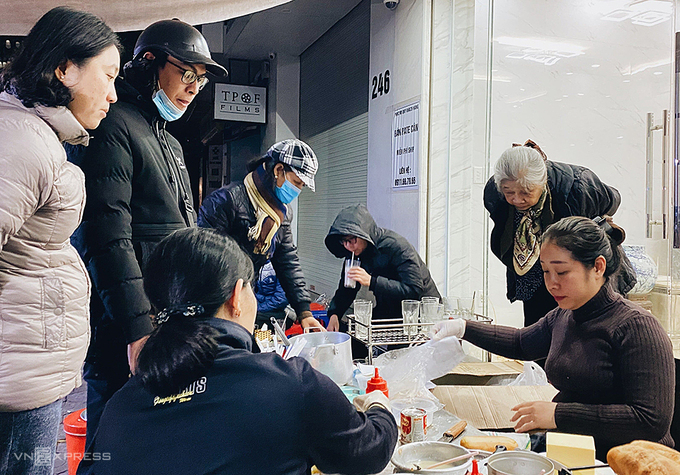 Mrs. Hieu (top, right), the owner of the bakery, is 72 years old this year. Currently, she does not directly sell outside the restaurant but makes pate and bread in the house. Photo: Trung Nghia
The pate bread at the restaurant is mistaken for many people with Hai Phong sandwich. However, the breads of the restaurant are not as big as regular bread and not as small as Hai Phong sandwich. All pate sandwiches, delicious sandwiches must have typical chili sauce, and the bread at this address is only eaten with shrimp (rubbing), sprinkled with little fat, no need to add spicy chili.
Explaining the reason for choosing the size of the cake, Ms. Hieu shared: "That is enough for the customer who wants to eat 2 or 3 more. If the bread is as big as usual, the customer will eat. Such size is suitable for an evening gift, suitable for eating and drinking.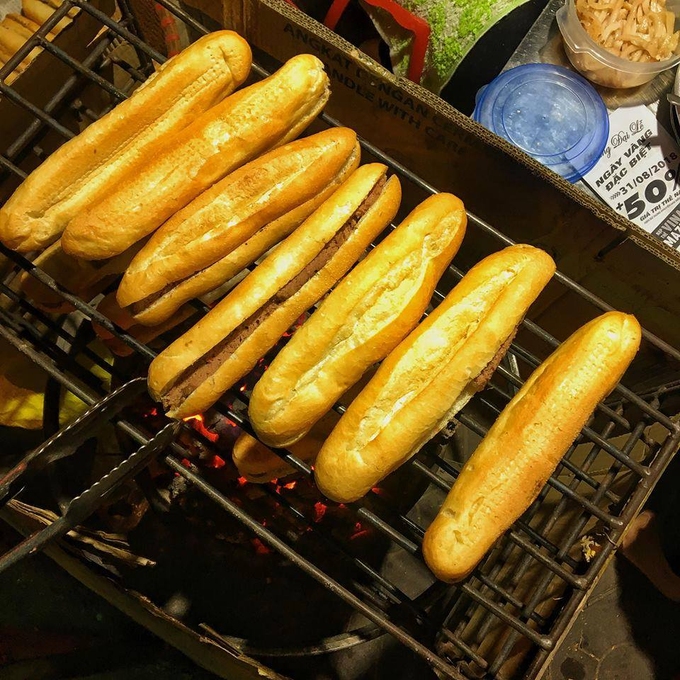 Pate pre-baked sandwiches are toasted over charcoal before grease and seasoning. Photo: Wildflowers
Quoc Tung (27), who lives on Van Cao Street, often visits a bakery 4 times a week. He thinks the pate here is richer than the other, fragrant and creamy, making him "addicted". "Pate bread is a very familiar dish, many places sell. But to make such a normal dish to eat delicious and addicted is extremely difficult," he shared.
The owner said one evening sold 1,200 breads, a total of 80 kg of pate, of which 30 kg were sold with cakes. The shop is open for sale from 18:30 to 23:30 daily. The price for a pate bread is 12,000 VND, and buttermilk bread is 15,000 VND.
vnexpress
TAG: