Age no barrier to conquering continents
Never did Tran Le Hung imagine that one day he would be recognised as the first Vietnamese to pass through 39 countries and territories over the course of six months on a motorbike.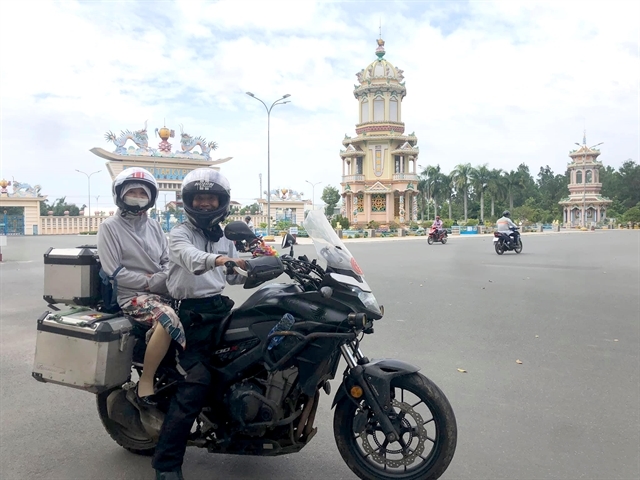 The 67-year-old backpacker was presented with the title at the 40th reunion of record holders in the Vietnam Book of Records, held in early December in the northern province of Thai Nguyen's Song Cong City.
"I never dreamt about a title like this," Hung said at the reunion, thanking his family and friends for their support.
Backpacking has been a passion of the retired mechanical engineer since he was young. On a vintage Honda 67, he has already conquered many roads around Vietnam, from the north to the south.
Hung's wife, who also rides a Honda 67, has been his close companion since they first fell in love. Together, they have journeyed on two wheels and set foot in destinations known for adventurous backpackers, like Lung Cu Flagpole in the northernmost province of Ha Giang and Ban Gioc Waterfall in neighbouring Cao Bang Province.
Each has a scar on their knee as a reminder of an accident they had on the way to Lũng Cu Flagpole. Though both were bleeding, they continued the trip and eventually finished up safe and sound back at their small home in Hanoi.
Soon after, Hung, accompanied by his 'steel horse', set out for the south in 17 days. As an engineer, artist, and sculptor, he believes Vietnam is even more beautiful when viewed out in the open rather than from the limited space in a car or train.
One day, he came across photos of Tran Dang Dang Khoa, a young man who travelled across 23 countries in just 150 days by motorbike. He wondered whether he and his Honda 67 could perhaps do the same.
So, he visited a travel agent specialising in overseas travel. When they told him that such a trip would include Russia and Georgia, where he spent his youth and which he considers a second home, he felt immediately excited. His nostalgia for the countries was so strong that he booked the trip without any further hesitation.
Hung was sent to the Soviet Union to learn about automated controls from 1973 to 1976 and then worked as an engineer at the Tran Hung Dao mechanical factory upon returning home. His knowledge of mechanics led to his passion for vehicles.
To prepare for the journey across Asia and Europe, Hung decided to replace his much-loved Honda 67 with a Honda CB500X, weighing over 200 kg. He had to make some alterations so his 160-cm frame could handle it, and then he took it to a driving centre to practise.
"Any motorbike that works will take you to your destination," he reflected. "It needs to be ridden, not contemplated."
On July 2, 2019, Hung set off on his journey. Some of his friends rode with him part of the way, with one acting as a guide.
The six-month journey gave him the chance to witness beautiful scenery and majestic landscapes in a host of different countries. A visit to his old school in Georgia is now engraved in his mind.
Forty-four years have passed since he was a 20-year-old student at the school. The old road leading to it remains unchanged, and the only difference he could see was that the conifer trees were now much taller. The school may seem unimpressive to others, but it remains close to Hung's heart.
On the afternoon of December 19, 2019, the 67-year-old backpacker parked his motorbike out the front of his home in Hanoi, having conquered 45,000 km, consumed 2,000 litres of gasoline, changed chains twice and tyres three times, and brushed himself off countless times after taking a fall.
His "new" bike was covered in dirt and had long scratches down its side, which Hung has never washed or repaired so it remains a reminder of the trip.
Through Vietnam
Many believed that this may be the end of his long travels. But he just recently finished a 20-day trip through Vietnam, with his wife on the back of the 'steel horse' that carried him across continents.
It was a dream the couple had nurtured for a long time.
"We might be the first old couple to ride a big motorbike through Vietnam," he said.
"It was an emotional ride. Vietnam's landscapes are so beautiful, and we were immersed in stunning beauty the whole trip."
The couple set out with courage and passion, under no pressure and with no concern about what a new day might hold. Rather than following the national highway, which he had travelled along in reaching the southernmost part of the country — Ca Mau Cape — himself six years ago, he chose the border roads for something different.
The trip was not so smooth, as the "steel horse" lost its legs a few times on the bumpy roads.
On National Highway 14C, of which many young riders remain wary, the front wheel of the 200-kg Honda suddenly lifted in the air while going up a steep slope, bringing the two retirees down.
"We just couldn't lift the bike up by ourselves," Hung recalled. "We had to ask some passers-by for help."
Wherever he goes these days, he is met with a warm welcome by other bikers who admire his timeless spirit and determination.
He identifies himself as an "ageless biker", returning to his youth whenever he travels on two wheels. But care is always the name of the game, and he's just not interested when others suggest some type of "race".
"I always think about new trips, but ain't sure where to go now I'm approaching 70," he said.
"As long as I'm still healthy and feel inspired, though, I'm ready for it. My advice is to be stubborn, keep your dreams, and one day make them happen!"
VNS
Source: https://vietnamnet.vn/en/travel/age-no-barrier-to-conquering-continents-704371.html
TAG: