The address to enjoy 6 delicious Thanh Hoa street dishes that make visitors 'fall in love'
Traveling to Thanh Hoa, many people often visit the city less often because they think that Thanh Hoa city does not have many interesting attractions and attractions without knowing that Thanh Hoa street food tour is an experience should try when coming. here.
1. Ba That shrimp cake – Thanh Hoa's street food, remember it once and for all
Shrimp cake is a unique and exotic dish in Thanh Hoa city that only needs to eat once to remember its taste. Ingredients dish is shrimp powder mixed with a little minced meat, then mixed with Gac juice and cashew nuts to create eye-catching colors. The outside is a thick and chewy noodle layer. After being baked or fried, the outside is crispy and soft. 
Many people often choose grilled shrimp pies, looking at the pieces with their thumbs that are evenly clamped into a fresh bamboo splint and baked on charcoal fire, the crust is coated with a black plate, revealing the inside of a ruddy and fragrant aroma. love the taste. 
This delicious street food Thanh Hoa is served with pickles, raw vegetables and fish sauce to taste; The sweet pulp of the shrimp filling blends with the mild and sour taste of the melon, and the spiciness of the fresh chili and fresh vegetables creates an unforgettable taste for the dish.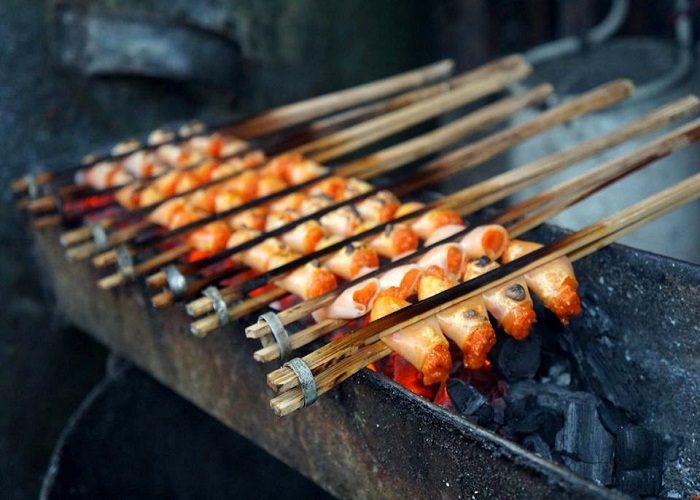 Prawn grilled on charcoal is considered to be better than fried in an oil pan
To enjoy shrimp cakes in Thanh Hoa City, visitors visit Nha Tho Street, Hang Than, Cau Bo or Vuon Hoa Market. Price for each meal for 2 people is from 30,000 – 40,000 VND.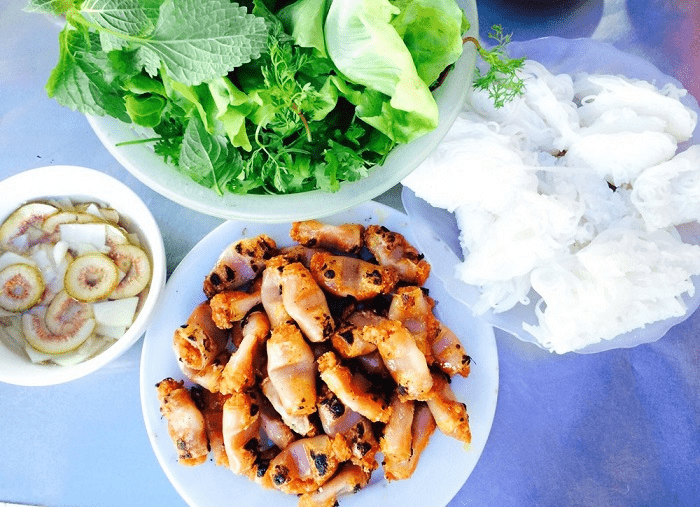 Pork rolls can be served with leaf noodle
An address whispered by gourmets is Ba That shrimp cake shop in Le Thi Hoa street. The shrimp rolls here are very delicious, the pork rolls are thin and filled with a lot, vegetables are fresh and delicious, and pickles are delicious. The shop is only sold in the afternoon until 18:00 – 19:00.
Address: No. 9 Le Thi Hoa, Ward Lam Son, City. Thanh Hoa
Price: 40k / piece.
2. Shrimp delight cake from Thanh excited visitors near and far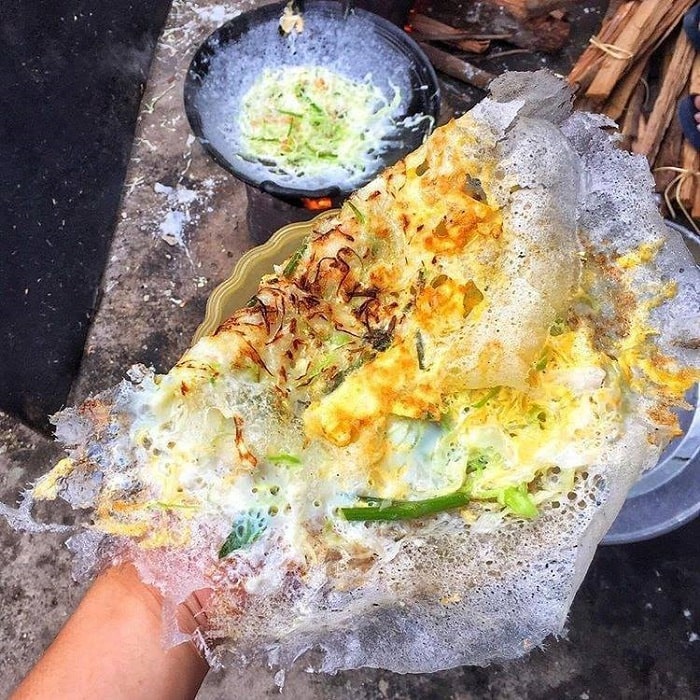 The delicious cake of Thanh Hoa is similar to banh xeo in the South
The pancake is a simple but unique dish of Thanh Hoa people. Similar to banh xeo in the South, but the cake is thinner, it is not too full to eat. The main ingredients are water-grinded tofu powder, sauteed celery and shrimp, add a bit of shredded cabbage, a bit of cumin is very true North … all need to be processed on a cast iron pan coated with fat, fat portion. When enjoying this cake, diners ecstasy in the greasy, sweet taste of vegetables and shrimp in harmony with the delicious fish sauce, adding a little sourness of kumquat, spicy of chili pepper, and a little bit of acrid figs; sometimes adding eggs. This delicious street food in Thanh Hoa should be eaten while still hot, especially on cold rainy days.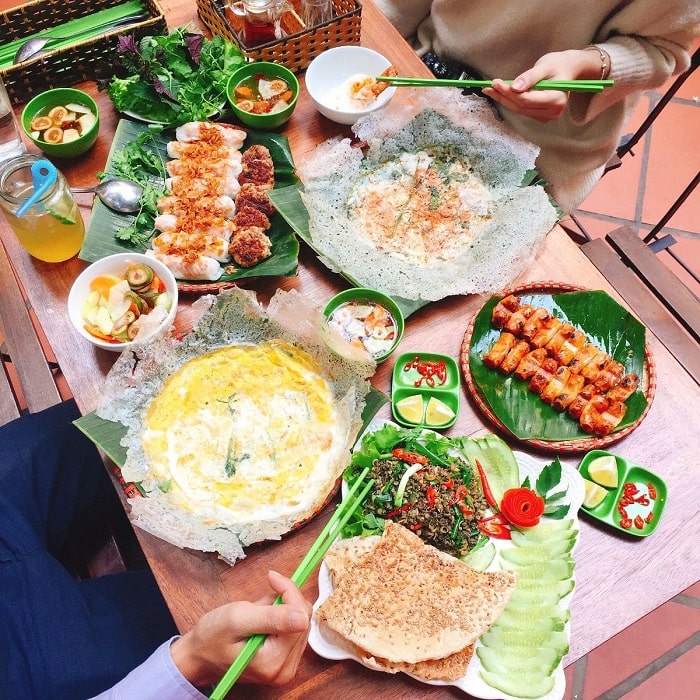 In the table of delicious food in Thanh Hoa street, it is impossible not to have a plate of delicious cakes
The price for each cake without eggs is about 8k -10k / piece, the cake with eggs is about 12k – 15k / piece. Delicious shrimp cake can be found at Tong Duy Tan, Nguyen Binh Khiem, Han Thuyen, Truong Thi … The familiar addresses:
– Floor 2, Tay Thanh Market, Nguyen Trai, City. Thanh Hoa, Thanh Hoa.
– Lot 574 Resettlement Area, Tan Binh 2, City. Thanh Hoa, Thanh Hoa.
– 22 Dinh Le, City. Thanh Hoa, Thanh Hoa.
3. Shrimp and meat rolls in Thanh Hoa
Although rolls are available in every province, but depending on the region there is a different way to pour rice rolls, Thanh Hoa is also very special. Coming to Thanh Hoa, visitors enjoy the rice rolls filled with minced meat with shrimp, wood ear, sprinkled with a little dried onion. Some places have extra egg rolls or grilled rolls to eat with rice rolls. The rice rolls are soft, chewy and fragrant with rice flour, with a variety of breads that are sweet and sweet. Not only in the morning, this will also be a delicious street food Thanh Hoa you should try from late afternoon to evening. Each cake costs from 5k – 8k, each person eats about 7-10 pieces is enough for the whole day.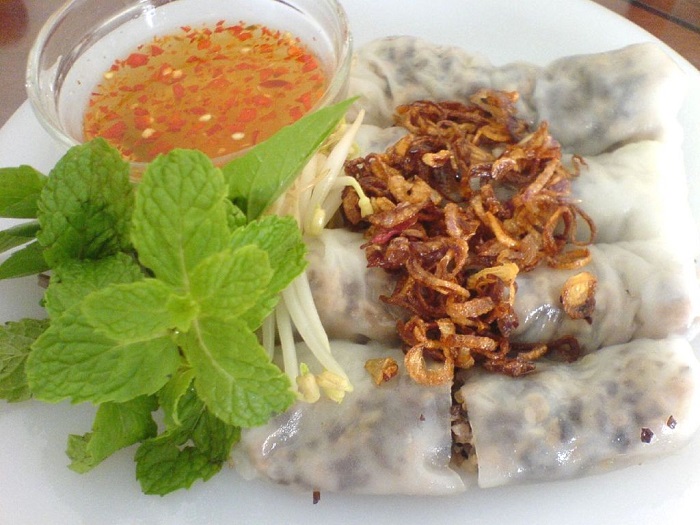 The Thanh's rice rolls
To be able to eat Thanh Hoa rolls at any time of the day, you can stop by Tong Duy Tan, Tran Phu, Le Quy Don …
– Banh Roll Ba Lanh – 252 Tong Duy Tan, Ward Lam Son, City. Thanh Hoa, Thanh Hoa.
– Sister Huyen Roll Cake – 176 Dinh Cong Trang, City. Thanh Hoa, Thanh Hoa
4. Snail at the gate of Thanh Ha – Ben Ngu pagoda
At the gate of the pagoda, but the row of snail shops on Ben Ngu street is a familiar address of gourmets who love snail dishes. 
The snail is thoroughly seasoned with spicy and fragrant chili lemongrass, using pliers to cut the tail and suck. Ben Ngu snail has many different dishes, but people still prefer the suckling snail, as a specialty of this country. The address 13 Ben Ngu is recommended by the people to have a super delicious sauce, round taste, perfect fish sauce from taste, color to seasoning, a little sour, sweet and not too salty and fragrant. lemongrass, lime leaves; Especially Thanh Hoa has a soft dish mixed with fish sauce, which is very snails.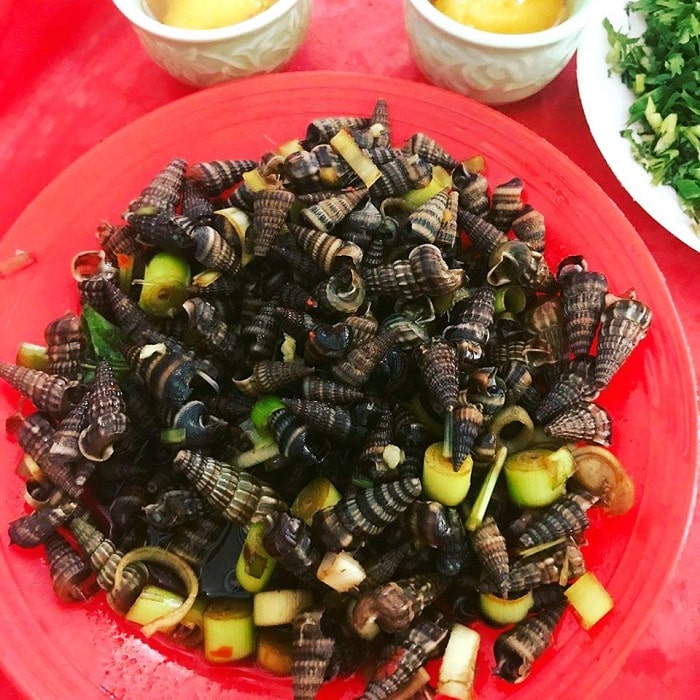 Eat a plate of snail to tell three funny stories with friends
The price for each 10k fixed plate has not increased for many years, it is both delicious and cheap, so although the restaurant is not too large, it still attracts a large number of customers every day.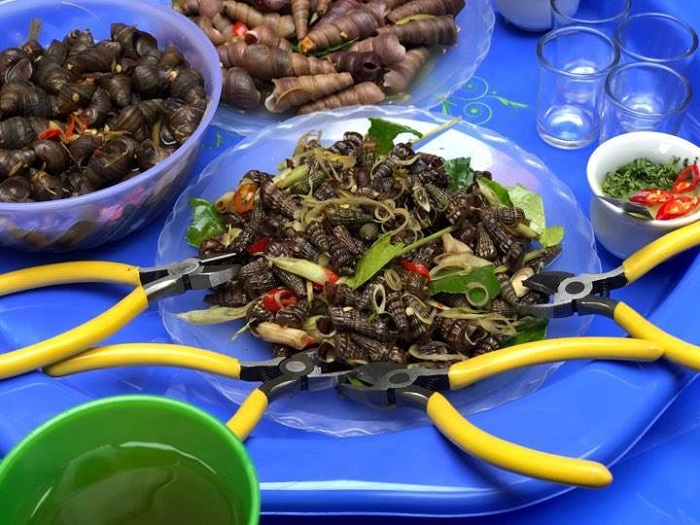 Snail is a famous dish on Ben Ngu Street
Address: 13 Ben Ngu, Truong Thi Ward, City. Thanh Hoa
 
5. Nam Ha Truong Thi Bread
In Thanh Hoa, there are many bread shops, but in order to enjoy delicious cakes, visitors should visit Nam Ha's traditional bread shop on Truong Thi street, where there is a large chain of bread shops that already exist. 20 years. Crispy hot bread has a variety of filling and tastes best, not to mention fried spring rolls, dried beef sandwiches, roasted meat … All ingredients are carefully selected to ensure freshness, but the determinant of taste Delicious, but there is no traditional sauce.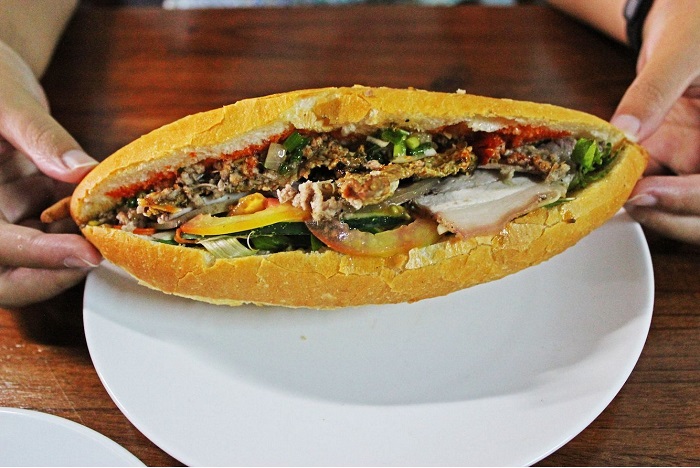 Nam Ha bread filled with filling
Each cake full of filling costs only 10 – 15 thousand.
Address: 284 Doi Cung, Lam Son Ward, Thanh Hoa City
6. Khanh Chi soup soup is suitable for dinner
Another delicious Thanh Hoa street that visitors should not miss when coming to this city is soup. The smoky soup bowl has a fragrant aroma, the soup is thick, the broth is sweet and the taste of the bone is stew. In each bowl of porridge is a mixture of dried shrimp, seafood, and meat, sprinkled with a bit of very attractive herbs. Someone said that enjoying a bowl of porridge and soup is true to have traveled to Thanh Hoa . The price of a bowl of porridge soup in Khanh Chi is about 10,000-25,000 VND, the shop is open every day from 14:00 – 18:00.
Address: Lane 24 Le Thi Hoa, Lam Son Ward, Thanh Hoa.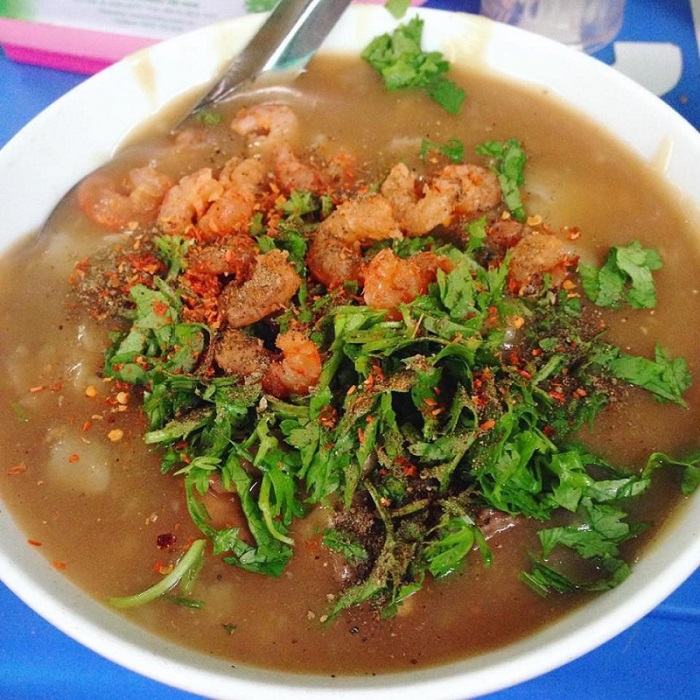 Hot soup porridge suitable for eating on winter days
Above are the top 6 Thanh Hoa street food and places to enjoy. If you have the opportunity to visit this city in the North Central region, do not forget to once enjoy the delicious snails, cakes, rolls … in this language.
TAG: