The grilled chicken with Lam rice in Gia Lai is delicious 'standard'
Fragrant grilled chicken, sweet and sticky rice are famous specialties in Gia Lai that make diners fall in love every time they stop. Here are the best places to enjoy grilled chicken with green rice!
Traveling to Gia Lai , you must definitely enjoy grilled chicken with Lam rice, which is a habit of many tourists when setting foot on this rich plateau. As a famous specialty, it is not strange that the chicken rice shop in Gia Lai is always crowded. If you come to Gia Lai for the first time and do not know where to go to enjoy the famous specialties of this land, the following restaurants will be the perfect suggestion for you.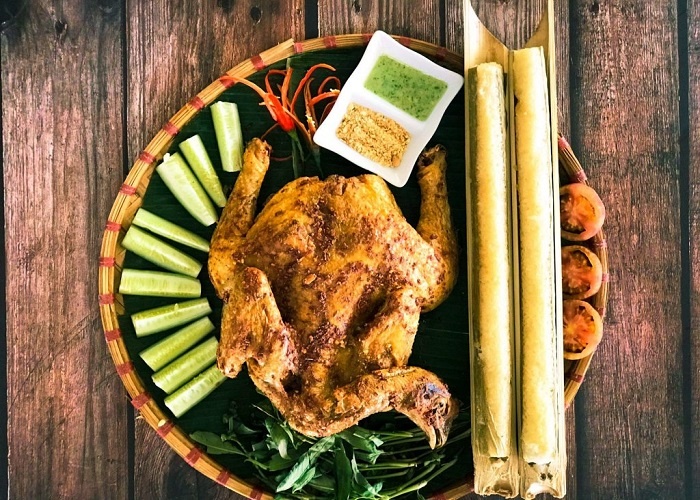 Gia Lai has many attractive grilled chicken and rice shops. Photo: Zing

Take a look at 4 famous chicken rice-grilled chicken shops in Gia Lai

1. Gia Lai Bazan grilled chicken rice shop 
Referring to the famous fried chicken and rice shops in Gia Lai , Bazan is definitely the most prominent address. This is a familiar culinary address of tourists and locals whenever they want to enjoy grilled chicken, lam rice or typical dishes of Gia Lai cuisine . Coming to Bazan restaurant, you will be attracted by the unique communal house architecture, originally a Jrai village, the owner wanted to keep the soul and identity of the traditional village in the middle of the city, so it opened. out to this restaurant.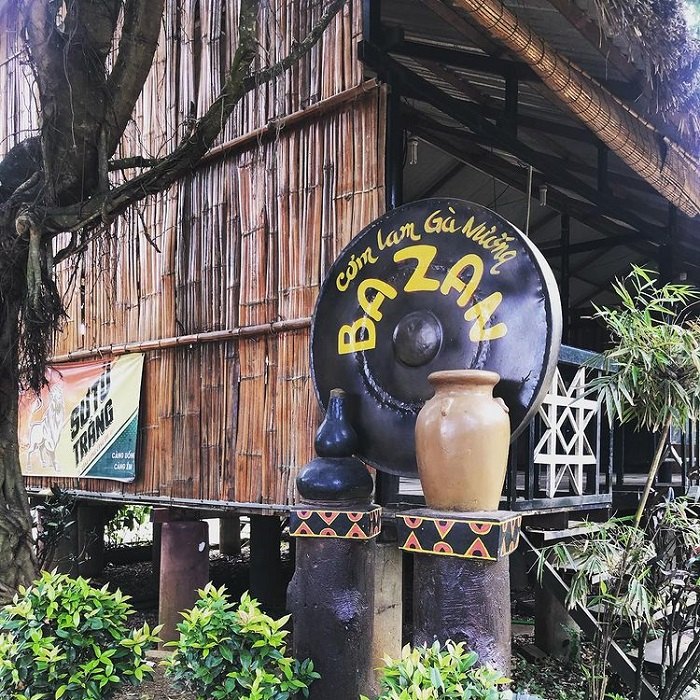 The Basalt restaurant has a bold Central Highlands space. Photo: @tamae_u_u
As the name suggests, the specialties here are mainly chicken and green rice, especially the delicious and delicious grilled chicken fingers here. Chicken grilled on charcoal has a flavor of the typical spice and sweetness of the Ban Chicken, dotted with salt leaves for a great blend, and the green rice is fragrant. In addition, the shop also has many other attractive dishes such as grilled pork, vegetables cooked with bitter tomato …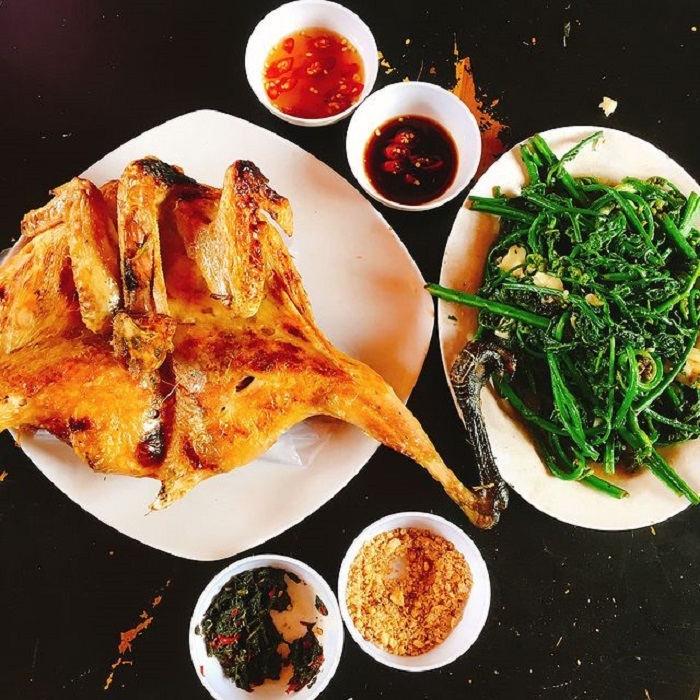 Chicken in Bazan shop is chicken raised in the village, so it is very sweet. Photo: @tomboyclassic
Especially coming to this famous grilled chicken rice shop Gia Lai , you can not only enjoy the famous specialties of the mountain town but also have the opportunity to enjoy attractive gongs, oval dances or sometimes dance. drunk by the fire of joyful wine need. 
Bazan restaurant is located in alley 478 – 480 Le Duan street, Pleiku city. The restaurant is available from 9am to 21h20 on weekdays. The price of dishes is from 60,000 VND to 80,000 VND, only basalt chicken costs 270,000 VND / chicken and Vietnamese chicken usually costs 220,000 VND / chicken.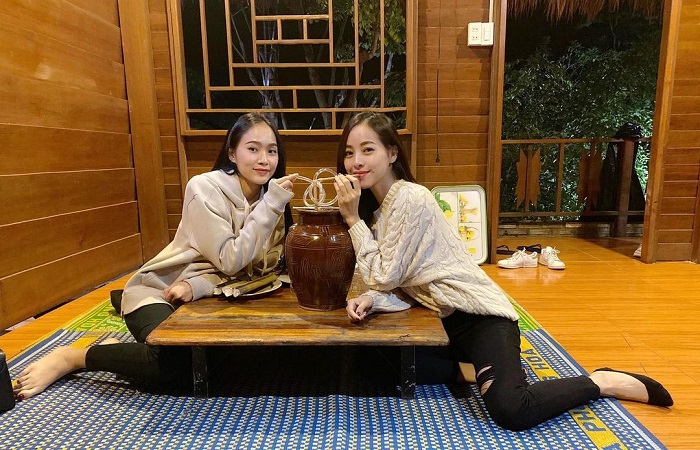 Wine needs to be drunk .. Photo: @ angela.ph91
> See more:  ' Destroying hunger' with 10 famous restaurants in Pleiku famous near and far
2. Grilled chicken Plei Tieng Gia Lai 
Traveling to Gia Lai to visit Bien Ho or Tan Son dam area , visitors will surely find it hard to ignore the famous Gia Lai fried chicken restaurant called Plei Tieng. Located far from the city center, the restaurant has a very spacious and cool space with many trees, stilt houses, kitchen corner as well as decor here bold Jrai culture. The shop has a total of 10 stilt houses in a large campus, each house on stilts can accommodate 20 guests. In the middle of the bar space is a very large courtyard for diners to participate in special exchange programs and festivals.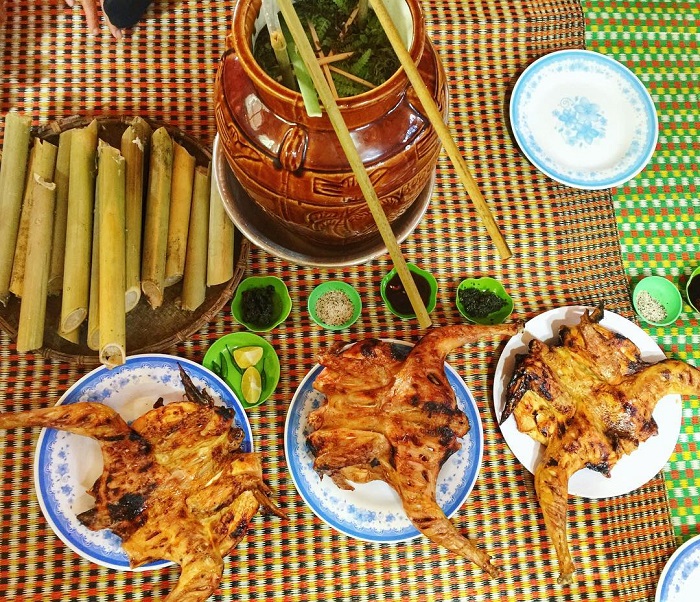 Plei Tieng is a famous address for people addicted to grilled chicken with rice in Gia Lai. Photo: @mai_cao_son
The menu of the restaurant has only 3 dishes: rice lam, grilled chicken, grilled pork, the owner is quite meticulous in cooking so customers who come here if you want to enjoy immediately, should order the school. 
Chickens are selected as house chickens with a weight of less than 1 kg. The sweet taste, while baking, must be rotated to make the chicken golden, it takes up to 2 hours for the complete chicken to cook.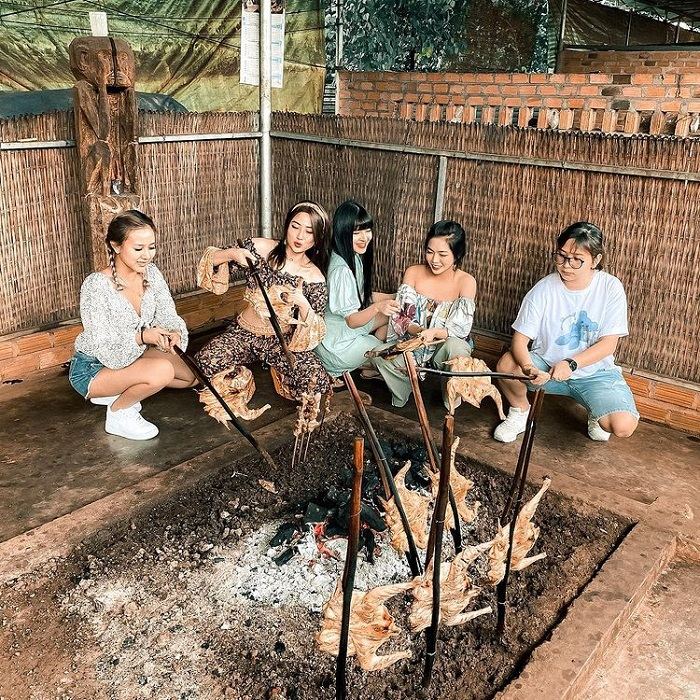 The way of grilled chicken at Plei Tieng restaurant is very tricky. Photo: @hanphannn
Lam rice in Plei Tieng restaurant is made from upland rice grain, so it is very pliable and fragrant. The salt is made from green leaves, lemongrass and chili for a strong aroma. Besides the chicken and rice, the pigs here are also extremely delicious, the young diners can follow all stages of processing, the shop owner is happy, enthusiastic and does not hide his job.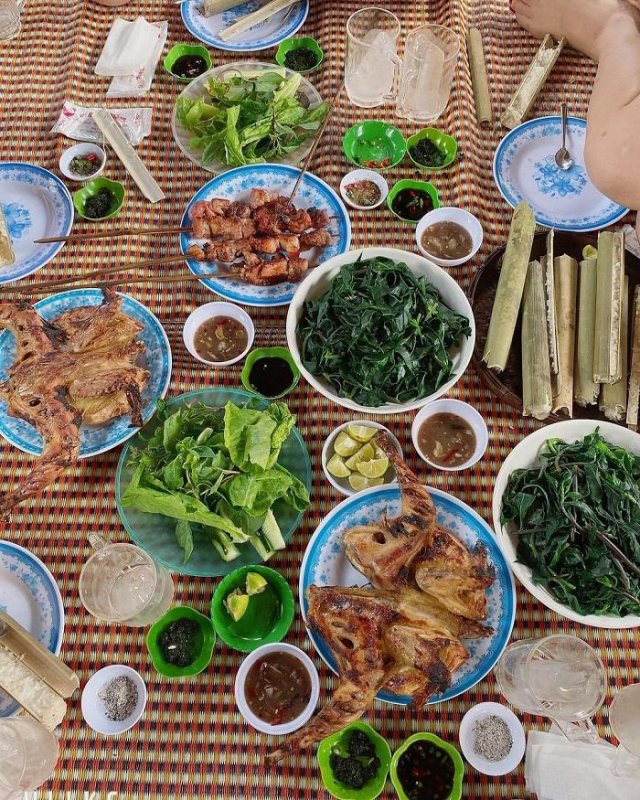 Grilled chicken, green rice, and pork are all famous specialties of Plei Tieng. Photo: @ duyenan89
If you want to go to Plei Tieng restaurant, you move in the direction of the suburbs of Pleiku to Tan Son, about 3 km from Bien Ho to the village of Tieng. The shop is open from 9am to 9pm every day, the price of chicken is just over 200,000 VND / chicken and the rice lam is only 14,000 VND a long piece. 
3. Ksor Hnao artisan shop 
Coming to this grilled chicken rice shop in Gia Lai , the first thing that you will feel is the space of the Central Highlands with long roofs of the Ede people, the native Bana, the Nung trees, the things objects are made from familiar materials of a great place such as wood, bamboo, and bamboo.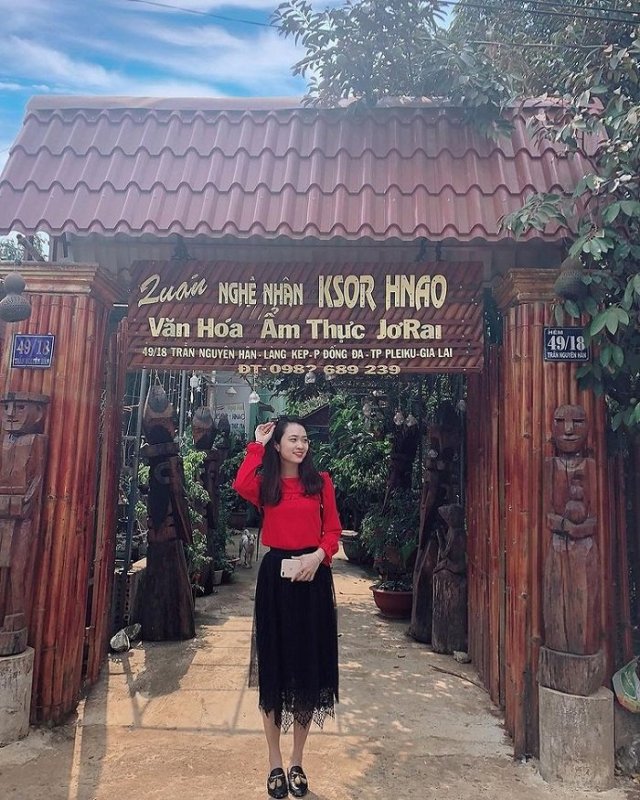 Ksor Hnao is also a famous culinary address. Photo: @ luxury209
The space inside is too spacious and airy, diners will have a meal in the style of the people sitting on the ground or high chairs. The menu of Ksor Hao is very diverse, in which the highlight is the fried rice and grilled chicken with fire. This dish has a very attractive taste and is processed in a traditional way that does not abuse spices so it keeps the taste.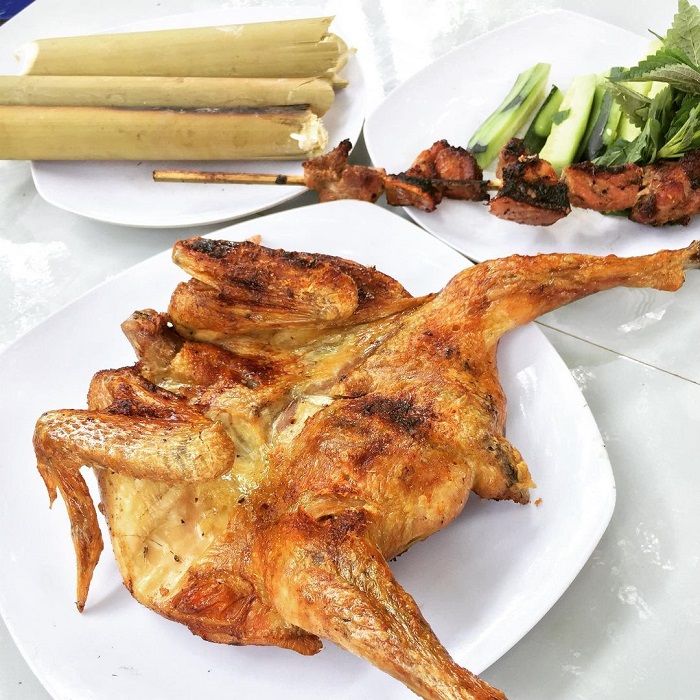 Grilled chicken with fire and fried rice. Photo: @ unu.una
The sauteed chicken is very fragrant and sweet, and dotted with Kơ Nia salt is extremely round. Grilled sticky rice in lam tube provides a delicious standard flavor to traditional lam rice. Coming to Ksor Hnao, do not miss the opportunity to taste sesame wine, a traditional wine brewed from very famous wild yeast and other special indigenous dishes such as grilled beef giant umbrella, stir-fried bitter tomato …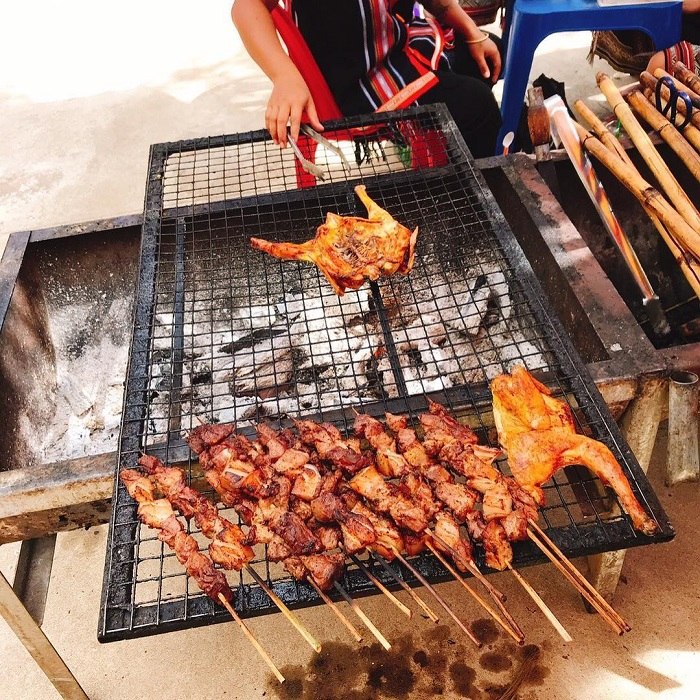 The barbecue in place is fragrant. Photo: @ nguyenthithuthao94
Ksor Hnao artisan shop is located at the alley 49/18 Tran Nguyen Han Street, Dong Da Ward, Pleiku City, open from 9am to 9:30 pm daily, the price of dishes is from 60,000 VND to over 200,000 VND depending on the dish. 
4. Ia Gui shop
Ia Gui is one of the famous grilled chicken with rice in Gia Lai . The owner is a Jrai, so the food here is cooked in the traditional way of the people. The space of Ia Gui is very spacious, airy and cool, with lots of green trees, and the shop has its own huts, so when you come here you will have maximum privacy.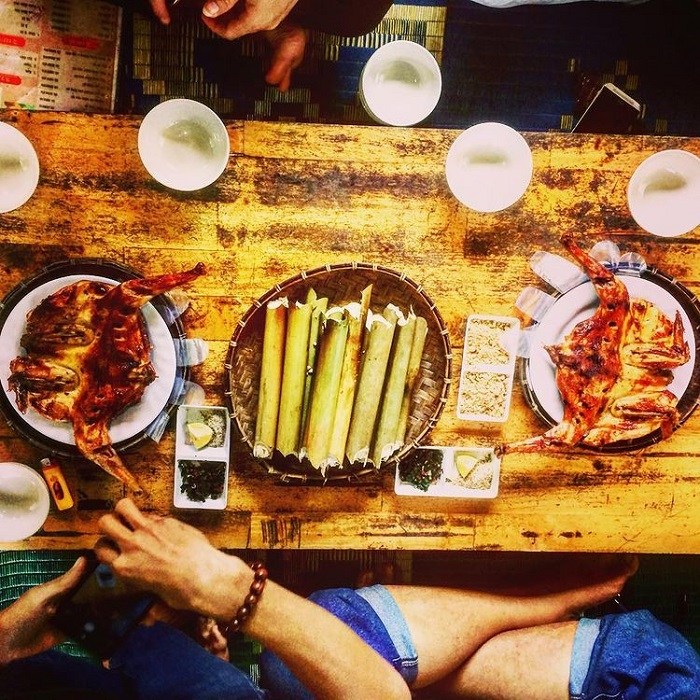 Ia Gui fascinates diners with its fragrant grilled chicken. Photo: @nghiwoan
The grilled chicken here has an attractive taste, the chicken is not too big, the meat is soft, sweet and fragrant. Lam rice is sticky and very fragrant, with a variety of spices. In addition to the main dish of grilled chicken, lam rice, the shop also sells many other attractive dishes such as grilled meat, stir-fried wild vegetables …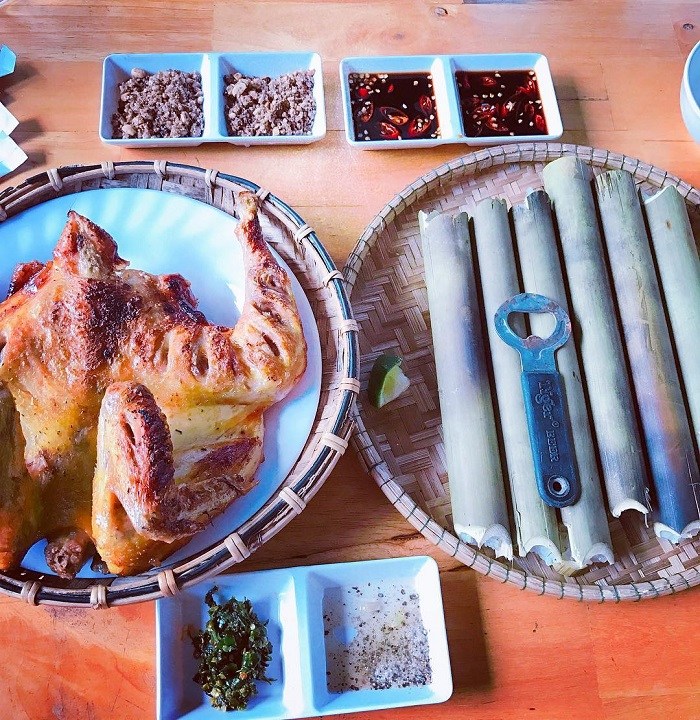 The restaurant uses native chicken so the meat is very firm and fragrant. Photo: @ duyenan89
Ia Gui fried chicken rice shop is located at 27 Pham Ngoc Thach street, Pleiku city, opening hours from 7am to 9pm daily. The price of the dishes here is also moderate, from 50,000 VND to 100,000 VND, the grilled chicken is about 220,000 VND / chicken. 
Check-in the famous grilled chicken rice shop in Gia Lai, you will surely be fascinated by the great taste and the dark rustic atmosphere of mountain culture. Come to Gia Lai, do not forget to taste the grilled chicken with green rice. 
Photo: Internet 
TAG: