8 delicious dishes in Hue are sure to try once
Traveling to the ancient capital of Hue, visitors will have many opportunities to explore the diverse and rich culinary world. Here is a list of some delicious dishes in Hue that you must definitely try once to feel all the specialties of the cuisine of this Central land.
1. Delicious dishes in Hue: Banh xeo
Cakes are one of the famous delicious dishes of Hue. Therefore, when you have the opportunity to travel to Hue , you definitely have to try this dish once. This is a dish that will melt you in the current cold winter weather. Because the delicious cake is both fragrant and crispy when dipped with the broth will be very delicious. In particular, the wonderful combination between the natural aroma of meat combined with the pulp from peanuts will make the delightful cake even more attractive and attractive.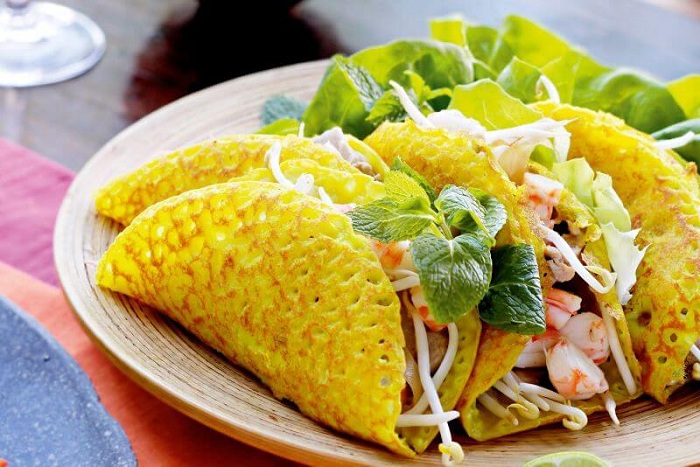 Sweet cake is a famous dish in Hue
When enjoying this Hue specialty , diners will eat it with raw vegetables and sour star fruit, sliced ​​green bananas.
Famous addresses selling delicious cakes:
+ Happy cake to Mrs. Hanh at 11 Pho Duc Chinh
+ Ngu Uyen delight cake at Dien Bien Phu street
Lac Thien cake is located at 6 Dinh Tien Hoang Street
2. Nam Pho's famous cake soup
Banh canh is a delicious dish that has been attached to the Pho village land of Phu Vang district for a long time. It is considered one of the dishes in Hue that if you do not try it, you will feel extremely regretful. Bread soup is white and made from rice flour, filter flour. The process of making Nam Pho's banh canh is also very meticulous.
When you eat, you will feel the delicious and special taste of this famous banh canh. This dish served with the grilled sausage and the filling will be delicious. In particular, this cake soup will become even more attractive if you eat with chopped green chili in a bowl of rich fish sauce.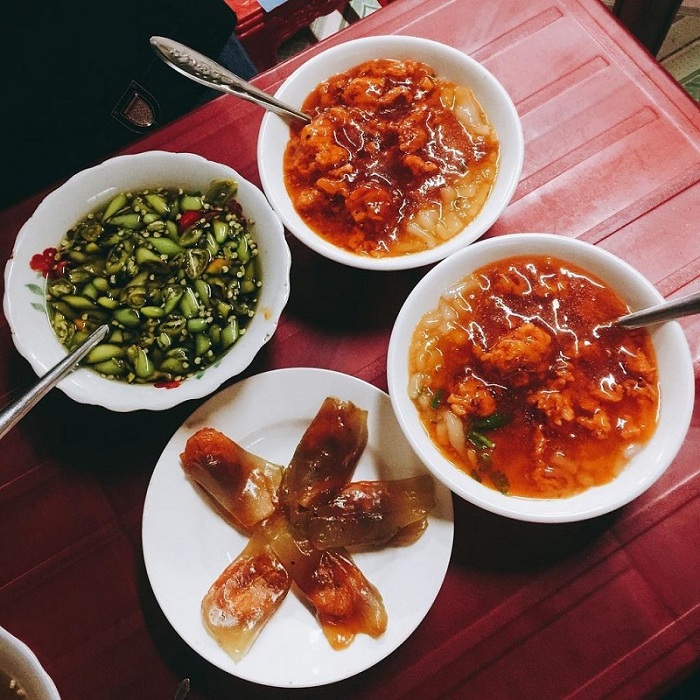 Nam Pho banh canh is a famous delicious dish that you should try once
In Hue, there are many places selling Nam Pho cake. However, delicious and attractive rings must include the following restaurants:
+ Nam Pho Thuy cake soup shop at 16 Pham Hong Thai
+ Nam Pho cake shop resides at 374 Chi Lang Street
3. Grilled meat noodles with fragrant nose
Those who love delicious barbecue will definitely not be able to miss a delicious dish like grilled meat noodle in Hue. This is a very familiar dish and you can enjoy it in many places. However, in Hue this dish becomes extremely special. Because the barbecue here is made from thin bacon that has been fully marinated with spices including pepper, onions, fish sauce and sesame seeds, five flavors. 
When grilled, meat skewers will be very delicious. Anyone who enjoys this dish will feel addicted. Because when eaten with vermicelli, raw vegetables, sour food, soup or fish sauce will be very delicious. The sauce used to eat with this delicious dish in Hue is a fish sauce made from pork liver so the taste is very different.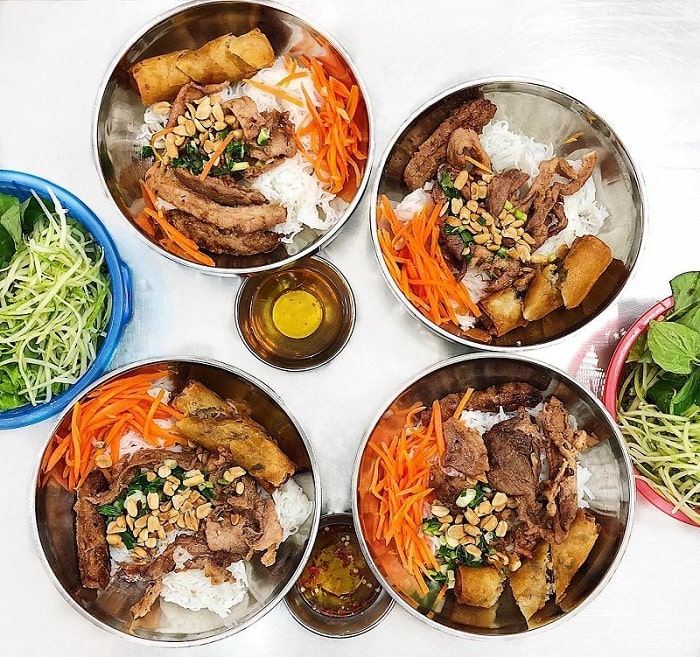 Grilled meat noodles are fragrant
You can refer to some addresses in Hue that specialize in serving delicious barbecue dishes such as:
Ba Ty grilled meat noodle shop at 81 Dao Duy Tu street
+ Grilled pork noodle shop opposite 35 Nguyen Truong To
+ Famous grilled meat noodle shop at 130 Tran Phu
4. Hue standard rice cakes
The next delicious dish in Hue that you cannot ignore when traveling in Hue is the banh nam cake. This dish can be used for snacks or eaten with the main course is very delicious. 
Banh nam with true Hue taste must be the kind of cake wrapped with dong leaf. The top of the cake has a little bit of shrimp and meat that has been chopped and seasoned with a rich flavor. When eating, you will eat with Hue fish sauce to add a few slices of green chili to taste.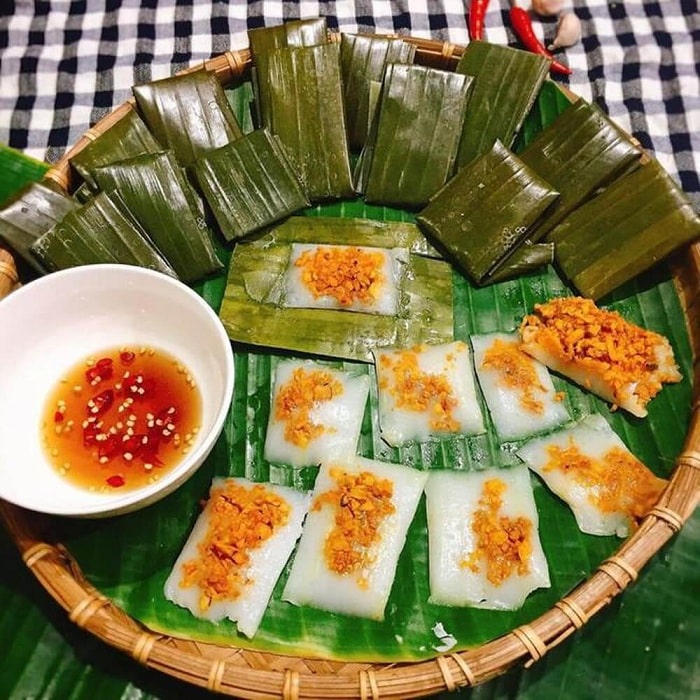 Hue-style rice cake dish, once you remember it, will not forget it
Famous address for you to visit to enjoy the rice cake in Hue:
+ Mrs. Do Nam Banh Bao at 71 Nguyen Binh Khiem, Phu Cat
+ Hang Me nam cake shop at 14 Vo Thi Sau in Phu Hoi
5. Enjoy delicious and mixed Hue specialties
Referring to the delicious specialties in Hue, it is impossible not to mention the mixed fig. This is a dish that at first sight sounds strange. However, it is a famous dish in Hue. This dish is special in that the use of figs grown in Hue for processing.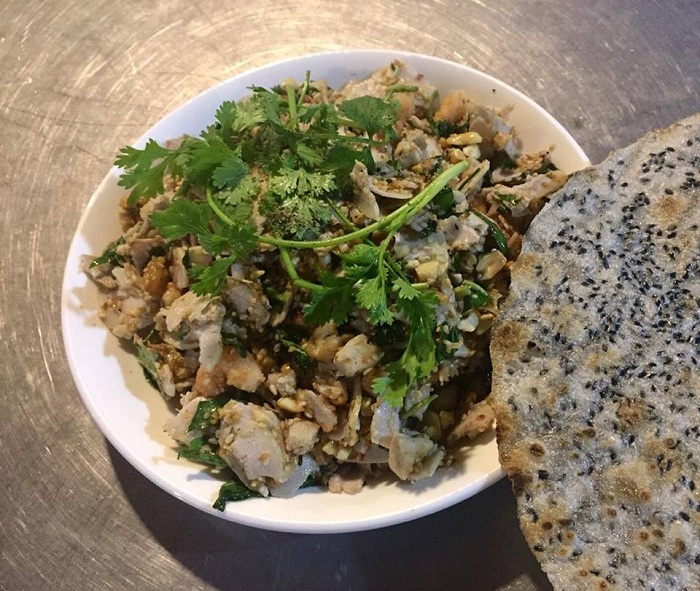 Fig mixed is one of the famous specialties of Hue
When processing, people will mix figs with other ingredients such as boiled shrimp, lean pork, pork skin with spices for a rich flavor. When eating, you will enjoy the fig mixed with sesame and herbs. Plus the scallions, cilantro, cilantro, and chopped cilantro are delicious. This dish combined with grilled rice paper and Hue fish sauce is as delicious as it is
6. The dish is delicious mussel rice 
Rice with mussel is a popular dish but is very famous in Hue. This delicious dish in Hue is made from white rice. After cooking, let the rice cool down and eat it together with fat, mussels add roasted peanuts and fish sauce with luck.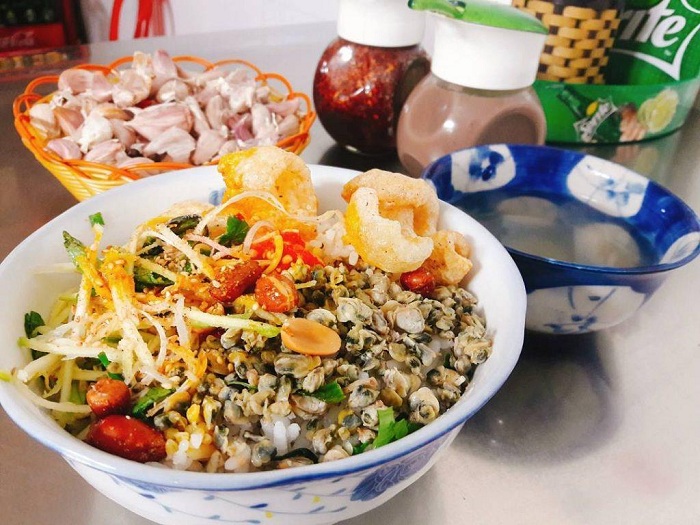 Mussel rice is a delicious dish that is loved by many diners
You can visit the following addresses to enjoy Hue specialty mussel rice:
Dam Da mussel restaurant at No. 1 Han Mac Tu, Vy Da 
+ Small mussel rice shop is located at Pham Hong Thai intersection of Truong Dinh
+ Noodle porridge, mussel rice shop at 98 Nguyen Hue
7. Delicious grilled meat wet cake
Baked wet cake is a delicious dish in Hue that you should enjoy once said. This dish has a similar cooking method to the grilled meat vermicelli. When eating will roll the wet cake outside the barbecue. Then add a little blanched bean sprouts and eat with herbs and sweet and sour garlic sauce of chili will be very delicious and strange.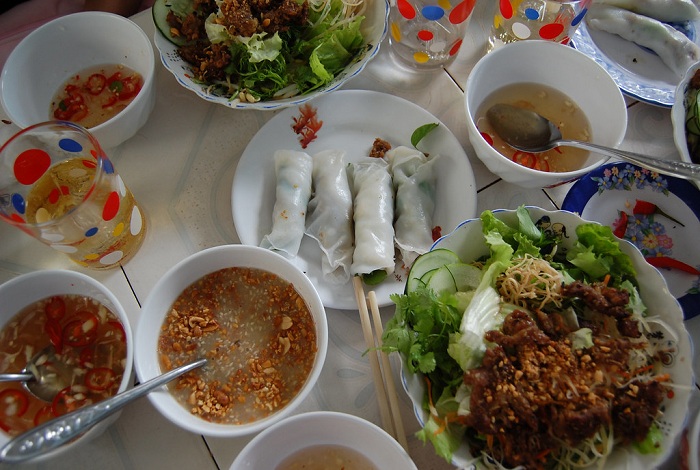 Wet grilled meat cake is a delicious dish with bold flavor of Hue
To be able to enjoy delicious grilled grilled meat with Hue standard, please go to the address: 
+ Huyen Anh barbecue wet cake shop at 52/11 Kim Long
8. Hue beef noodle specialties in Hue language
Referring to Hue culinary culture, it is impossible not to mention the famous Hue beef noodle dish . This is a delicious dish in Hue that is loved by many tourists. This Hue beef noodle dish, when eaten, will be eaten with pork rolls, bacon with thinly sliced ​​beef. When eaten, they will be eaten with raw vegetables, lemon, garlic and chili …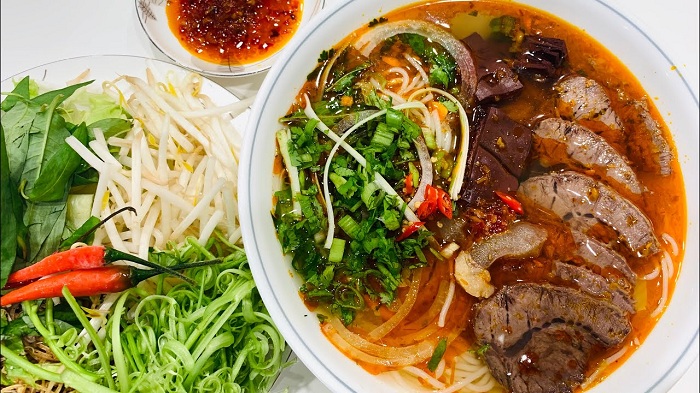 Bun Bo Hue is a delicious dish that is loved by many domestic and foreign tourists
The famous beef noodle shops in Hue must include the following restaurants:
+ Hue beef noodle shop at 14 Ly Thuong Kiet
+ Hue beef noodle shop at 43 Nguyen Cong Tru
+ Mrs. My beef noodle shop at 71 Nguyen Cong Tru
In addition, in Hue there are many other famous delicacies for you to enjoy such as filter cake or delicious Sweet Soup in Hue with many different types of tea. From lotus seed tea to pomegranate tea, cotton tea, mash tea …
Hopefully, with the delicious dishes in Hue shared above, you will have a better understanding of the colorful culinary world of Hue. Coming to Hue dreaming, you will discover a lot of interesting things because in addition to sightseeing and sightseeing at famous Hue tourist sites , you can also enjoy many delicious dishes that only Hue has. Wish you have a really happy and warm Hue trip.
Photo: Internet
TAG: