Eco-site Mang Den in the Central Highland forests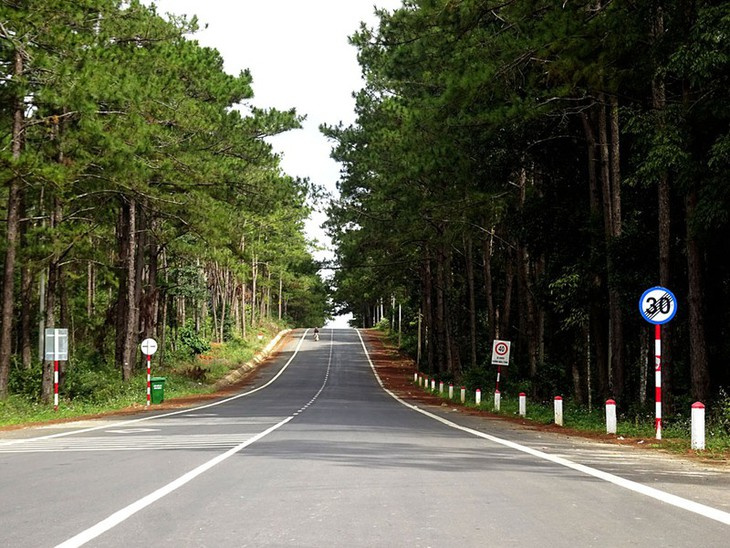 The winding path to Mang Den crosses the pine tree forest. (Photo: baophapluat.vn)
The path to Mang Den, winding around the rocky mountains, has many sharp turns and is blanketed by fog. It takes visitors to a plain where red pine trees, a rare flora which is now a thing of the past in Da Lat, are rampant there. The pine tree forest crowds around giant lakes, called "toong" by the locals. Lush forest, alluring lakes, breath-taking waterfalls, purple sunsets, misty sunrises, Mang Den has them all.
Nguyen Hoang Hanh of Hanoi is ravished by the Pa Sy waterfall. "I've heard about Mang Den for a long time. I must explore it this time while I'm visiting Kon Tum province. Mang Den is said to be a twin of Da Lat but, to me, they are beautiful their own way. Mang Den features forests, streams, and waterfalls, typical of the Central Highlands scenery. I'm now at Pa Sy waterfall, a popular destination in Mang Den. It looks stunning even in this dry season," she said.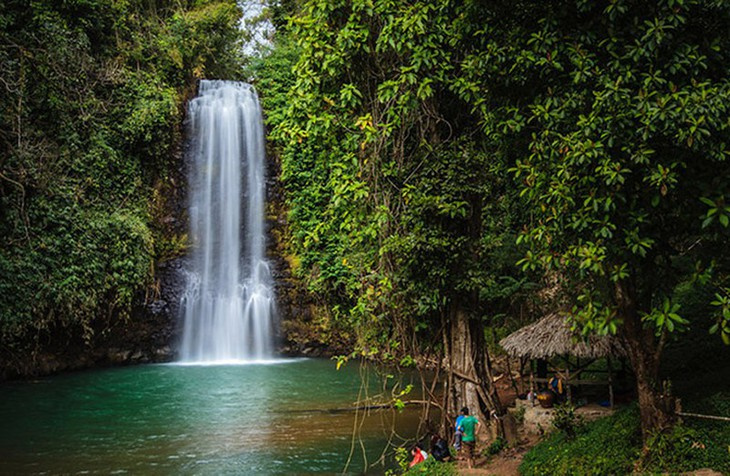 Pa Sy waterfall in Mang Den (Photo: baophapluat.vn)
In addition to its captivating natural landscape, Mang Den has numerous historical relics commemorating the Kon Plong battle against foreign invaders. It's populated by people of the Kinh majority and four ethnic minorities: Mo Nam, Ca Dong, Xe Dang, and Hre, who earn their living by farming on terraced fields, gardening, hunting, and raising cattle, and still practice their traditional culture in unique wedding ceremonies and religious rites.
Nguyen Vinh, a Mang Den resident, said, "Mang Den was once featured in an article by a French lady after a week-long visit. She described it as a heaven on earth. While she was here, Mang Den had no electricity. She stayed with local people who lived in bamboo houses. They drank wine every night around a camp fire. In the morning, the mother ground rice while the father and the son hunted wild birds in the forest. Life was that rustic."
The M'nong ethnic people of Mang Den celebrate a bumper crop by singing and dancing to their traditional musical instruments in a long stilt house. The song lyrics thank the deities for blessing them and invite their neighbors to come enjoy the feast. Every M'Nong person, even little ones, learns this song by heart.
Village dignitary A D'rel said, "This community activity usually takes place in the evening. We tidy up our houses, eat new rice, drink wine through long bamboo straws, and sing and dance to the gongs."
They sing about their childhood, wild and free, in the forests, about the heroes who protect their village, and about love. These are the great epic songs of the Mang Den area.
TAG: