Famous YouTuber fined for posting 'superstitious' content
After two days working with YouTuber Tho Nguyen, the authorities of Binh Duong province have imposed a VND7.5 million fine fine on the popular vlogger.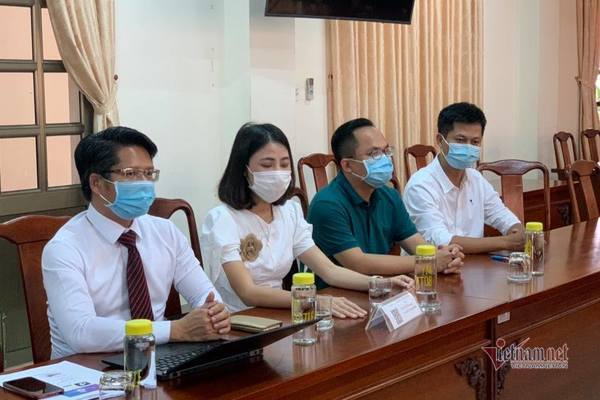 Youtuber Tho Nguyen at the meeting with Binh Duong province's authorities. 
On March 15-16, representatives of the Department of Information and Communications and the police agency of the southern province of Binh Duong worked with YouTuber Tho Nguyen on her clips in which she used a doll to "ask for good study".
She said that she was aware of the violation, which she said was unintentional. The famous Youtuber apologized to the authorities and her subscribers, who are mainly young people and others in the online community.
Referring to her previous explanation, she said that she had posted a video with the content "ask for good study" on the social network TikTok, consisting of two parts.
Part 1 is a controversial clip that was strongly criticized by the online community and part 2 is a clip explaining that the doll in the first clip is an ordinary doll, not a ghost doll.

Because TikTok only allows 60-second clips, the video could not be uploaded fully, causing confusion in the online community.
Inspectors of the Department of Information and Communications of Binh Duong province determined that her clips shared superstitious content.
Therefore, the agency imposed an administrative fine of VND7.5 million (over $300) on the violation, according to Article 101, Decree 15/2020/ND-CP of the Government.
On February 25 and 27, Tho Nguyen uploaded two clips with content about Kumanthong dolls on TikTok, a video-sharing social networking service owned by Chinese company ByteDance.
In the clip posted on February 27, Tho Nguyen said that she made a video using a doll to "ask for good study" after "receiving many requests from children". These clips were then posted on her YouTube channel. They have been strongly criticized by the online community.
Tho Nguyen is a famous YouTuber in Vietnam, who has more than 8.7 million followers. Tho Nguyen YouTube channel offers kid-oriented videos. Tho Nguyen began to become famous in Vietnam in 2017, after her clip of bathing in a giant jelly bath spread on social networks. After that, she continued to make other videos such as boiling cans of carbonated soft drinks, putting dry ice in water bottles... causing mixed reactions.
Since then, the number of viewers and followers of Tho Nguyen has increased dramatically, reaching 6.2 billion views and 8.74 million subscribers, the 7th Youtuber with the highest subscribers in Vietnam.
Tho Nguyen has also signed many advertising contracts with big brands for children and became a KOL in the field of children's toys. The Tho Nguyen channel is currently under the management of the Canadian BBTV network.
Xuan An
TAG: