Vietnamese YouTubers in tumult about Google's notice about 30% withholding tax
Vietnamese YouTube content creators are unhappy about an announcement from Google about a deduction of up to 30 percent from their earnings from the platform.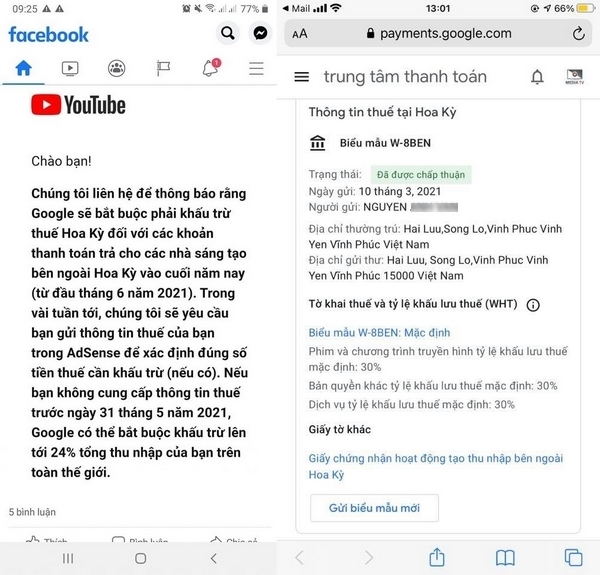 On March 11, the Vietnamese YouTuber community shared the email from Google. Content producers on YouTube who are not based in the US will be subject to a withholding tax from their monthly earnings of up to 30 percent. This will be implemented from early June 2021.
All YouTube content creators using monetization will have to declare tax to Google prior to May 31, or they will see their earnings deducted by 24 percent.
Google cited Chapter 3 of the United States Internal Revenue Code as saying that Google has the responsibility of collecting tax information, withholding tax, and reporting to the Internal Revenue Service (IRS) when creators join the YPP (YouTube Partner Program) and earn revenue in the form of royalty fees from viewers in the US.
The announcement from Google has caused a tumult among the Vietnamese YouTuber community, except the large channels joining the Multi-Channel Network. Many YouTubers have complained on forums that they don't know how to declare tax. Others have shared tricks for tax declaration which could help them avoid tax.
Meanwhile, Doan Nam, the administrator of a group on sharing experiences in creating YouTube content with more than 50,000 members, said the new policy won't affect Vietnamese people living in Vietnam and those having YouTube channels with ad income from views in Vietnam and non-US countries.
The YouTubers affected by the new policy will be Vietnamese living in Vietnam that have YouTube channels with views in the US; Vietnamese YouTubers living and working in other countries which have taxation agreements with the US (India, for example) with YouTube channels that get ad revenue from US views; and Vietnamese people living in the US.
If YouTubers don't declare information, Google will automatically deduct 24 percent of total revenue worldwide.
"All monetizing creators on YouTube, regardless of their location in the world, are required to provide tax info. Please submit your tax info as soon as possible. If your tax info isn't provided by May 31, 2021, Google may be required to deduct up to 24 percent of your total earnings worldwide," the notice from Google reads.
Vietnam's MCNs such as Metub, POPS, Yeah1 and Dien Quan all have given detailed instructions to all YouTubers.
YouTube content production has become a hot job in Vietnam, as it can bring a very high income.
Phuong Nguyen
TAG: