Forest worker inspires people to love the wild
Vo Doi National Park in southern Ca Mau Province's U Minh District is a home to hundreds of rare and precious fauna and flora.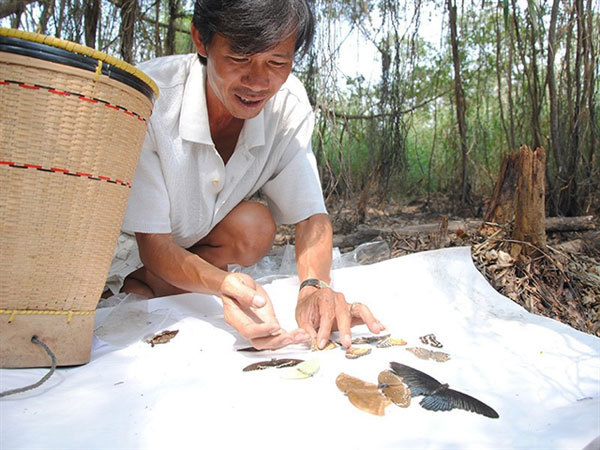 Nguyen Tan Truyen with his butterfly collection. Photo plo.vn
And there are also plenty of people working here who love to care for animals, plants and trees.
They are silviculture engineers who are trained to understand the value of primeval forests for human life on Earth.
Nguyen Tan Truyen is one of them.
Joining the park's staff 10 years ago, Truyen amazed his colleagues with his deep love of the precious nature.
One story sticks in their minds.
In 2010, on the way of patrolling the forest, Truyen found a young monkey who had lost his herd.
He took him to his home, fed and raised him as if he was his own baby. He even gave him a name, Titi.
Titi grew up and became very close to Truyen. But one day, Truyen found Titi's herd and released him to the wild.
Now talking about Truyen, the staff of Vo Doi Park picture a slim built man who spends all day working with conservation and biodiversity.
Sometimes, people saw him chasing butterflies or bringing a tree sapling for nurturing at his home.
He was only interested in talking about birds, animals and plants and encouraging people not to eat wild animals. 
Inspiration
Gradually, he became an influence to the park's staff and locals.
Knowing his need to study animals, people would collect butterflies for him, or unusual animals they discovered.
Other times they would report new sighting or discoveries, knowing Truyen would want to investigate and study.
Recently, Truyen just discovered the appearance of rare fishing cats for the first time in the park.
"The staff on the patrol saw it by accident. Then, I set up a photo trap to collect images of it," Truyen said.
"That was a very rare species noted in the World Red Book," he said. 
More animal release to wild
Local resident Duong Van Nha, once caught a beautiful reticulated python while working in rice field.
In the past he would not think twice about killing it for its meat, not today. Thanks to Truyen's influence, Nha released the snake to the wild.
A similar story occurred in Soc Trang Province when visitors brought two pangolins for release into the forest, even though on the black market they could have been sold for a high price. 
In recent years, people have brought more and more rare birds and animals to return them to the wild, said the park's director Huynh Minh Nguyen.
These gestures meant that there was a very positive change of people over wildlife protection, said Nguyen.  VNS
TAG: