New wave of startups and innovation in HCMC
Growing start-ups and innovation
Nguyen Viet Dung, Director of the Ho Chi Minh City Department of Science and Technology, said that in recent years, the city issued many incentive policies for innovation and startups. From 2016-2020, the city created 34 incubators, 10 working spaces totaling about 33,032 square meters, and other innovation and startup spaces. HCMC has improved its capacity of connection with 160 startup advisors and more than 200 experts to help improve knowledge and enrich experience for more than 3,000 startup individuals and groups.
Some 2,400 startup projects have been launched in the city, while 60 startup competitions attracted 3,000 participants. About 13,380 teachers and 136,666 students in the city are participating in Science, Technology, Engineering, and Mathematics (STEM) programs.
HCMC has cooperated with Israel to improve technology, develop products and increase capacity of startup businesses. The Saigon Hi-Tech Park (SHTP) is coordinating with partners to assist Vietnamese to accelerate startups in the US. The city also has many other startup development programs.
This year, HCMC held the Ho Chi Minh City Artificial Intelligence 2020 (HAI 2020), Innovation and Startup Awards 2020 (I-Star 2020), AI Hackathon 2020 HCMC and AI Hackathon Reset 1010.
HAI 2020 attracted 108 competitors, 20 of whom reached the semi-final round and will participate in an incubation program with financial assistance of up to VND200 million per project. The best three projects included a project for glaucoma disease diagnosis using the EYEDR artificial intelligence software, a drone-based plant health check project, and the "Music ID" project (using artificial intelligence to detect music piracy) of the Ho Chi Minh City University of Natural Sciences.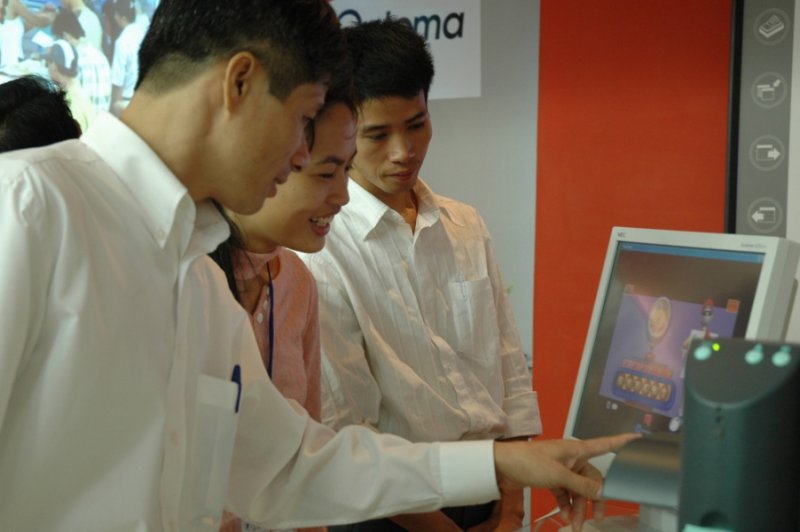 A creative and digital transformation experience space launched in Ho Chi Minh City on October 12
This was the third year HCMC held the Innovation and Startup Awards. The event attracted 303 competitors, many of them highly rated for their domestically and internationally recognized products, including Be (a Vietnamese ride-hailing & fast-delivery app), MiSmart technology (using drones to detect and kill pests on plants), and Triip travel platform (helping visitors connect with local residents around the world).
A creative and digital transformation experience space was officially launched in Ho Chi Minh City on October 12. According to Vice Chairman of the Ho Chi Minh City People's Committee, Duong Anh Duc, this space is a first step reflecting the determination of the southern megalopolis to contribute to the national digital transformation program in order to stimulate the country's socioeconomic development in a sustainable manner based on techno-scientific advances and innovation.
The municipal authority is committed to assisting and supporting the information technology (IT) community's research and development of new digital products serving the development of e-governance and the digital economy.
Apart from developing digital infrastructure in recent years, the city has been promoting startup seminars and other startup activities.
Ready for a new stage of development
According to Tran Xuan Dich, Deputy Director of the Ministry of Science and Technology's Department of Market Development and Science and Technology Enterprises, authorities will continue to improve policies in order to facilitate startup activities in HCMC, and the coming period will be an important period for startup development.
Under the city Department of Science and Technology's 2021-2025 development plan, startup activities in HCMC will be divided into four groups including training, event organization, business incubation, and project acceleration. These four groups of activities are expected to improve the quality of services and capacity of organizations, create public and private competitive markets, and help attract reciprocal capital for startups.
HCMC is prioritizing what the country is facilitating, including digital transformation, smart cities, smart education, high-tech agriculture, financial technology, medical technology, and artificial intelligence (AI) and block-chain technologies. HCMC will develop smart urban areas in the eastern part of the city, which will function as a new driving force for economic development in the era of the Fourth Industrial Revolution or Industry 4.0. In developing industries with a high scientific and technological content, the city will develop high-tech industrial parks and expand and transform all existing industrial and export processing zones into high-tech facilities.
The city will focus on development of high value added services and projects in order to turn it into a national and Asian financial hub in the coming decade. The city will also improve management, including the participation of citizens and businesses in policy and institution development and implementation supervision.
HCMC with develop and promote application of the fifth generation (5G) and post-5G telecommunications technologies in urban management, digital transformation in governance, and e-government development. The Ministry of Information Technology and Communications has licensed MobiFone to carry out the 5G commercial pilot in HCMC. MobiFone has been rushing to install equipment and preparing technical, human resources and locations for the launch of 5G on a 2,600MHz broadband to serve 50 sites in the city. It negotiated and coordinated with leading 5G network terminal equipment providers to prepare the best customer experience.
Thanh Thanh
TAG: