SEA Games 31: Vietnam U23s demonstrate power with 3-0 rout of Indonesia U23s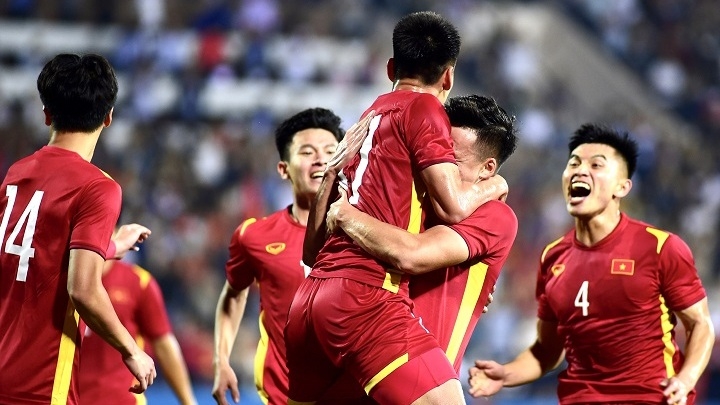 Vietnamese players celebrate scoring a goal during the match. (Photo: NDO/Thanh Dat)   
NDO – Vietnam U23s proved themselves as the favourites for the title by convincingly defeating Indonesia U23s 2-0 in the Group A campaign of the SEA Games 31 men's football event at Viet Tri Stadium in the northern province of Phu Tho on May 6 evening.
The two teams went into halftime level at 0-0, but the second half turned out to be real party for the Vietnamese side. Park Hang-seo's troops created a bunch of opportunities and converted three of them into goals thanks to Nguyen Tien Linh (54'), Do Hung Dung (74') and Le Van Do (84'), thus climbing to second in the group, just behind the Philippines, who earlier thrashed Timor Leste 4-0, on goal difference.
The match, considered a final match of Group A, took place at a lightning pace with both teams fiercely competing for the ball in the midfield, but it was the Vietnamese side who racked up more attempts on goal throughout the first half.
Nguyen Hoang Duc produced the first highlight of the match after 18 minutes, dribbling the ball past three Indonesian players and driving a long-range strike that went closely wide.
Two minutes later, Vietnam missed a golden opportunity to go ahead as Ly Cong Hoang Anh's pass rolled past keeper Adi Satryo across the goal, but Van Tung could not manage a touch to bring Park Hang-seo's troops in front.
Tien Linh and Bui Hoang Viet Anh threatened to score several times but goalkeeper Adi Satryo made smart saves to prevent the title holders from going off the mark before halftime.
VAN TOAN
TAG: