Send-off ceremony held for Vietnamese delegation to SEA Games 31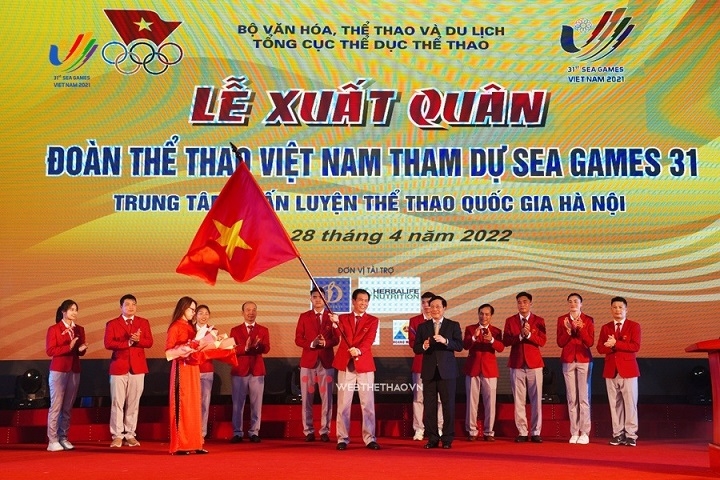 Permanent Deputy Prime Minister Pham Binh Minh hands over the national flag to the Vietnamese sport delegation. (Photo: webthethao)   
NDO – A send-off ceremony was held in Hanoi on April 28 evening for the Vietnamese sport delegation to the 31st Southeast Asian Games (SEA Games 31), scheduled to be hosted in Vietnam from May 12 to 23.
The event was attended by Politburo member and Permanent Deputy Prime Minister Pham Binh Minh; leaders of the Ministry of Culture, Sports and Tourism, the Vietnam Sports Administration and the Vietnam Olympic Committee; and officials, trainers and athletes of the Vietnamese SEA Games contingent.
Speaking at the ceremony, Deputy General Director of the Vietnam Sports Administration Tran Duc Phan, who heads the Vietnamese delegation, reported on their preparations for SEA Games 31, as well as their goal of securing at least 140 gold medals to settle for top spot in the overall tally.
In his remarks, Permanent Deputy PM Pham Binh Minh said that the SEA Games are not merely a sporting event where delegations of Southeast Asian countries compete for best results, but also a festival of solidarity and friendship and a platform for cultural exchange between countries in the region.
"The hosting of the SEA Games demonstrates Vietnam's role and responsibility for the Southeast Asian sports movement, while showing the country as one of the proactive, active and responsible members with wholehearted dedication to the development of ASEAN and for a stronger Southeast Asia," he affirmed.
Permanent Deputy Prime Minister Pham Binh Minh speaks at the ceremony. (Photo: webthethao)
On behalf of the Government, Permanent Deputy PM Pham Binh Minh spoke highly of the great efforts made by organisations, individuals and especially athletes, coaches and specialists of the Vietnamese sport delegation.
He encouraged each member of the contingent to be fully aware of responsibilities and assigned tasks, compete with the strongest determination for national pride, and uphold honesty and noble sportsmanship, thus contributing to elevating the position of Vietnamese sports to new heights and affirming the country's long-standing cultural tradition.
Swimmer Nguyen Huy Hoang represented the Vietnamese athletes to take oath, pledging to compete with the best of his ability for national pride.
The festive part of the send-off ceremony featured performances by Vietnamese athletes, singers and dancers. Especially, singer Tung Duong and athletes of national teams performed the song "Let's Shine" – the official song of SEA Games 31.
Vietnam will send a 1,341-member delegation to SEA Games 31, including about 950 athletes together with coaches, doctors and experts. The Games will offer up to 526 sets of medals for grabs in 40 sports. Competitions will take place in Hanoi and 11 neighbouring localities in the north of Vietnam.
An art performance at the send-off ceremony. (Photo: webthethao)
TAG: