Oslo Esports Cup: Liem overwhelms world's No. 8 chess player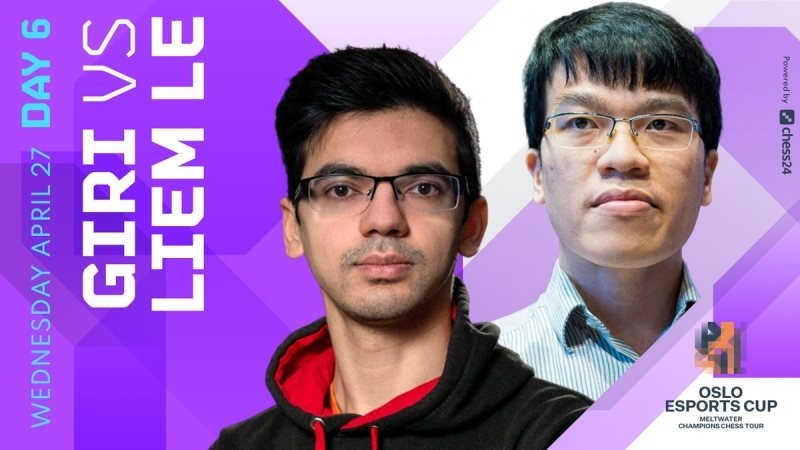 Vietnamese top chess player Le Quang Liem (R) continues his great form at the ongoing Oslo Esports Cup as he defeats the world No. 8 player Anish Giri in the penultimate round on April 27, 2022. (Photo: Chess24)   
NDO – Le Quang Liem won his third consecutive match at the Oslo Esports Cup in Norway, as he defeated the world No. 8 player Anish Giri 2.5-0.5 in the sixth round on the evening of April 27.
Giri palyed white pieces in the first game, which was balanced until he made one wrong move, letting the Vietnamese top chess player to take advantage to win the key game.
No.1 Dutch player Giri ranks eighth in the world, according to Elo Standard Chess in April 2022, and 15th in rapid chess. His position is significantly higher than Liem's, but the match on the evening of April 27 showed the opposite.
In game two, holding black pieces, Giri continued to make mistake as he pressed the wrong mouse when he was about to ride the D8 Rook.
Quang Liem again gained a bid advantage and concentrated his strong pieces on the board to attack the black King.
The No.1 Vietnamese player was still much more mobile in playing strong pieces than his opponent. Liem won after 37 moves to raise the score to 2-0.
In the third game, the Ho Chi Minh City born was in the upper hand, but agreed to draw with Giri. That result was just enough for him to win the overall 2.5-0.5, and earn three more points with 7,500 USD.
This is Liem's third consecutive victory, after he defeated Eric Hansen and reigning Chess World Cup champion Jan-Krzysztof Duda in the previous rounds. The Vietnamese grandmaster earlier also defeated Chess King Magnus Carlsen on the second day of the Oslo Esports Cup.
Liem has the opportunity to win the championship, but does not hold the self-determination right in his hand. Also in the penultimate round, Duda defeated Indian prodigy Rameshbabu Praggnanandhaa 2.5-0.5, while Chess King Carlsen defeated Hansen with the same score. The result helped Carlsen rise to the top of the table with 12 points like Praggnanandhaa. Liem and Duda are behind with 11 points.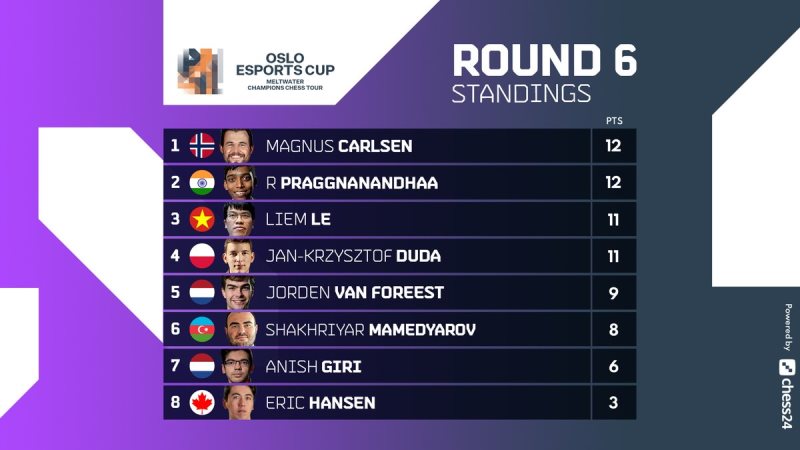 The Oslo Esports Cup rankings after Round 6. (Photo: Chess 24)
In the final round which takes place later tonight (Vietnam time), Liem will face Foreest, while Carlsen will play Mamedyarov, Praggnanandhaa will face Giri and Duda will encounter Hansen.
Liem will win the championship if he wins three points against Forestest, while Carlsen, Praggnanandhaa and Duda do not win.
The Oslo Esports Cup is the first main stage of the Champions Chess Tour 2022, bringing together eight players with four of them are in the Top 15 in the world.
They play a round-robin format of seven matches. Liem is the first Vietnamese player to attend a main stage of the Champions Chess Tour.
After the Oslo Esports Cup, Liem will return to Vietnam to prepare for the Southeast Asian (SEA) Games in his home country in May.
TAG: