Vietnamese women's football team end 2021 in 32nd place of FIFA world rankings
Members of the Vietnamese women's football team pose for a group photo during a training session abroad in October 2021. (Photo: Vietnam Football Federation)   
NDO – The Vietnamese women's football team are still the No. 1 team in Southeast Asia, as the latest FIFA rankings were announced by the world football governing body, confirming the team's 32nd place in the world.
Accordingly, coach Mai Duc Chung's side gained an additional two points to accumulate 1,659 points and maintain their 32nd place standing in the world and 6th in all of Asia.
These are enough to help Chung and his players stay at the top in the Southeast Asia region, six places ahead of the second-place regional team – arch rivals, Thailand.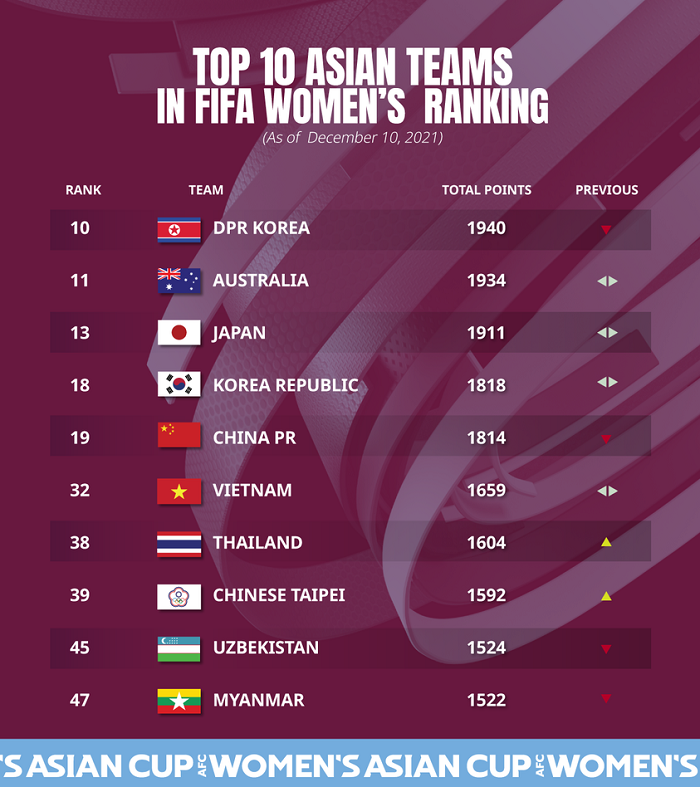 With the addition of 7.53 points, Thailand accumulate 1,603 points and climbed to the 38th position in the world and narrowed the gap significantly with Vietnam.
Notably in Southeast Asia, the Philippines with 16 plus points jumped from 68th to 64th place in the world, thereby rising to fourth in Southeast Asia. The Malaysian and Indonesian women's teams also made remarkable progress as they rose to 88th and 94th in the world, respectively, and ranked 6th and 7th in the region. The Singapore women's team was deducted 14 points, falling to 134th place in the world rankings.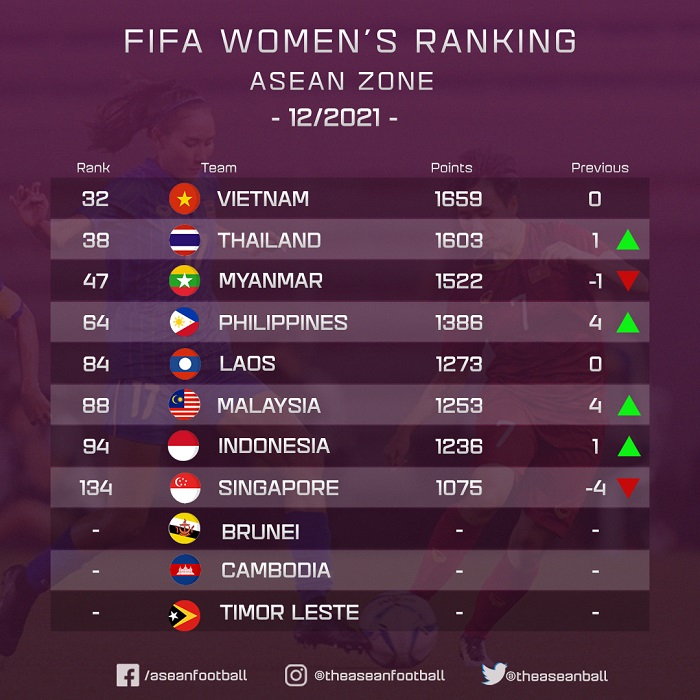 In Asia, DPR Korea are still leading the region with a total of 1,940 points. The next three positions are Australia (11th), Japan (13th) and the Republic of Korea (18th), respectively. The Chinese women's team dropped to 19th place in the rankings and ranked 5th on the continent.
Across the globe, USA retained the top spot, followed by Sweden (2nd) and Germany (3rd). France moved into fourth, while Netherlands have dropped to fifth, making the top five.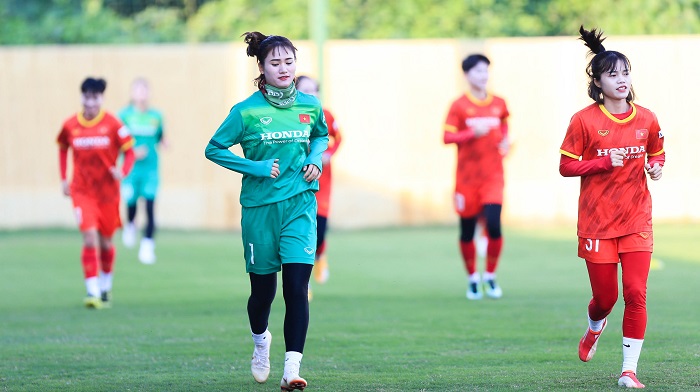 Members of the Vietnamese women's football team during a training session in Hanoi in late November 2021. (Photo: Vietnam Football Federation)
The Vietnamese women's team are rushing to prepare for the 2022 AFC Women's Asian Cup finals, which will take place in India in mid-January 2022.
Entering the second week of training at the Vietnam Youth Football Training Centre in Hanoi, head coach Mai Duc Chung and his assistants continued to help the players improve their fitness, strength and tactics in order to prepare for the upcoming important matches against stronger opponents.
Vietnam was drawn in Group C alongside Japan, the Republic of Korea and Myanmar. The match against regional rival Myanmar is considered a best case scenario for the Vietnamese women's team, to win three points if they want to progress at the Asian Cup.
According to the plan, at the end of December, the team will have a training camp in Spain, where they play three friendly matches before heading to India.
TAG: