Vietnam will strive to earn points in Japan game: Park Hang-seo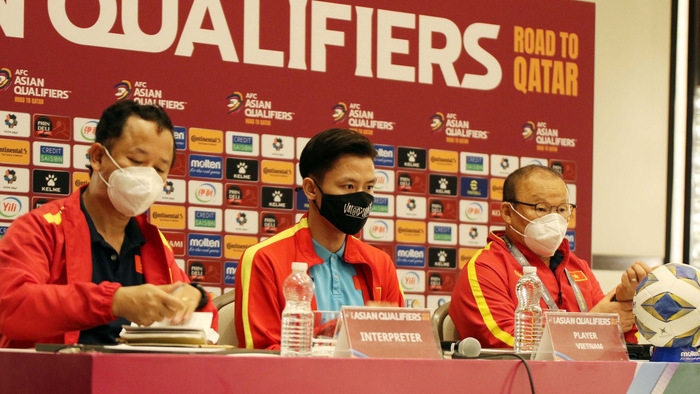 Vietnam coach Park Hang-seo and captain Que Ngoc Hai at the press conference (Photo: VFF)   
NDO - Vietnam's head coach Park Hang-seo has stated that his team will try their best to earn points in their World Cup 2022 qualifier against Japan, scheduled for November 11 in Hanoi.
Park told a press conference ahead of the game that Japan are the toughest competitors Vietnam will face in the third round of the World Cup qualifiers, noting that they now rank 29th in the world.
He added that as Japanese players all have good skills, they will have a higher ball possession ratio but Vietnam will make their best efforts to garner some points.
In their most recent head-to-head, Vietnam lost 0-1 to Japan at the 2019 Asian Cup.
Park stated that Japan's squad are very strong, with many high-quality players playing in Europe.
Also at the press briefing, Vietnam captain Que Ngoc Hai acknowledged that the game against Japan will not be easy for Vietnam and that the team's defence will have to pay maximum attention to players such as Minamino or Ritsu Doan.
But Hai emphasised that he and his teammates will be more confident with the solidarity of their supporters on home turf.
The 2022 World Cup qualifier between Vietnam and Japan is scheduled to take place at the My Dinh National Stadium at 7pm on November 11.
The 40,000-seat stadium will open to about 12,000 spectators, arranged in distanced seats to prevent the spread of COVID-19.
TAG: