World Cup qualifiers: Vietnam shrug off pressure in first training session in UAE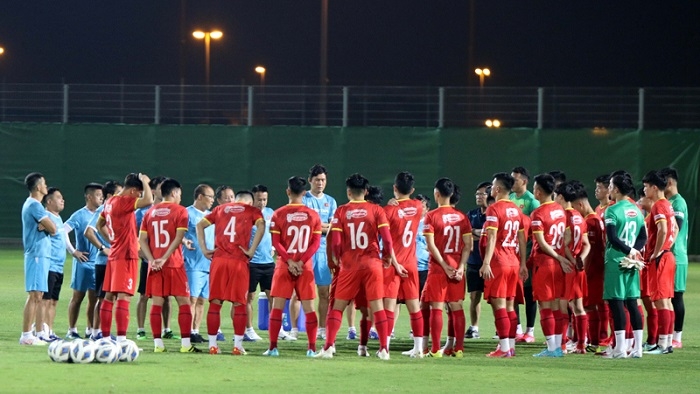 The coaching staff announces the training programme for the players. (Photo: VFF)   
NDO – The Vietnamese national team had their first training session in Sharjah, the UAE on October 1, after arriving the country in the early morning on the same day to prepare for their third Group B match against China in the final round of the 2022 FIFA World Cup Asian Qualifiers.
As they arrived in the UAE in the early morning, Park Hang-seo's side had plenty of time to rest and recover. In addition, the change in space and environment also helps the players become more excited after a long series of closed training camps in Hanoi.
Despite the three-hour difference in time zones, as well as facing a hotter and more humid climate, this is not an obstacle for the team, as the players have had the opportunity to get used to the difference during a previous training camp in Dubai during the 2nd qualifying round in June.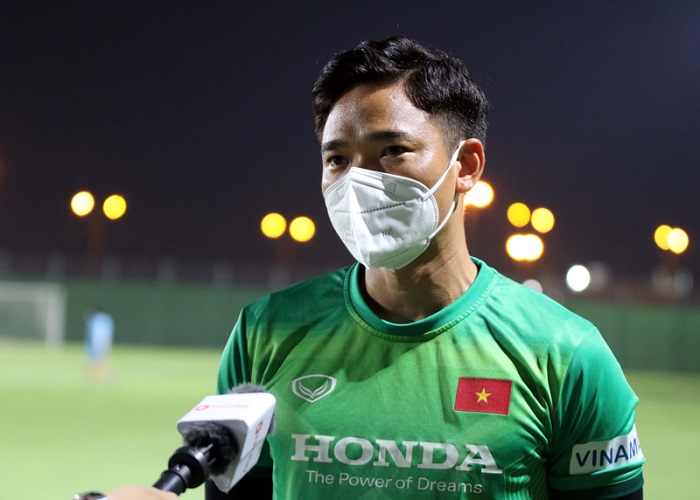 Goalkeeper Tran Nguyen Manh during the interview. (Photo: VFF)
Being summoned by Park, Manh is a solution to replace injured no. 1 keeper Dang Van Lam.
"I personally think Dang Van Lam's injury is a loss for Vietnam. However, I will try my best and have enough confidence to do my best if I am entrusted by the coaching staff," Manh affirmed.
The team will continue training at 19:00 daily local time, two hours earlier than the match time against China, which has just been adjusted by the Asian Football Confederation (AFC).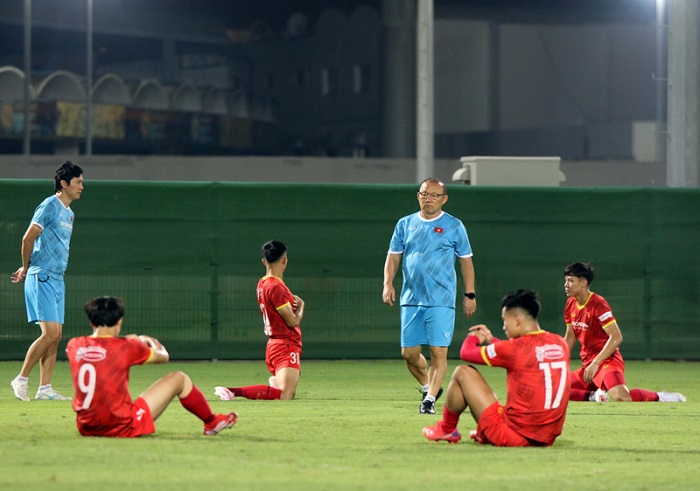 Head coach Park Hang-seo and Vietnamese players during a training session in Sharjah, the UAE on October 1, 2021. (Photo: VFF)
Only in the official training session the day before the match will the team practice at a later time frame. This is appropriate to ensure stable health and circadian rhythms for the players.
Earlier, the AFC changed the kick-off time of the match between Vietnam and China. The match will kick off at 9 pm (local time) on October 7, equal midnight the same day in Vietnam, to avoid the heat in the Middle East.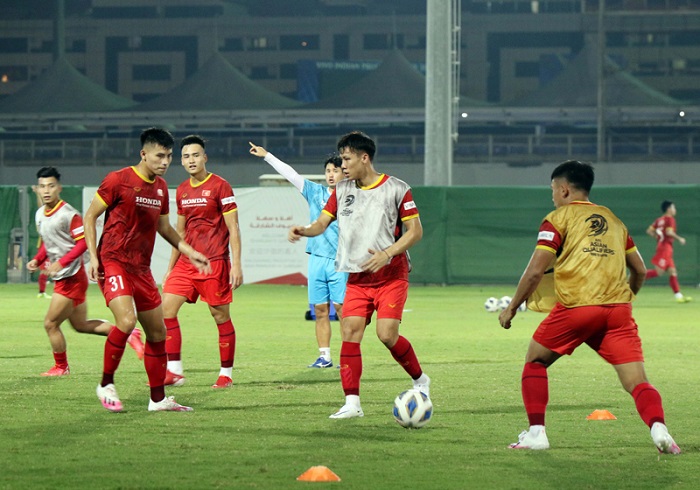 Vietnamese players in action during a training session in Sharjah, the UAE on October 1, 2021. (Photo: VFF)
After the game, Vietnam will travel to Oman for their next group match against the hosts on October 12.
The team are ranked fifth in Group B without any points after two first matches, ahead of China. The next two matches against China and Oman are considered the best chance for Vietnam to gain their first points in the final qualifying round.
TAG: