Paralympics daily wrap-up: USA reclaim 3rd place on the medal table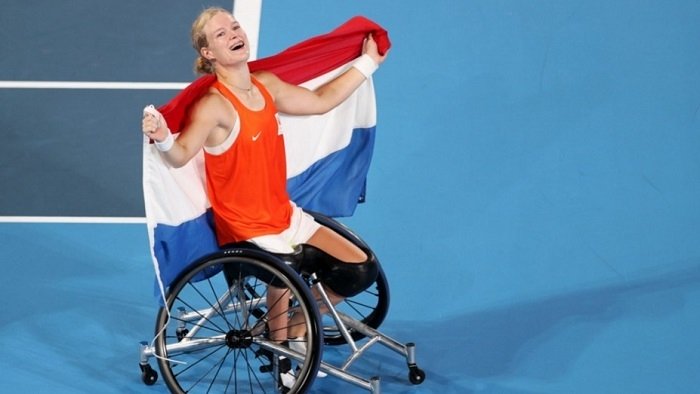 Diede de Groot of Team Netherlands celebrates match point and winning gold in the Wheelchair Tennis Women's Singles final at the Tokyo 2020 Paralympic Games. (Photo: Getty Images)   
NDO – Team USA reclaimed the third position on the medal tally on Day 10 at the Tokyo 2020 Paralympic Games on September 3.
The US won seven gold medals on the day to leap the Russian Olympic Committee (ROC) to the third place, with 34 gold, 34 silver and 24 bronzes.
The ROC have also collected 34 golds so far, but are behind the US as they have 29 silvers compared to 34 of Team USA.
The Chinese sports delegation are stil at the top, wining a total of 184 medals, including 85 golds, 53 silvers and 46 bronzes.
China are keeping a wide gap from the second place of the British sports delegation with a total of 111 medals, including 37 golds, 34 silvers and 40 bronzes.
Hosts Japan did not improve their rankings as they are in the 15th place with eight gold medals, 11 silver medals and 14 bronze medals.
After 10 days, a total of 84 sports teams participating in the Games won medals.
There are five Southeast Asian sports teams that won medals, including Thailand (4 golds, 4 silvers, 7 bronzes, ranked 22nd), Singapore (2 golds, ranked 43rd), Malaysia (1 gold medal, 2 silver medals, ranked 52nd), Indonesia (1 silver medal, 2 bronze medals, ranked 67th) and Vietnam (1 silver medal, ranked 72nd).
TAG: