Jessica Long adds 16th Paralympic gold medal to the stack in final race at Tokyo 2020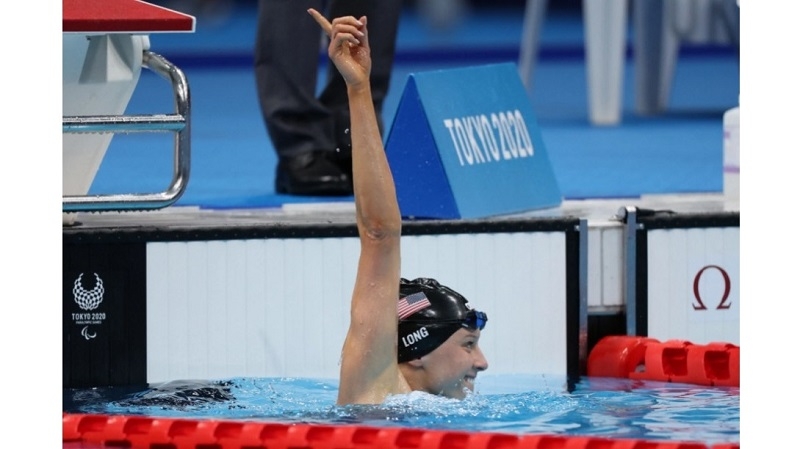 Tokyo 2020 Paralympic Games - Swimming - Women's 100m Butterfly - S8 Final - Tokyo Aquatics Centre, Tokyo, Japan - September 3, 2021. Jessica Long of the United States celebrates after winning gold. (Photo: Reuters)   
American Para swimmer Jessica Long stormed to her sixth medal at the Tokyo 2020 Paralympic Games in the women's 100m butterfly S8 final dominating the pool on September 3.
Long sent out a warning in qualification with the fastest time of 1:09.78 then clocked 1:09.87 in the final to claim her 16th Paralympic Games gold medal.
It never looked in doubt as Long sprang off the boards and went straight into the lead with a fizzing 0.51 reaction time, only Russian Olympic Committee (ROC) athlete Viktoriia Ishchiulova could stay close but wasn't able to reel in the USA flyer.
Ishchiulova clocked 1:10.80 to claim silver and Colombia's Laura Gonzalez Rodriguez was third in 1:20.93.
Long made her Games debut in Athens at 12 years old, she's now 29 and the most decorated active Paralympian having claimed 29 medals across five Games.
Six of them have come here in Japan: Gold in the women's 200m individual medley SM8, the 4x100m medley relay and today's 100m butterfly S8, silver in the 100m free S8 and the 100m breast SB7, and bronze in the 100m backstroke S8.
It's a complete collection for one of the greatest swimmers of all time, and she looks determined to add to it with Paris 2024 just three years away.
Shooting stars China's Zhang Cuiping and UAE's Abdulla Sultan Alaryani notch up gold
China's Zhang Cuiping has consistently shown she is one of the sharpest shooters in the sport and she has hit the target again by retaining her Paralympic title for the third time in the women's 50m rifle 3 positions SH1.
The 33-year-old, two-time world champion, held off an impressive field to win gold with a score of 457.9 points to set a Paralympic record at the Asaka Shooting Range on Day 10 at Tokyo 2020. It was the 14th Paralympic medal she has won in her career, which began in Beijing 2008, and her fifth gold.
Elsewhere, Abdulla Sultan Alaryani won the United Arab Emirate's first gold medal of the Games in the men's equivalent of the 50m rifle 3 positions SH1. The Rio 2016 silver medallist upgraded to the top spot after shooting a score of 453.6. It is the two-time world champion's second Paralympic title - he won the event in 2012 - and his fifth Games medal in total.
Fabien Lamirault/Stephane Molliens win gold in table tennis
The French duo Fabien Lamirault and Stephane Molliens claimed gold against Republic of Korea's CHA Soo Yong and PARK Jin Cheol. France won 4-11 11-4 11-8 12-14 11-8 in a match extended to five sets lasting 51 minutes.
Turkey beat USA to win gold in women's goalball
Reigning Rio 2016 champions Turkey had secured their stronghold in the sport once again as they defeated their rivals USA 9-2 in the women's goalball gold medal match.
Stephane Houdet and Nicolas Peifer win men's doubles gold
France' Stephane Houdet and Nicolas Peifer won gold after defeating Great Britain in the men's doubles gold medal match at Ariake Tennis Court.
Whilst Houdet and Peifer won their first set 7-5 but lost their grip on the second set 0-6. The French pair then bounced back to win 7-6 against the French, sealing their golden victory.
A new world record Chantalle Zijderveld
Netherlands' Chantalle Zijderveld won gold in the women's 200m individual medley and set a new world record of 2:24.85 toppling Sophie Pascoe's old record back in Rio 2016. This is Zijerveld's second gold medal after winning the 100m breasstroke SB9 where she also broke a world record. This is Zijderveld's fifth medal at Tokyo 2020, and her seventh overall.
Katie-George Dunlevy claims gold in women's B road race
Ireland's Katie-George Dunlevy won the women's B road race today at Fuji International Speedway. The Irish cyclist took on over 92.4 kilometres to win gold with a time of 2:35:53. It was a close finish as Sophie Unwin of Great Britain came seven seconds later. Meanwhile Sweden's Louise Jannering came in third.
Olympics.com
TAG: