Day 8: Paralympic Games preview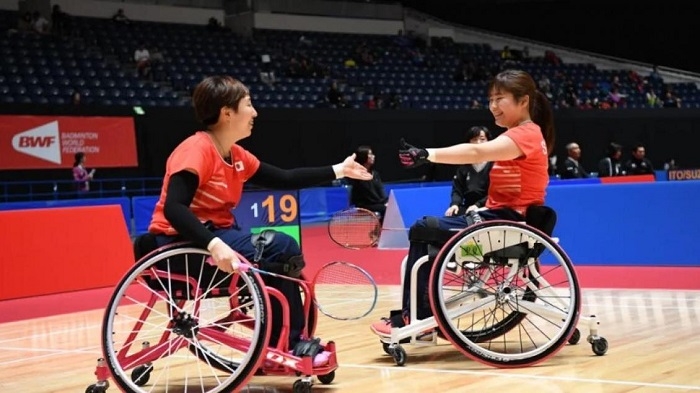 The opening of the first Para badminton tournament in the Paralympics is this Wednesday at Tokyo 2020. (Photo: JPBF)   
The first day of September will have 43 medals decided with athletics and swimming offering the most of them. Para badminton will start its debut with preliminary round matches while preliminary round matches will continue in goalball, sitting volleyball and wheelchair basketball.
ARCHERY
Timing: 9:00 - 12:12 JST
Due to extreme weather, the women's individual W1 competition was scheduled for this Wednesday at the Yumenoshima Park. China's Chen Minyi targets her second gold in Tokyo, after winning the W1 mixed team competition. Liu Jing, also from the Chinese team, is another clear favourite.
ATHLETICS
Timing: 9:30 - 12:27 JST and 19:00 - 21:57 JST
There will be 14 finals on Wednesday, five in the morning and nine in the evening session.
BADMINTON
Timing: 18:00 - 22:00 JST
Para badminton action will start on Tuesday with preliminary group league matches in different categories. In men's singles SL3, watch out for India's Pramod Bhagat, Manoj Sarkar, and Daniel Bethell (GBR).
BOCCIA
Timing: 9:30 - 13:25 JST
In the BC3 Gold Medal Match, Grigorios Polychronidis (GRE) will meet Adam Peska (CZE). Grigorios took up boccia with the dream of participating in his home Paralympics at Athens 2004. That dream became a reality after he found himself in the quarter-finals of the individual BC3 event in Athens. But reaching the Paralympics was not the end goal.
ROAD CYCLING
Timing: 9:30 - 14:20 JST
Six finals will be held on the day. Watch out for Luca Mazzone (ITA), who will be taking part in his fifth Paralympics but second as a cyclist. He won Paralympic medals in swimming but his first golds came in cycling at Rio 2016, where he won the time trial and silver in the road race H2. He also helped Italy celebrate gold in the team relay, and the Italian is not slowing down, having won a pair of world titles in 2019.
SHOOTING
Timing: 9:30 - 15:00 JST
Two finals -- R3 Mixed 10m Air Rifle Prone SH1 Final and the R5 Mixed 10m Air Rifle Prone SH1 Final -- will be held on Tuesday.
In the Mixed 10m Air Rifle Prone SH1 watch out for India's Avani Lekhara, who won the gold medal in Women's 10m Air Rifle SH1, as she will be going for her second gold medal in the company of Siddharth Babu/Deepak.
SWIMMING
Timing: 9:00 - 10:41 JST and 17:00 - 19:49 JSt
The first day of the new month will see 15 medal events being conducted at the Tokyo Aquatics Centre.
TABLE TENNIS
Timing: 10:00 - 16:00 JST and 17:30 - 21:30 JST
Semi-finals in Men's and Women's Team competitions in most classes with the winners moving to the finals to play for gold or silver while the losers getting bronze medals. China is in the semis in five events and will face some competitions.
WHEELCHAIR TENNIS
Timing: 11:00 onwards
Semifinals will be played in women's doubles with Dutch pair de Groot/van Koot favourite against Japan's Kamiji/Ohtani. Medals will be decided in Men's Quad Doubles.
Paralympic.org
TAG: