Daily wrap-up: China top Paralympic medal table with seventh gold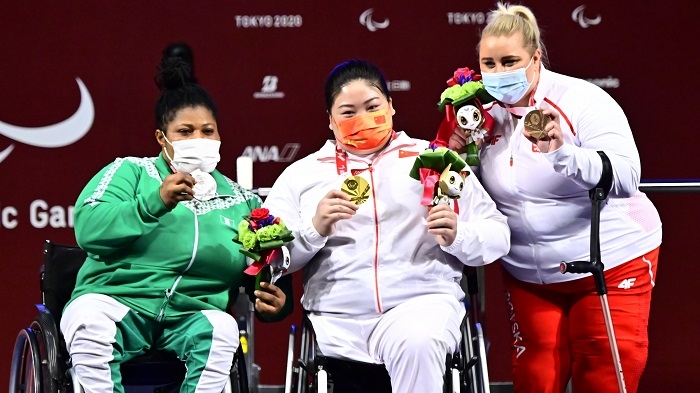 China's Deng Xuemei (C) claims gold at her 1st Paralympics. (Photo: Tokyo 2020)   
NDO – China topped the podium for the seventh time on day 6 of the Tokyo 2020 Paralympic Games on Monday (August 30).
In the final women's powerlifting event of the Games, China's Deng Xuemei lifted 153kg for gold in the women's over 86kg category.
Even though she registered three successful attempts and outlifted silver medallist Loveline Obiji of Nigeria by six kilograms, Deng remained humble in victory.
Poland's Marzena Zieba won bronze with a 140kg-lift in her second attempt.
China topped the medal table in a five-day powerlifting action at the Tokyo 2020 Paralympic Games with seven golds and six silver medals.
In total, China have dominated the medal tally, collecting 54 golds, 35 silvers and 30 bronzes to top the medals table after day 6.
The UK are ranked second with 26 golds, 20 silvers and 22 bronzes.
The Russian Paralympic Committee reclaim the 3rd place from the US, while Iran rose strongly, pushing host Japan to 16th place.
Today a total of eight world records were broken in athletics, swimming and powerlifting.
Vietnamese para-swimmers Trinh Thi Bich Nhu and Vo Thanh Tung did not make it through the preliminaries of the women's 50m breaststroke S6 and men's 50m backstroke S5 events.
Tung has now completed competition in four of his five categories at the Games, with his remaining medal chances lying in the 50m freestyle S5 race tomorrow morning. He won silver in the event at Rio 2016.
Vietnam are in the 62nd place on the medal table with the single silver medal won by Le Van Cong in the men's 49kg powerlifting so far.
TAG: