Paralympics: Avani Lekhara wins historic shooting gold for India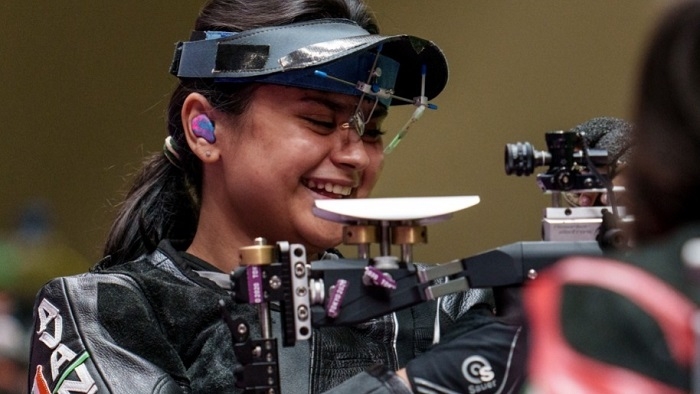 Avani Lekhara on the range on her way to winning the Shooting Women's 10m AR Standing SH1 Final at the Asaka Shooting Range, Tokyo, August 30, 2021. (Photo: Olympic Information Services)   
It's been a medal Monday for India with its first gold and adding two silvers and a bronze to the medal tally on Day 6 of the Tokyo 2020 Paralympic Games on August 30.
The country soared up the medals table after Avani Lekhara beat off an impressive field to become the first Indian woman to win a gold medal in shooting at an Olympic and Paralympic Games.
The 19-year-old had a dream Paralympic debut when she scored 249.6 points to equal the world record in the final of the women's R2 10m air rifle standing SH1 at the Asaka Shooting Range. The reigning Paralympic champion, China's Zhang Cuiping, finished less than a point behind on 248.9 to take silver.
The medal rush began Monday at the Olympic Stadium when Yogesh Kathuniya collected silver in the men's discus throw F56. The World Championships bronze medallist, who was also competing in his first Paralympics, narrowly missed out on gold. The 24-year-old had been leading the field for much of the event following a season's best throw of 44.38m.
But then reigning world and Paralympic champion, Claudiney Baptista dos Santos, 44, nailed a monumental throw on his sixth and final attempt to set a new Paralympic record in 45.59m and claim the crown. Cuba's Leonardo Diaz Aldana took home the bronze.
Elsewhere in the stadium, India teammates Devendra and Sundar Singh Gurjar collected silver and bronze, respectively, in the men's javelin F46. Sri Lanka's Dinesh Priyantha Herath Mudiyanselage, 35, set a new world record with his third throw of 67.79m to pick up gold, giving Sri Lanka their first Paralympic title in history.
The Indian athletes had impressive portfolios going into the event. Devendra, 40, is a two-time Paralympic champion, the first in Athens 2004 and second in Rio 2016. He was also world champion in 2013 while Gurjar, 25, is a two-time world champion.
After the medal rush on Monday, India had seven medals in total: one gold, four silvers and a bronze. The country was ranked 14th by total number of medals and 34th by golds followed by silvers and bronzes.
Kylie Grimes becomes first woman to win gold in wheelchair rugby at Paralympic Games
It was a history-making moment for Great Britain in the wheelchair rugby competition at Tokyo 2020 in more ways than one as the team won their first ever Paralympic medal in the sport after defeating Rio 2016 silver medallist the USA.
No European team had ever won a medal in this sport.
But more so, while wheelchair rugby was introduced as a demonstration sport at Atlanta 1996, no woman had ever won gold despite the sport being mixed gendered.
Great Britain's Kylie Grimes has changed that though.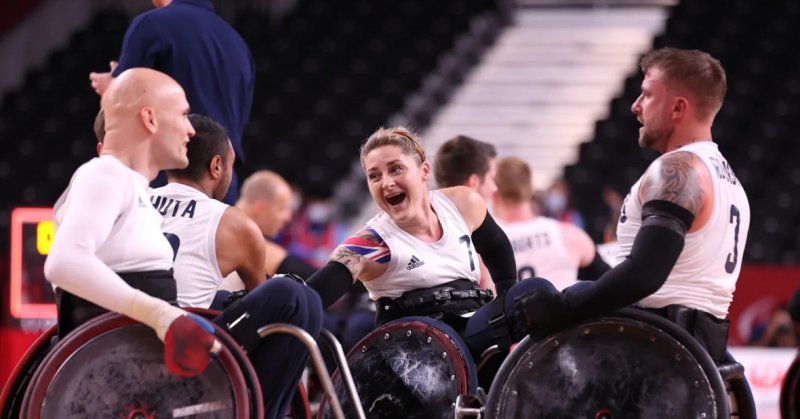 Kylie Grimes (No. 7) of Team Great Britain celebrates with teammates after defeating Team United States during the gold medal wheelchair rugby match at the Tokyo 2020 Paralympic Games. (Photo: Getty Images)
Before Sunday (August 29), only one woman had won a medal in Paralympic Wheelchair Rugby - Canada's Erika Schmutz at Beijing 2008 with bronze.
Earlier in the day Japan's Kurahashi became the second woman to win a medal in wheelchair rugby, taking home bronze in her nation's 60-52 win over Australia.
Mongolia wins first gold in powerlifting
Sodnompiljee Enkhbayar wins Mongolia's first gold in powerlifting! Enkhbayar broke the Paralympic record (twice) after lifting 241 and 245 which secured him the top podium. He beat Jong Yee Khie of Malaysia who scored 237 (silver) and Islamic of Republic of Iran's Saman Razi to take third place.
This is Mongolia's second gold medal at an Paralympic Games.
Ukraine's Maryna Lytovchenko takes gold in table tennis women's singles - class 6
The 30-year-old Maryna Lytovchenko improved on her Rio 2016 bronze medal to clinch gold at Tokyo 2020 after dominating the match at 11-6 11-4 11-3 to beat RPC's Maliak Alieva.
This gives Lytovchenko the first gold medal in table tennis of day 6.
Meanwhile in the men's single class 8, her teammate Viktor Didukh was beaten by China PR's Zhao Shuai.
Andrew Small storms to gold in 100 - T34
Andrew Small of Great Britain won the men's 100m T34 event after clocking in 17.73 followed by Ahmad Almutairi from Kuwait who finished with a time of 17.83, just 10 seconds after Small. ParalymicsGB teammate Harri Jenkins came in third place.
Small took up the sport after being inspired by London 2012, his home Games. Nine years later, he's got a gold of his own.
In the 100m - T34, Tunisia's Walid Ktila broke a Paralympic record at 15.01 to clinch gold followed by Rheed McCracken from Australia at second and Mohamed Alhammadi at third place.
Gold for Iran's Amir Khosravani
Iran's Amir Khosravani clinches gold in the men's long jump with a leap of 7.21m. The silver was bagged by Leiner Savon Pineda of Cuba with 7.16m, whole Azerbaijan's Said Najafzade claimed the broze with 7.03.
Another gold for Chile
Field athlete Francisca Mardones was the heavy favourite for gold in the women's shot put F54 and she did not disappoint.
The Chilean set a world record of 8.33m to take top honours, followed by Mexican Gloria Zarza Guadarrama (8.06m) and Uzbekistan's Nurkhon Kurbanova (7.77m).
Swimmer Alberto Abarza had been Chile's first gold medallist of Tokyo 2020 when he won the men's 100m backstroke S2 on Wednesday (August 25).
Tokyo 2020, Paralympics 2020
TAG: