Paralympics: China sweep gold in foil team events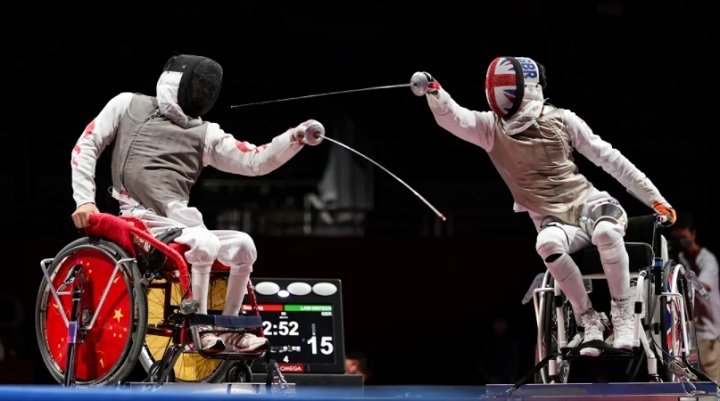 Hu Daoling of Team China and Oliver Lam-Watson of Great Britain compete during the men's team foil gold medal match on day 5 of Tokyo 2020 Paralympics on August 29, 2021. (Photo: Getty Images)   
Chinese fencers proved their class once again after beating Great Britain 45-38 in the men's foil team gold medal match at the Tokyo 2020 Paralympics on August 29.
After winning the men's team foil, China held off the challenge from Italy and won the women's team foil gold medal match scoring 45-41.
The Chinese powerhouse have now won three out of four of the team events in epee and foil.
Judo
The five gold medal winners for the judo competition at day 5 of Tokyo 2020 were Elliott Stewart (Great Britain) men's 90kg; Christopher Skelley (Great Britain) men's 100kg; Mohammad Kheirollahzadeh (Iran) men's +100kg; Alana Maldonado (Brazil) women's 70kg; and Dursadaf Karimova (Azerbaijan) women's +70kg.
Equestrian
Team Great Britain's trio Lee Pearson, Natasha Baker and Sophie Wells came away with gold at the equestrian dressage team to music event after scoring 229.905% followed by the Netherlands with 229.249 and USA at 224.352.
Athletics
After sailing through gold in the men's 400m - T52 on August 27, Japan's Tomoki Sato blew away the competition again in the men's 15000m - T52 and clocked a blistering Paralympic record time of 3:29.13 to win gold.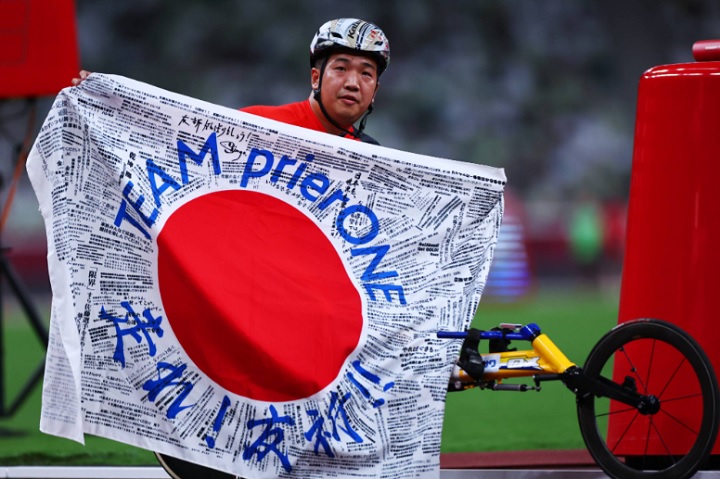 Japan's Tomoki Sato celebrates after winning another gold medal at Paralympic Games in Tokyo on Sunday. (Photo: Reuters)
Salum Ageze Kashafali made a world record-breaking run of 10.43 to clinch gold in the T12 100m event held at the Olympic Stadium. The Norwegian was the fastest of the pack followed by Noah Malone from USA who clocked in 10.66 and RPC's Roman Tarasov at 10.88.
Powerlifting
The gold medal winners for powerlifting on day 5 of competition included Omar Sami Hamadeh Qarada (Jordan) men's 49kg; David Degtyarve (Kazakhstan) men's 54kg; Guo Lingling (China) women's 41kg; and Latifat Tijani (Nigeria) women's 45kg;
Switzerland's Manuela Schaer took gold in the women's 800m T54 producing a personal best of 1:42.81. Team USA's Tatyana McFadden claimed silver, which is her 19th Paralympic medal adding to the bronze medal she won in the 5000m on Saturday in Tokyo.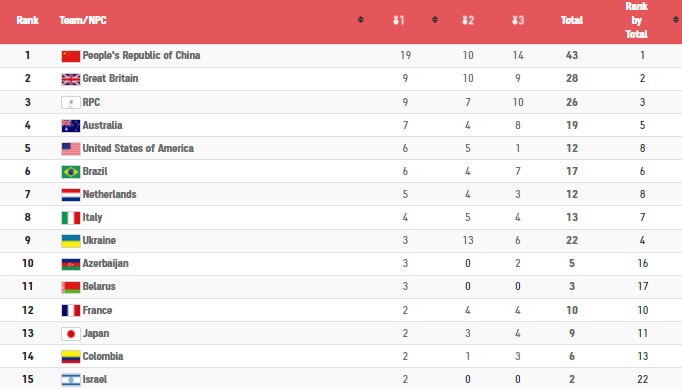 Top 15 on the Tokyo 2020 Paralympic medal count as of 10.30 on August 29.
Source: Tokyo 2020
TAG: