Paralympics: Anastasia Pagonis breaks swimming world record twice, wins USA's first gold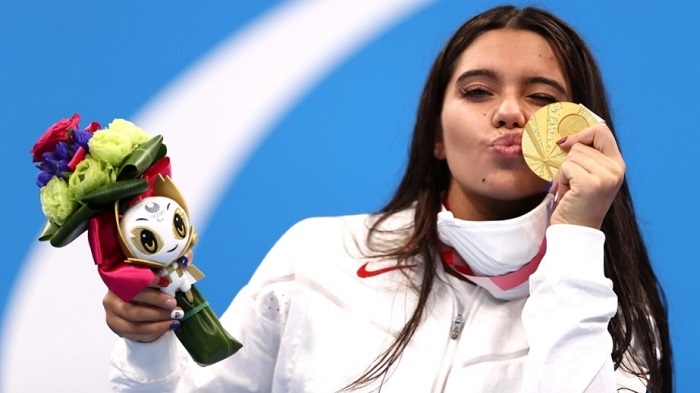 Gold medallist Anastasia Pagonis of Team United States reacts during the women's 400m freestyle S11 medal ceremony on day 2 of the Tokyo 2020 Paralympic Games at the Tokyo Aquatics Centre in Tokyo on August 26, 2021. (Photo: Getty Images)   
Anastasia Pagonis went into the history books not once but twice when she broke her own world record in the women's 400m S11 to win United States' first gold medal on day two of the Tokyo 2020 Paralympic Games on August 26.
The delighted 17-year-old finished in a time of 4:54.49 and nearly half a length ahead of two-time Paralympic champion and three-time world champion Liesette Bruinsma from the Netherlands, who finished in 5:05.34. China's Cai Liwen took home the bronze.
Earlier in the heats, Pagonis had broken the world and Paralympic records in 4:58.40, which was a staggering 26.6 seconds ahead of the runner-up at the Tokyo Aquatics Centre.
USA also won its second gold when Gia Pergolini secured victory in the women's 100m backstroke S13.
Elsewhere, Great Britain added two more golds to the three already won on the day in cycling, equestrian and wheelchair fencing. And starting the gold rush was Tully Kearney, a seven-time world champion, who made up for the disappointment of not being able to compete in Rio 2016 due to illness, by winning the women's 100m freestyle S5 and setting a world and Paralympic record in 1:14.39, which was more than three seconds ahead of China's Zhang Li who won silver with Italy's Monica Boggioni in bronze.
The second gold went to her teammate Maisie Summers-Newton, who also set a world and Paralympic record, in the women's 200m individual medley SM6 in 2:56.68. Ukraine's Yelyzaveta Mereshko took silver and Germany's Verena Schott bronze.
Sir David Lee Pearson has won gold on the first day of the Para equestrian competition at Tokyo 2020 aboard his horse Breezer beating Austria's Pepo Puch who settled for silver. This is the British athlete's 12th Paralympic gold medal and the eight individual Paralympic gold whilst teammate Georgia Wilson took bronze in her Paralympic debut.
Belarus' swimming legend Ihar Boki secured his second gold of the Games in the men's 100m backstroke S13, keeping his quest to secure six golds on target to add to his 14 Paralympic titles.
Italy also notched up two wins with Francesco Bocciardo in 100m freestyle S5 and Stefano Raimondo in men's 100m breaststroke SB9. It was also a double celebration for the Netherlands with Rogier Dorsman winning the men's 400m freestyle S11 and Chantalle Zijderveld clinching victory in the women's 100m breaststroke SB9.
Colombia's Nelson Crispin Corzo was overjoyed to claim victory in the men's 200m individual medley SM6, as was Andrei Kalina of the Russian Paralympic Committee in the men's 100m breaststroke SB8, and Ireland's Ellen Keane who clinched gold in the women's 100m breaststroke SB8. China notched up victory in the mixed 4x50m freestyle relay – 20 points with Italy winning silver and Brazil bronze.
Dutch rider Sanne Voets and Demantur gave a flawless performance at today's equestrian competition at the Equestrian park to secure her first Paralympic gold title. She finished with a score of 76.585% ahead of Brazilian athlete Rodolpho Riksalla who picked up silver and Manon Claeys from Belgium who took bronze.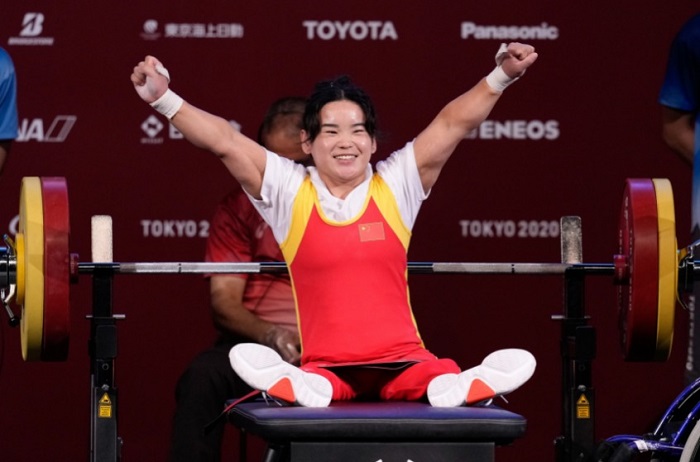 China's Guo Lingling wins gold and breaks records in women's powerlifting -41kg. (Photo: Getty Images)
China's Guo Lingling won gold in record-breaking style in the women's -41kg powerlifting on her Paralympic debut on day two at Tokyo 2020.
The two-time world champion appeared to lift with ease 109kg to set a new world and Paralympic record at the Tokyo International Forum. Her starting lift was 105kg, she had one failed attempt at 108kg, before she nailed it on the third. Judges then allowed the 32-year-old an extra attempt at 109kg, which cemented her place in history.
Nigeria's Latifat Tijani also swapped the silver medal she won in Rio 2016 for gold in the -45kg after lifting 107kg. The 39-year-old beat off a strong challenge from China's CUI Zhe, who lifted 102kg, which was just 1kg more than Poland's Justyna Kozdryk, who took home bronze on 101kg.
David Degtyarev won Kazakhstan's first gold medal in the men's -54kg with a lift of 174kgm, which was 9kg ahead of France's Axel Bourlon on 165kg and Greece's Dimitrios Bakochristos added to the bronze medal he won in Rio 2016 when he came third.
After making a clean sweep in the opening day of the sport on 25 August at Makuhari Messe Hall, it looked like the Chinese athletes had a stronghold on all the gold medal events but that ended today when Amarilla Veres beat Rio 2016 gold medallist Rong Jing who now settled for silver.
However just 30 minutes after, Rong's teammate Tan Shumei secured gold for China after defeating RPC's Viktoria Boykova. This is the first Paralympic gold medal for Tan.
The other gold medal winners in today's wheelchair fencing competition are the following: Piers Gilliver (Great Britain) - men's epee individual Category A, Alexander Kuzyukov (RPC) - men's epee individual Category B.
Tokyo 2020
TAG: