Four golds for Australia on fantastic day one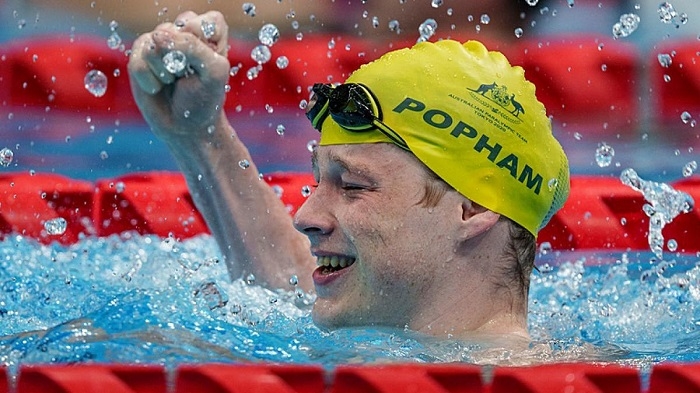 An emotional Ben Popham celebrates his win in the men's 100m freestyle S8, Australia fourth gold on day one. (Photo: OIS)   
Australia topped an outstanding first day of Para swimming at the Tokyo 2020 Paralympic Games with four gold medals in the Tokyo Aquatics Centre on August 25.
> Great Britain's Sarah Storey clinches 15th gold of her Paralympic career

> Australian cyclist Paige Greco wins first gold of Tokyo 2020 Paralympics

> Fireworks light up night sky as Tokyo Paralympics declared open
The Australian team dominated from the start with William Martin winning the first race and setting a Paralympic record in the men's 400m freestyle S9 in 4:10.25.
He touched the wall first ahead of France's Ugo Didier with Martin's compatriot, Alexander Tuckfield taking home bronze.
Just a few minutes later Australia's Lakeisha Patterson beat Hungary's Zsofia Konkoly in the narrowest of margins in the women's 400m freestyle S9.
She landed in 4:36.68 with Hungary's Zsofia Konkoly just 0.08 seconds behind in 4:36.76. Great Britain's Toni Shaw came in third.
A hattrick was secured by Rowan Crothers who won the men's 50m freestyle S10 in 23.21 after narrowly beating five-time Paralympic champion, Maksym Krypak of Ukraine. Brazil's Phelipe Rodrigues bagged the bronze.
And in the last race of the night, Ben Popham came through a tough battle in the water to seal an outstanding victory in the men's 100m freestyle S8.
Two-time world champion, Andrei Nikolaev from the Russian Paralympic Committee (RPC) was close in silver with Greece's Dimosthenis Michalentzakis claiming bronze.
Two medals for the hosts
Japan took its first two medals in the home Paralympic Games at the Aquatics Centre. Fourteen-year-old Miyuki Yamada became the youngest ever Japanese Paralympic medallist claiming silver in the women's 100m backstroke S2.
She looked overjoyed to be on the podium after the swim of her life in the race, which was won by Singapore's Yip Pin Xiu. Mexico's Fabiola Ramirez beat off a challenge from China's Yazhu Feng to win bronze.
Yamada's teammate Takayuki Suzuki claimed a bronze in the men's 50m breaststroke SB3, his sixth Paralympic medal.
The race was won by the RPC's Roman Zhadanov in a world record time of 46.49. Spain's Miguel Luque finished second.
Boki bags more gold
Belarus' Para swimming legend Ihar Boki won his 12th Paralympic gold in the men's 100m butterfly S13 in 53.80. The 27-year-old, who is aiming to retain the six golds he won in Rio 2016 – he also won five in 2012 – got off to a flying start by setting a Paralympic record.
Ukraine's Oleksii Virchenko was more than two seconds behind in 56.16. The bronze went to Uzbekistan's Islam Aslanov.
There was also a dramatic battle in the men's 100m butterfly S14 when Brazil's Gabriel Bandeira in his first Paralympic final beat three-time world champion Reece Dunn from Great Britain into silver. Australia's Benjamin Hance took bronze.
On a night of 16 finals, there were two more wins for the RPC with Valeriia Shabalina sealing a sensational victory in the women's 100m butterfly S14 and Anastasiia Gontar in the women's 50m freestyle S10.
Italy's Francesco Bocciardo set a new Paralympic record in the men's 200m freestyle S5 in a race in which Brazil's Paralympic legend Daniel Dias ended in third place and took his 25th medal in the Games.
Spain's Antoni Ponce finished in second place for silver.
Chile and Israel make history
Another Italian Paralympic record came with Carlotta Gilli in the women's 100m butterfly.
Chile and Israel made history in the swimming pool on day one. Iyad Shalabi became the first Israeli-Arab to win a Paralympic medal when he took gold in the men's 100m backstroke S1.
Alberto Abarza gave Chile their second medal in Paralympic history and first in Para swimming with his victory in the men's 100m backstroke S2.
Ukraine's Yelyzaveta Mereshko bagged her fifth Paralympic gold medal in the women's 50m freestyle S6.
Day two in Para swimming will see 14 finals in the Tokyo Aquatics Centre.
Paralympics 2020
TAG: