Chess: GM Liem pockets US$12,500 for fifth place at Saint Louis Rapid & Blitz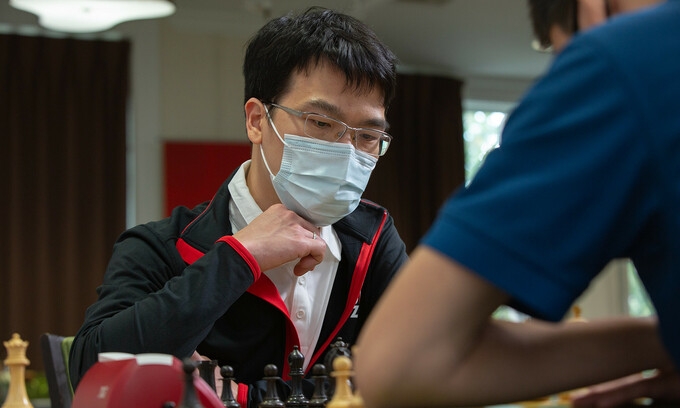 Vietnamese GM Le Quang Liem is the second best blitz performer at the Saint Louis Rapid & Blitz in Missouri, USA. (Photo: Grand Chess Tour)   
NDO – Vietnamese grandmaster (GM) Le Quang Liem produced an excellent sprint on the last day of the Saint Louis Rapid & Blitz (August 16) to finish fifth among the 10 participants and pocket US$12,500 in prize money.
> GM Le Quang Liem pockets US$15,000 as runner-up at Chessable Masters
> Vietnamese GM Le Quang Liem to compete in 2021 Grand Chess Tour
> Chess: Stellar blitz display lifts Liem to eighth at Saint Louis Rapid & Blitz
In the last nine rounds of blitz chess on Monday, Liem earned an additional 5.5 points from four wins over Jeffery Xiong (US), Sam Shankland (US), Peter Svidler (Russia) and Richard Rapport (Hungary), and three draws against Wesley So (US), Shakhriyar Mamedyarov (Azerbaijan) and Hikaru Nakamura (US).
The 2013 world blitz champion conceded two defeats against Fabiano Caruana and Leinier Dominguez from the United States.
Earlier, Liem joined Nakamura as the two best performers on the first blitz day (August 15), each scoring six points. With 11.5 points won from blitz games, the Vietnamese ace finished fifth overall on a total of 17.5 points, behind Nakamura (24 points), Caruana (21), Rapport (19.5), and So (18.5).
The next rankings went to Mamedyarov (17 points), Dominguez (17), Svidler (16), Xiong (15), and Shankland (14.5).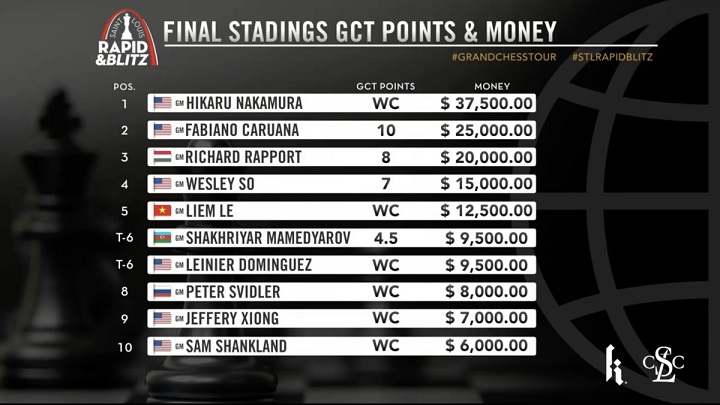 The final standings of the 2021 Saint Louis Rapid & Blitz. (Photo: Chessbase.com)
As the champion, Nakamura claimed US$37,500 in prize money, while Rapport and So received US$20,000 and US$15,000, respectively.
Liem, the second best blitz performer, only behind Nakamura (11.5:12), pocketed US$12,500, raising his prize money earnings in August to US$27,500, following US$15,000 won previously as the runner-up of the Chessable Masters online tournament, the eighth stage of the Meltwater Champions Chess Tour.
With his stellar display at the Saint Louis Rapid & Blitz, Liem accumulated 84 additional blitz Elo rating points to rank 14th in the world (Elo 2774). Meanwhile, Nakamura lost his world blitz reign to Magnus Carlsen (Norway) falling to second position after being deprived of 16 Elo points from the tournament.
The Saint Louis Rapid & Blitz is the final rapid & blitz tournament of the 2021 Grand Chess Tour (GCT), which features two classical and three rapid & blitz events. The last event of the 2021 GCT schedule, known as the Sinquefield Cup, is set to take place in St. Louis from August 16 to 28. It remains unclear if Liem will receive an invitation to the competition.
TAG: