Soccer-Messi back in training after joining PSG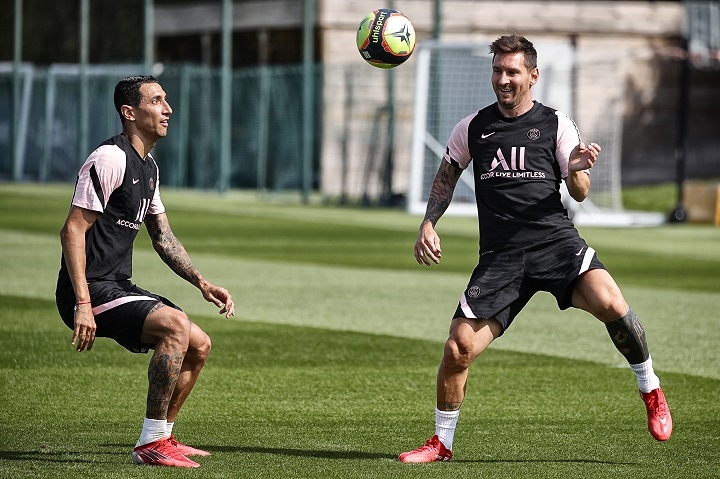 Lionel Messi in action during his first training session with Paris St Germain teammates on August 12. (Photo: PSG FC)   
Lionel Messi trained with new club Paris St Germain on Thursday, two days after joining the Ligue 1 giants from Barcelona, French daily L'Equipe reported.
It was the first time Messi, who won 10 LaLiga and four Champions League titles with Barcelona, set foot on the pitch since leading Argentina to the Copa America title with a 1-0 win over Brazil.
* Japan held its first Paralympic flame-lighting ceremonies on Thursday (Aug 12), with athletes waiting to learn whether spectators will be in the stands as the country battles a spike in COVID-19 cases. Fans were banned from almost all venues at the pandemic-postponed Tokyo Olympics, which ended Sunday, while athletes faced restrictions on movement and were tested daily.
* Crystal Palace said on Wednesday that US businessman John Textor has joined its board of directors and has also become the club's newest investor. The Guardian newspaper reported that Textor's investment of 87.5 million pounds (US$121.34 million) is believed to be a substantial percentage of the club, close to Chairman Steve Parish's 18% controlling stake.
* Australian football chiefs are formulating plans to host either the men's 2030 or 2034 World Cup to build on the country's successful bid for the women's 2023 tournament, top officials said on Thursday (Aug 12). The move follows Australia's failed tilt for the 2022 event, which was funded with AUD45 million (US$33 million) of taxpayer money but garnered just one vote, with Qatar controversially winning the race.
* Liverpool midfielder Curtis Jones has been ruled out of their Premier League season-opener at newly-promoted Norwich City on Saturday because of concussion protocols, manager Juergen Klopp said. Jones was substituted during the first half of their pre-season friendly win against Osasuna on Monday following a collision.
* Lewis Hamilton's eight-point lead in the Formula One championship was confirmed on Thursday as Aston Martin dropped an appeal against Sebastian Vettel's Hungarian Grand Prix disqualification. Vettel had finished second in the Aug. 1 race but Hamilton took the position after the German was ruled out for not having the required amount of fuel left in his car for samples to be taken.
* Spain's top league soccer clubs on Thursday approved private equity firm CVC's proposed investment despite votes against from Real Madrid and Barcelona FC, on the condition that individual clubs can opt out of the deal, La Liga's president said. Facing fierce opposition from the country's two leading clubs to the plan that initially targeted EUR2.7 billion (US$3.2 billion) in investment, CVC modified its original proposal shortly before the vote, allowing clubs in La Liga to take part on a voluntary basis.
* Kenyan world record holder Brigid Kosgei and Ethiopian Shura Kitata will defend their titles at the London Marathon in October, organisers said on Thursday. Kosgei, who silver in the women's marathon event at the Tokyo Games last weekend, is aiming for her third consecutive London Marathon victory. Kosgei set the women's marathon world record of 2:14.04 in Chicago in 2019.
* Norwich City have signed winger Christos Tzolis on a five-year deal from Greek side PAOK, the Premier League club said on Thursday. Financial details were not disclosed but British media reported that Norwich would pay 10 million pounds for the 19-year-old Greece international.
Reuters, CNA
TAG: