Andy Cruz lands Cuba's fourth boxing Olympic title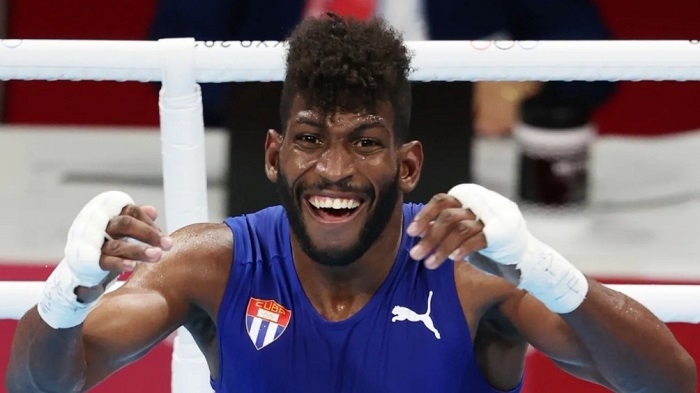 Andy Cruz of Team Cuba celebrates victory and winning a gold medal during the Men's Light (57-63kg) Final bout between Keyshawn Davis of Team United States and Andy Cruz of Team Cuba on day sixteen of the Tokyo 2020 Olympic games at Kokugikan Arena in Tokyo, Japan on August 8, 2021. (Photo: Getty Images)   
Andy Cruz has handed Cuba its fourth Olympic title at Tokyo 2020 by landing gold in the men's lightweight final (57-63kg) after narrowly defeating USA's Keyshawn Davis.
In a re-run of the 2019 World Championships, the 22-year-old American was forced to take silver after a split decision favoured Cruz, who is also the reigning Pan-American champion.
Davis had set a quick pace from the opening bell by going out on the attack with Cruz biding his time before hitting the target. The top seed went back to his corner at the end of the round ahead by four judges. The story reversed in the second round when Davis, buoyed on by the vocal support of his team in the Kokugikan Arena, landed a series of blows on the 25-year-old to win all 10s from the judges.
There was everything to play for the in third round. Davis was a constant threat, but Cruz replied with killer jabs and by the end both raised their arms in celebration. There was an agonising wait for the result before it was announced that Cruz had won 4-1 and the Olympic title. The judges had preferred his ability to defend himself and reply with less frequent shots. On way to final, he had demolished Australia's Harry Garside 5-0 in the semifinal, and in the earlier rounds Brazil's Wanderson de Oliveira 4-1 and GB's Luke McCormack 5-0.
The bronze medals were awarded to Garside and Armenia's Hoyhannes Bachkov, who Davis had beaten in the semifinal 5-0.
United States win maiden gold at women's indoor volleyball
World number ones the United States won their first Olympic gold medal in women's indoor volleyball by beating Brazil in three straight sets – 25-21 25-20 25-14. Brazil claimed silver after missing out on the podium at their home Games at Rio 2016.
The US were three-time silver medallists most recently at London 2012. At Rio 2016, they came third, beaten in the semi-finals by Serbia. The US put that right this time around by beating Serbia also in three straight sets, 25-19, 25-15, 25-23 in the semi-final.
Serbia beat Republic of Korea in straight sets to win the bronze medal.
Kellie Anne Harrington becomes women's light Olympic champion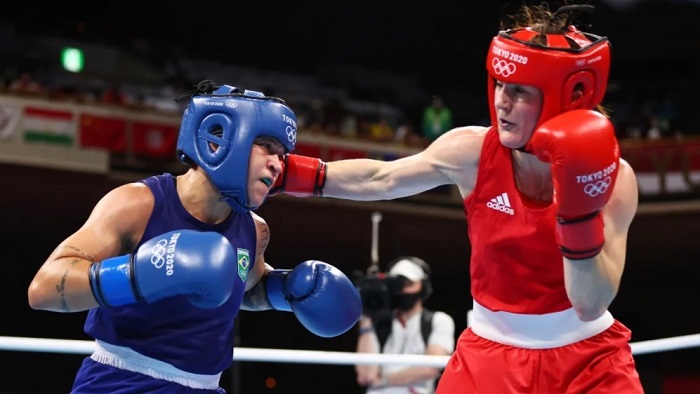 Kellie Anne Harrington of Team Ireland punches Beatriz Ferreira of Team Brazil during the Women's Light (57-60kg) Final bout on day sixteen of the Tokyo 2020 Olympic games at Kokugikan Arena in Tokyo, Japan on August 8, 2021. (Photo: Getty Images)
Kellie Anne Harrington of Ireland has become the new Olympic champion in the women's light class overcoming Brazil's Beatriz Ferreira in a 5-0 win on points at the Olympic Games Tokyo 2020.
Harrington had been looking to emulate the accomplishments of Katie Taylor, who won the women's lightweight at London 2012.
Ferreira, the reigning world champion in this weight class, got the upper-hand on her opponent early on in the gold medal fight but as the bout drew on Harrington managed to finish Round 1 strong.
The Irish boxers momentum only carried over to Round 2. But Ferreira came out in the third determined to not let the gold slip from her grasp that easily, giving it everything she had but in the end an unanimous decision by the judges gave it to Harrington.
The bronze medals went to Finland's Mira Marjut Johanna Potkonen and Thailand's Sudaporn Seesondee.
Bulgaria win gold in rhythmic gymnastics group all-around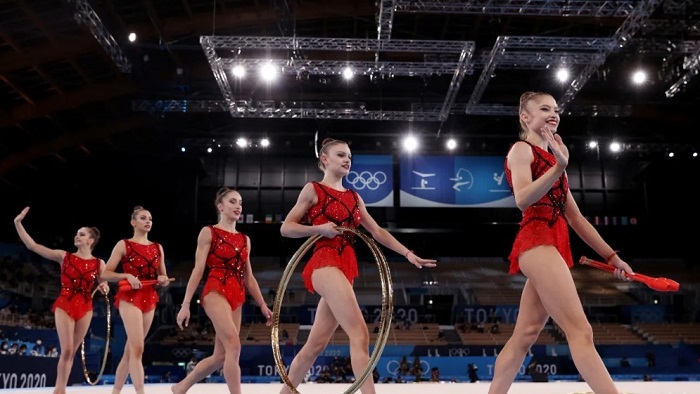 Team Bulgaria competes during the Group All-Around Final at Ariake Gymnastics Centre in Tokyo, Japan on August 8, 2021. (Photo: Getty Images)
Bulgaria are now new Olympic champions after giving two flawless performances in the rhythmic gymnastics group-all around finals today at Ariake Gymnastics Centre.
Their ball routine topped the scoreboard followed up by their stunning 3 Hoops + 2 Pairs Of Clubs exercise which earned them a combined score of 92.100.
The quintet - Simona Dyankova, Stefani Kiryakova, Madlen Radukanova, Laura Tratets, Erika Zafirova - have delivered Bulgaria's first ever-gold in rhythmic gymnastics toppling pre-favourites Russian Olympic Committee (ROC).
ROC, who hold five consecutive Olympic gold medals between 2000 to 2016, trailed behind the new champions by 1.4 points (90.700 final score), and now settled for silver.
Meanwhile, Italy have won bronze - their third Olympic medal in rhythmic gymnastics after clinching silver at Athens 2004, and bronze at London 2012.
The USA win seventh straight women's basketball gold with dominant victory over Japan
Team USA's women's basketball team have extended their gold-winning run to seven straight Olympic Games after a 90-75 win over Japan.
The USA dominated from the start, building a 23-14 lead in the first quarter that they never relinquished. To put their record at the Olympic Games into perspective, the team has not lost a game in Olympic competition since Barcelona 1992.
The game was the second time the USA and Japan have met at Tokyo 2020, with the USA beating their opponents by 17 points in the first game compared to 15 today.
For Japan, a silver on home soil represents an excellent achievement, with a fifth-place finish at Montreal 1976 their best until today. It is their second silver medal at an international tournament after they took second place at the Women's Basketball World Cup, all the way back in 1975.
Tokyo 2020
TAG: