Olympics: Japan beat Team USA for historic first baseball gold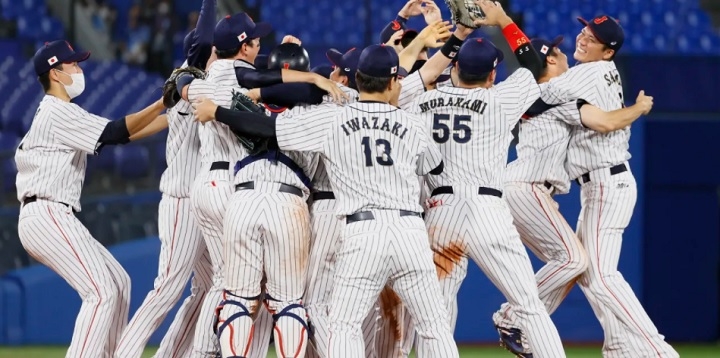 Team Japan celebrates after winning the gold medal game against Team United States at Yokohama Baseball Stadium on August 7, 2021 in Yokohama, Kanagawa, Japan. (Photo: Getty Images)   
Hosts Japan won their first Olympic gold medal in baseball as they beat the United States 2-0 in the gold-medal match from the Yokohama Baseball Stadium on August 7 to wrap up the competition.
It was Japan's second win over the Americans in this Olympic baseball tournament.
Earlier in the day, and also in Yokohama, the Dominican Republic won their first Olympic baseball medal when they beat Republic of Korea 10-6 to take bronze with a late hitting rally after trailing for most of the game.
Athletics: USA win gold in men's 4x400m relay for a record 18th time
Rai Benjamin of Team United States competes in the Men's 4 x 400m Relay Final at Olympic Stadium on August 7, 2021 in Tokyo, Japan. (Photo: Getty Images)
The USA closed out the track athletic events at Tokyo 2020 on Saturday (August 7) with a spectacular 18th win in the men's 4x400m relay at an Olympic Games.
The team raced home 100m ahead of nearest rivals the Netherlands to record a season's best time of 2:55.70. It was a dream end for the American team at Tokyo 2020.
The Netherlands grabbed silver and a national record in 2:57.18, while Botswana took home bronze and an area record after finishing in 2:57.88.
United States win seventh straight Olympic 4x400m relay gold medal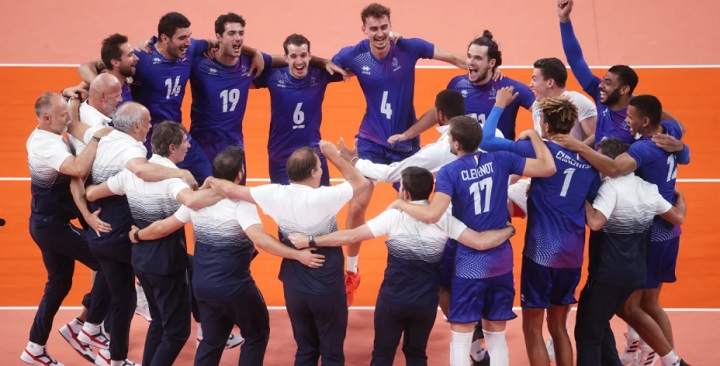 Players of Team France react after defeating Team ROC during the Men's Gold Medal Match at Ariake Arena on August 7, 2021 in Tokyo, Japan. (Photo: Getty Images)
France created history by winning gold in the men's volleyball as they downed ROC 3-2 at the Olympic Games Tokyo 2020 on Saturday (August 7).
Despite being European champions (2015) and two-time Nations League winners (2015 and 2017), France best finish in men's volleyball at the Olympic Games had been an eighth-place finish at Seoul 1988.
Their win at Ariake Arena in a nail-bitting five-setter was France's first Olympic Volleyball medal. The final marked the first time in 21 years two European teams had met in the gold medal match of the men's volleyball tournament at the Olympic Games.
Men's handball: France win record third Olympic gold medal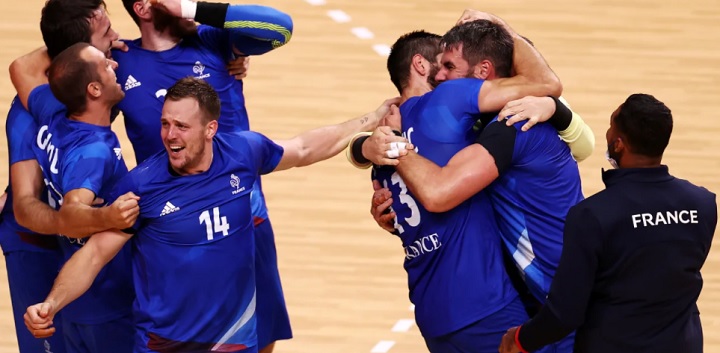 Nikola Karabatic (CR) and Luka Karabatic (R) of Team France embrace each other after defeating Team Denmark 25-23 to win the gold medal in Men's Handball at Yoyogi National Stadium on August 7, 2021 in Tokyo, Japan. (Photo: Getty Images)
France held off a spirited fightback from Denmark to claim a 25-23 victory and, with that, a record third Olympic gold medal in the men's handball in Tokyo 2020.
The match was a repeat of the Rio 2016 gold-medal match, but instead of Denmark taking the spoils, it was France that got their hands on the prized Olympic gold medal.
Denmark's Mikkel Hansen contributed nine goals to his team's total, and in the process, he finished as the tournament's top scorer on 61 goals. He set a new record for most goals scored in men's handball at a single Olympic Games, surpassing the Republic of Korea's YOON Kyung-shin, who scored 58 in Athens in 2004.
Basketball: Australia Boomers beat Slovenia to earn bronze medal
After a host of fourth-place finishes, Australia finally got their hands on an Olympic medal, beating Slovenia 107-93 to win bronze in the Tokyo 2020 men's basketball tournament.
The Australia Boomers finished in the dreaded fourth place in Seoul 1988, Atlanta 1996, Sydney 2000 and, more recently, Rio 2016 before finally getting their breakthrough in Tokyo.
Artistic swimming: ROC continue dominance with gold in team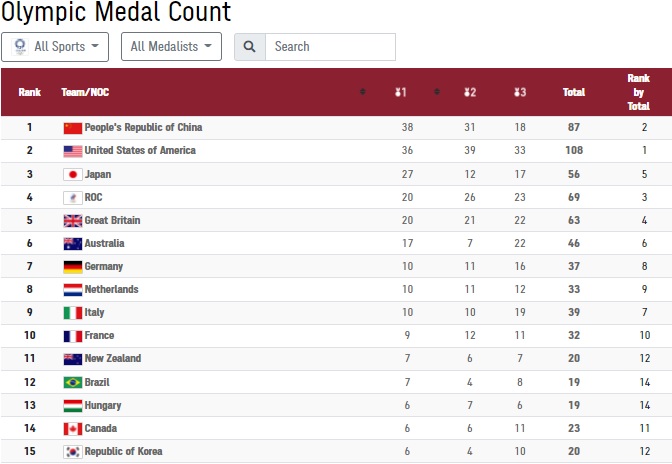 The top 15 NOCs on the Tokyo 2020 Olympic medal count as of 10.30pm on August 7.
Tokyo 2020
TAG: