Tokyo 2020 football final day: Clash for gold as Spain and Brazil meet in Yokohama final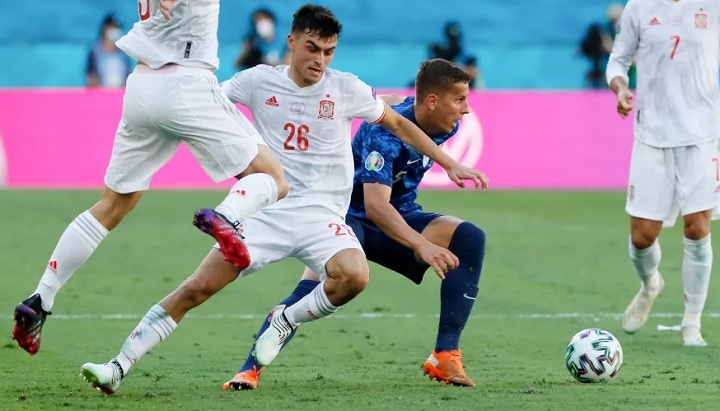 Lubomir Satka of Slovakia battles for possession with Pedri of Spain during the UEFA Euro 2020 Championship Group E match on June 23, 2021 in Seville, Spain. (Photo: Getty Images)   
It will all be on the line on August 7 at the International Stadium Yokohama where Spain and Brazil meet in the culminating match of the Tokyo 2020 Olympic men's football tournament.
Barcelona prodigy Pedri has been in outstanding form for the Spanish side, who are looking to secure their first men's Olympic football gold since they hosted proceedings at the 1992 Games. Real Madrid's Marco Asensio, who scored the winning-goal late against the hosts in the semifinals, is beginning to show the kind of form he used to display regularly before a terrible knee injury slowed his progress.
And in Unai Simon, Spain boast one of the tournament's top goalkeepers.
Brazil, for their part, will rely on the goal-scoring feats of Everton star Richarlison, who opened the tournament with a hat-trick against the Germans, and their inspirational captain, the 38-year-old Dani Alves.
Athletics day 9: Busy medal day with women's 10,000m, men's 1500m and 4x400m relays decided
Allyson Felix looks on during day nine of the 2020 U.S. Olympic Track & Field Team Trials at Hayward Field on June 26, 2021 in Eugene, Oregon. (Photo: Getty Images)
Day nine of the Tokyo 2020 athletics competition is packed to the brim with action, beginning with the women's marathon final, women's high jump final and the women's 10,000m final. The action continues with the finals of the men's javelin and men's 1,500m before the relay events get underway, including the men's and women's 4x400m finals.
The women's marathon, which will be staged north of Tokyo in Sapporo and Hokkaido, has been an Olympic event since 1984 and Kenya's Brigid Kosgei will be the favourite alongside the Ethiopian trio of Birhane Dibaba, Roza Dereje and Zeineba Yimer.
In the women's high jump, three-time world champion Maria Lasitskene of the ROC team will be one to watch.
Emily Sisson of Team USA and Camille Buscomb of New Zealand are in the mix in the women's 10,000m finals along with Tsehay Gemechu of Ethiopia
On the men's side of the day's action, Johannes Vetter of Germany will be looking for medals in the javelin -- as will Finland's Lassi Etelatalo, while Team USA's young Collegian Cole Hocker (of the University of Oregon) looks to shock the field of pros in the men's 1500m finals.
Over in the relays, the US men's team set the pace in the 4x400m prelims while, on the women's side, Alysson Felix and Team USA will also be among the favourites.
Track cycling day 5: Danish riders favourites to win first Olympic men's madison gold since Beijing 2008
Lasse Norman Hansen and Michael Morkov of Denmark compete during Men's Madison during day 5 of the UCI Track Cycling World Championships Berlin at Velodrom on March 1, 2020 in Berlin, Germany. (Photo: Getty Images)
Today, the first men's madison Olympic champion will be crowned since Beijing 2008. The two-person race made its return to these Olympics after it was dropped from the programme ahead of the London 2012 Games. The women's event was contested for the first time here in Tokyo 2020.
Lasse Norman Hasse and Michael Mørkøv will be banking on their form in recent years as they go in search of the first madison Olympic gold medals since Beijing 2008. The duo are the defending world champions in the event.
Canoe sprint day 6: Paddlers in two new events to contest for historic gold medals on last day of finals
Sebastian Brendel of Germany competes during the Men's Canoe Single 1000m Final A on Day 11 of the Rio 2016 Olympic Games at the Lagoa Stadium on August 16, 2016 in Rio de Janeiro, Brazil. (Photo: Getty Images)
Four canoe sprint finals – the women's C2 500m and K4 500m and the men's C1 1000m and K4 500m – will take place on the Sea Forest Waterway at Tokyo 2020 on August 7.
Reigning world champions Sun Mengya and Xu Shixiao of China will be looking to be crowned as the first-ever women's C2 500m gold medal at the Olympic Games.
In the men's C1 1000m, Germany's Sebastian Brendel will attempt to become the first man to win a record three Olympic gold medals in the event. He won gold in London 2012 and in Rio 2016.
New Zealand legend Lisa Carrington could become the first paddler to win a medal in four events at a single Olympic Games when she gets onto the water in the women's K4 500m. Carrington has already won three gold medals at these Games.
The men's K4 500m will be making its debut where Germany's Ronald Rauhe could become the first man to win a medal in canoe sprint in five different Olympic Games.
Water Polo day 15: Team USA and Spain women battle for Olympic gold
Ashleigh Johnson #1 of USA Women's Waterpolo receives a pass during practice on February 23, 2021 in Los Alamitos, California. (Photo: Getty Images)
Day fifteen of Tokyo 2020 water polo will see the first of the available medals in this event awarded, as the women's gold-medal match (between Spain and the United States) follows the bronze-medal match (between Hungary and Team ROC).
The United States, in their fourth straight Olympic final for women's water polo, will be going for their third-straight gold medal. Maddie Musselman scored five goals in the come-from-behind win over ROC in the semifinals and the Americans will again rely on their outstanding goalkeeper Ashleigh Johnson to keep the ball out of the net.
The Spaniard are looking for their first gold medal in the event and will hope for continued output from Roser Tarrago and Anni Espar.
Tokyo 2020 Volleyball: Men's podium spots up for grabs as ROC and France go for gold
Jean Patry #4 of Team France reacts with team mates as he competes against Team Argentina during the Men's Semifinals volleyball at Ariake Arena on August 5, 2021 in Tokyo, Japan. (Photo: Getty Images)
Indoor volleyball has reached the business end at Tokyo 2020 and it is the men who will earn their podium spots first -- with all three medals to be divvied out on Saturday (7 August).
The Maxim Mikhaylov-led ROC team, who stunned defending Olympic champions Brazil in the semis, will look to go one more and scoop gold against a French side that boasts duo Jean Patry and Trevor Clevenot and look to upset the ROC party.
The bronze-medal game is likely to be a tense one as, not only is there a medal on the line, but so are South American bragging rights between continental neighbours Brazil and Argentina.
Modern pentathlon: Open field to battle it out for men's gold
Adam Marosi of Hungary celebrates winning a bout in the fencing during the Men's Modern Pentathlon on Day 15 of the London 2012 Olympic Games on August 11, 2012 in London, England. (Photo: Getty Images)
The Tokyo 2020 modern pentathlon will reach an exciting conclusion in the men's competition at the Tokyo Stadium on Saturday (August 7).
Two-time world champion Valentin Belaud of France heads an open field which includes compatriot Valentin Prades, who finished fourth in Rio 2016. Adam Marosi (Hungary) will be buoyed by his world-title victory last month and will target a second Olympic medal after winning bronze in London 2012.
Men's handball final day: French and Danes go head-to-head for gold
Nikola Karabatic of Team France shoots at goal as Yahia Omar of Team Egypt defends during the Men's Semifinal handball match between France and Egypt at Yoyogi National Stadium on August 5, 2021 in Tokyo, Japan. (Photo: Getty Images)
The Men's Handball bronze-medal match and gold-medal matches take place on day 15 of action at Yoyogi National Stadium on August 7.
The Danes will be hoping to defend the men's handball gold they won at Rio 2016 when they face off with France in the final. The Nordic side will rely, as always, on Mikkel Hansen who's in sizzling form with 12 goals so far here in Japan. The French, who won the gold in 2008 in Beijing and again in London four years later, will hope to go one better than the silver they won in Rio in 2016.
In the match for third, two-time world and European champions Spain and their outstanding leader Adrian Figueras Trejo, will be the favourites against the impressive Egyptians
Diving day 13: Britain's Tom Daley in the men's 10m platform semi and final
Tom Daley of Team Great Britain in action during training ahead of the Tokyo 2020 Olympic Games on July 22, 2021 at the Tokyo Aquatics Centre in Tokyo, Japan. (Photo: Getty Images)
Day 13 of the diving competition sees the eighth and final medal event, the men's 10m platform semifinal and final.
Tom Daley surprisingly failed to make it past the semi-finals in Rio after an uncharacteristic error-strewn display. The previous day he had scored the highest score ever in an Olympic Games. With the semi-finals and finals on the same day, Daley will be hoping, first and foremost, to make it to the evening's final, where he should challenge Chinese divers Yang Jian and Cao Yuan.
Equestrian day 12: Jumping Team title up for grabs
(L-R) Philippe Rozier, Roger-Yves Bost, Penelope Leprovost and Kevin Bost of France celebrate after winning the gold medal during the show jumping team event at the Olympic Equestrian centre on August 17, 2016 in Rio de Janeiro, Brazil. (Photo: Getty Images)
It's the 12th day of the equestrian competition at Tokyo 2020 and the action starts at 19:00 (local) at the Equestrian Park in Tokyo with gold, silver and bronze medals up for grabs in the Jumping Team event.
The United States, Sweden, Germany, Switzerland and the Netherlands all qualified for the Jumping Team event at the World Equestrian Games in 2018. McLain Ward secured the United States a thrilling jump-off victory from Sweden with Germany taking bronze. The US also won team gold at Athens 2004 and Beijing 2008 and silver in Rio 2016. Ward and her teammates will be aiming to win more medals in Tokyo.
Men's basketball final day: Take-two for Team USA and France
Donovan Mitchell of USA in action against Evan Fournier #10 of France during FIBA World Cup 2019 Quarter-finals match between USA and France at Dongguan Basketball Center on September 11, 2019 in Dongguan, China. (Photo: Getty Images)
The men's gold-medal contest between France and the United States will tip off at 11:30 (local time) at the Saitama Super Arena and will be followed later in the day by the men's and women's bronze-medal games.
The French will have the edge of having beaten the 15-time Olympic gold-medal-winning American team 83-76 in the tournament opener. Since then, neither team has lost and Kevin Durant is hitting the kind of form that might make him unplayable as he targets his fourth Olympic gold medal.
With Draymond Green, Damian Lillard, and a whole cast of NBA superstars, the Americans will have a score to settle against the French, who've been looking sharp all tournament long with the likes of Evan Fournier and Rudy Gobert leading the way.
In the men's bronze-medal game, Slovenia, led by Luka Doncic, will want to bounce back from their first loss of the tournament (in the semis) and take home third-place over Patty Mills and his Australian team.
The women's bronze-medal match will see Serbia and France go for third-place on the podium
Wrestling final day: Flurry of deciders as wrestling competition concludes
Daniel Paul Dennis of the United States of America competes against Vladimir Vladimirov Dubov of Bulgaria during Men's Freestyle 57kg Weightlifting contest at Carioca Arena 2 on August 19, 2016 in Rio de Janeiro, Brazil. (Photo: Getty Images)
Gold medals in three wrestling events (Men's Freestyle 65 kg, Men's Freestyle 97 kg Final and the Women's Freestyle 50 kg Final) will be strung around necks on August m7 as the competition on the mats closes at Tokyo 2020 (in 2021).
Takuto Otoguro of Japan and Haji Aliyev of Azerbaijan will face off for gold in the Men's Freestyle 65 kg Final. Abdulrashid Sadulaev of ROC and Kyle Snyder of Team USA will battle it out in the Men's Freestyle 97 kg Final. Finally, the Women's Freestyle 50 kg Final will be contested by Japan's Yui Susaki and Sun Yanan of China.
Tokyo 2020
TAG: