Olympics: Team USA defeat Australia to clinch gold in women's beach volleyball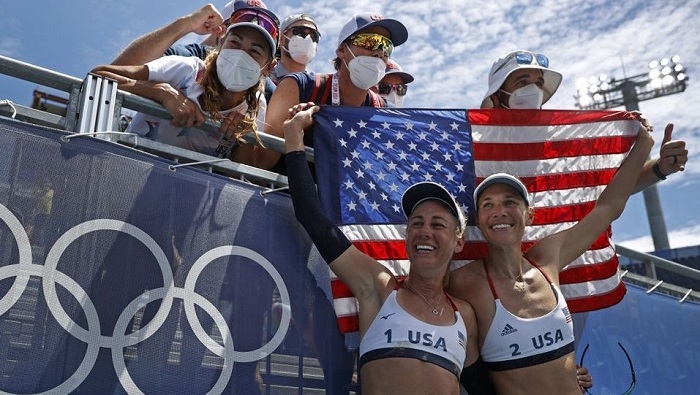 Tokyo 2020 Olympics - Beach Volleyball - Women - Gold medal match - Australia (Artacho del Solar/Clancy) v United States (April/Alix) - Shiokaze Park, Tokyo, Japan - August 6, 2021. April Ross of the United States and Alix Klineman of the United States celebrate winning gold medal match against Australia. (Photo: Reuters)   
April Ross and Alix Klineman gave a masterclass at the women's beach volleyball final at Shiozake Park on August 6 as Team USA secured a sensational victory over Australia.
The US pair had been relentless from the start and edged out the Australian duo in the first set by 21-15.
With Klineman's aces and Ross' powerful serves, Clancy and Artacho del Solar were a no match against the US team who only had one thing in mind: to win gold.
In the second set, the Australians had a slight lead, but A- team, which the US pair is called, caught on quickly as they came firing with solid blocks and serves to secure a 21-16 lead, finishing off their opponents at 43 minutes to clinch their gold medal victory.
Switzerland's Anouk Verge-Depre and Joana Heidrich won their bronze medal match against Latvia's Tina Graudina and Anastasija Kravcenoka with a solid performance.
With two straight sets victory, Verge-Depre and Heidrich secured the bronze medal, which is Switzerland's first Olympic beach volleyball medal in history.
Japan win table tennis men's team bronze
Japan secured a bronze medal in men's team bronze medal match against Republic of Korea (ROK)'s Lee Sangsu, Jeoung Youngsik, Jang Woojin held today at the Tokyo Metropolitan.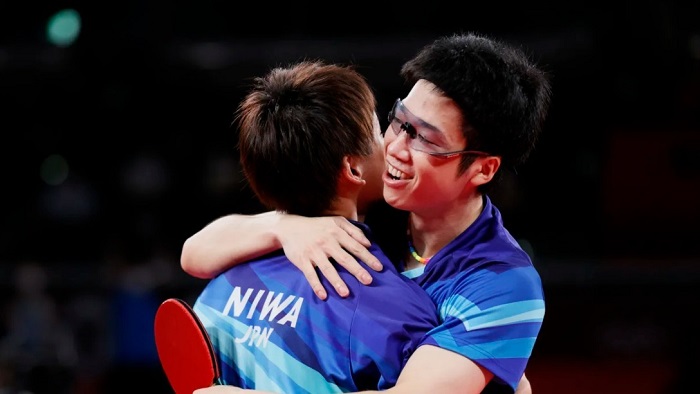 Koki Niwa (L) and Mizutani Jun (R) of Team Japan hug during their Men's Team Bronze Medal table tennis match on day fourteen of the Tokyo 2020 Olympic Games at Tokyo Metropolitan Gymnasium in Tokyo, Japan on August 6, 2021. (Photo: Getty Images)
Mizutani Jun and Koki Niwa set the pace for Japan as they won 3-1 in the first match with Tomokazu Harimoto following it up with another 3-1 victory against Jang.
In the third match, the ROK staged a comeback with Jeoung taking down Niwa by 3-0.
Meanwhile, Mizutani was relentless to win the bronze for Japan as he demolished Jang with a 3-0 win.
This is the second medal of Team Japan in table tennis after Mizutani and partner Mima Ito won gold in the mixed doubles on 26 July.
Great Britain beat India to win women's hockey bronze
Great Britain won the bronze medal in Olympic women's hockey tournament, beating India 4-3.
The two sides were locked in a close fight before defending champions Great Britain made breakthrough early in the second quarter. A second goal followed up in quick succession, making the score 2-0.
India made a dramatic comeback to end the first half 3-2 in front.
However Great Britain fought back in the third quarter to level the match, before scoring the winning goal in the fourth quarter.
Tokyo 2020
TAG: