Olympics: Vietnamese athletes return home on August 4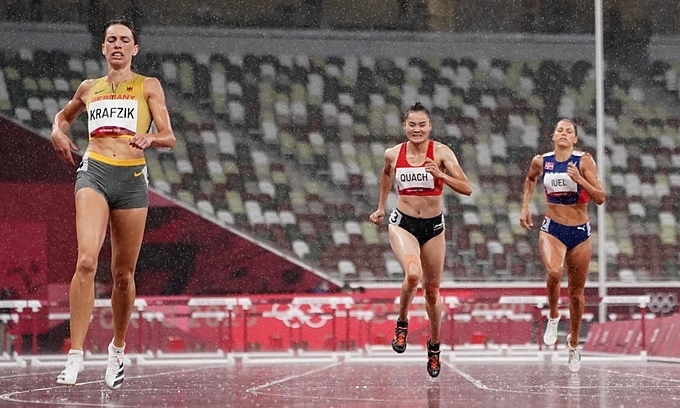 Quach Thi Lan (C) competes in the semifinal of Olympic 400m hurdles on August 2, 2021. (Photo: Reuters)   
Vietnam's 43-member Tokyo Olympics 2020 delegation including athletes, coaches and staff will return home on August 4.
> Vietnam's Tokyo 2020 campaign wraps up as Lan stops in women's 400m hurdles semis
Quach Thi Lan, the last Vietnamese athlete still in the Olympics, ended her journey in Tokyo after finishing 6th out of eight runners in the 400m hurdles first semi-final on August 2.
Under heavy rain, Lan finished with a time of 56.78 seconds. This is 1.07 seconds and 1.48 seconds less than her previous performance in Heat 3 of the qualifiers and her personal best, respectively.
Despite being defeated, Quach Thi Lan's journey will be one to remember. She had the best performance in the history of Vietnamese athletics.
Of 40 athletes, Lan was the only athlete to compete in the Tokyo Olympics through a wildcard entry and the only unranked athlete in the top 24 best runners in the semi-finals.
The Vietnamese sports contingent ended their journey at Tokyo 2020 without winning a medal.
China extends top position in medal tally
China won its sixth and seventh gold medals in weightlifting on August 2, matching Russia's record from the 1976 Games, as Li Wenwen and Wang Zhouyu triumphed in the women's heaviest weight categories at Tokyo 2020.
The 21-year-old Li had a dominant lead in the +87kg event, lifting 320kg in total to set an Olympic record, while Wang won the women's 87kg class with a combined weight of 270kg.
From left to right, Silver medalist Tamara Yajaira Salazar Arce of Ecuador, gold medalist Zhouyu Wang of China and bronze medalist Crismery Dominga Santana Peguero of Dominican Republic pose during the medal ceremony for the Weightlifting - Women's 87kg Group Aon day ten of the Tokyo 2020 Olympic Games at Tokyo International Forum in Tokyo, Japan on August 02, 2021. (Photo: Getty Images)
Despite their defeat in both badminton finals, China still collected five more gold medals in other sports today, thereby extending their leading position in the medal tally with a total of 29 gold, 17 silver and 16 bronze medals.
The US are in second with 22 gold, 25 silver and 17 bronze medals, after collecting two more golds today.
Hosts Japan, Australia and the Russian Olympic Committee (ROC) did not win any more gold, while the Cuban sports delegation won their first two gold medals, both in wrestling.
Indonesia had a successful day, winning one gold and one bronze in badminton.
Netherlands' Sifan Hassan unleashed her sizzling pace in the final lap to win the women's 5,000 metres gold medal on Monday and kick off her bid for an unprecedented Olympic treble
The Ethiopian-born middle-distance runner has confirmed that she will add the 1,500 metres event to her 5,000m and 10,000m runs at Tokyo's Olympic Stadium. The 28-year-old Hassan is the reigning world champion in the 1,500 and 10,000.
Canada stunned world champions the United States on Monday, handing them a shock 1-0 defeat in the semi-finals of the women's Olympic football tournament to set up a clash with Sweden in Friday's showpiece match.
The Swedes beat Australia 1-0 thanks to a 46th-minute goal from Fridolina Rolfo to return to the final after their silver medal in Rio five years ago.
Reuters, VNA
TAG: