Looking ahead to Day 9 at Tokyo 2020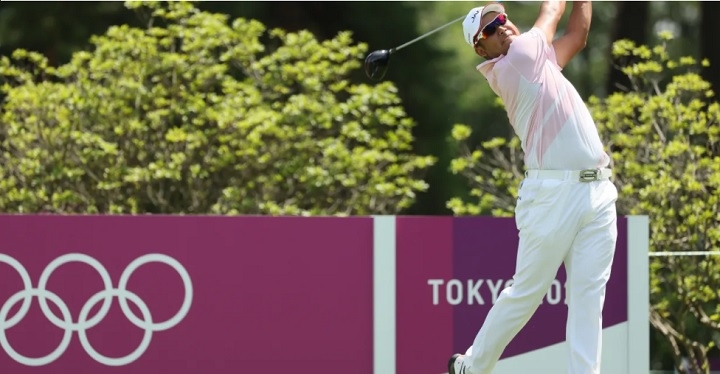 Masters champion Hideki Matsuyama (Japan) is in contention for gold as Tokyo 2020 men's golf heads into its final day on August 1. (Photo: Getty Images)   
The men's 100m final headlines a day with 25 gold medals due to be awarded. Who will succeed Usain Bolt as Olympic 100m champion? Fencing, swimming, and tennis all come to a conclusion, as does the men's golf competition.
Medal events
Artistic gymnastics
17:00-17:35: M floor exercise Final; 17:45-18:20: W vault Final; 18:30-19:05: M pommel horse Final; 19:15-20:10: W uneven bars final
Athletics
09:10-12:00: W shot put final; 19:00-21:55: M high jump Final, W triple jump final, M 100 Final
Badminton
20:30-23:00: W singles Bronze Medal Match and Gold Medal Match
Cycling BMX Freestyle
10:10-12:50: W/M park Final
Diving
15:00-16:25: W 3m springboard Final
Fencing
18:30-19:40: M foil team Bronze Medal Match; 19:50-21:00: Men's foil team Gold Medal Match
Golf
07:30-16:00: M individual stroke play Round 4
Sailing
14:30-14:58: M One Person Dinghy - Laser Medal Race; 15:30-15:58: W One Person Dinghy - Laser Radial Medal Race
_Subject to change, conditions allowing_
Swimming
10:30-12:25: M 50 free Final, W 50 free Final, M 1500 free Final, W 4x100 medley relay Final, M 4x 100 medley relay Final
Tennis
12:00-20:00: M singles Gold Medal Match; W doubles Gold Medal Match; mixed doubles Gold Medal Match.
Weightlifting
19:50-22:00: W 76kg Group A
Also of interest
Athletics
09:10-12:00: W hammer throw qualifying, W 3000 steeplechase Round 1, W long jump qualifying, M 400 Round 1; 19:00-21:55: M 100 semis, W 100 hurdles semis, M 800 semis, M 400 hurdles semis
Tokyo 2020
TAG: