Fencing-Estonia win women's épée team to deliver nation's first Olympic gold medal in 13 years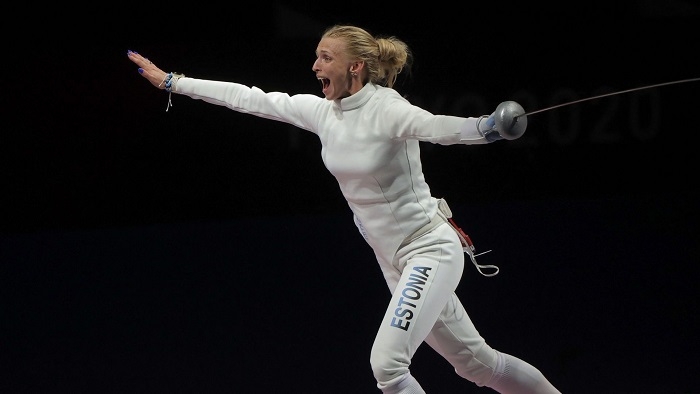 Tokyo 2020 Olympics - Fencing - Women's Team Epee - Gold medal match - Makuhari Messe Hall B - Chiba, Japan - July 27, 2021. Katrina Lehis of Estonia celebrates after winning gold. (Photo: Reuters)   
Estonia have won an emphatic women's epee team gold medal at the Olympic Games Tokyo 2020, beating the Republic of Korea 36-32 at Makuhari Messe.
It was the Baltic nations first gold medal at an Olympic Games since Beijing 2008.
It was also Estonia's first gold medal in the sport at the Olympic Games and comes just days after Katrina Lehis, who was also part of the team win tonight, won the nation's first medal in fencing - she won bronze in the women's epee individual.
Surfing-Ferreira completes long ride from cooler lid to gold
There can have been few more humble beginnings to an Olympic career than those of Italo Ferreira, who started out surfing on the lid of his father's cooler box and ended up with a gold medal at the Tokyo Games.
The 27-year-old started out small, like the seaside town Baia Formosa on Brazil's northeastern coast where he grew up, starting with his dad's lid and progressing to borrowing boards from his cousins before being discovered at the age of 12.
He defeated Japan's Kanoa Igarashi on Tuesday to claim the gold in an event broadcast around the world, pointing to the sky as the siren sounded to signal the end of the competition, as well as that of his incredible journey from his humble hometown of 10,000 people.
Cycling-Neff completes comeback with emotional gold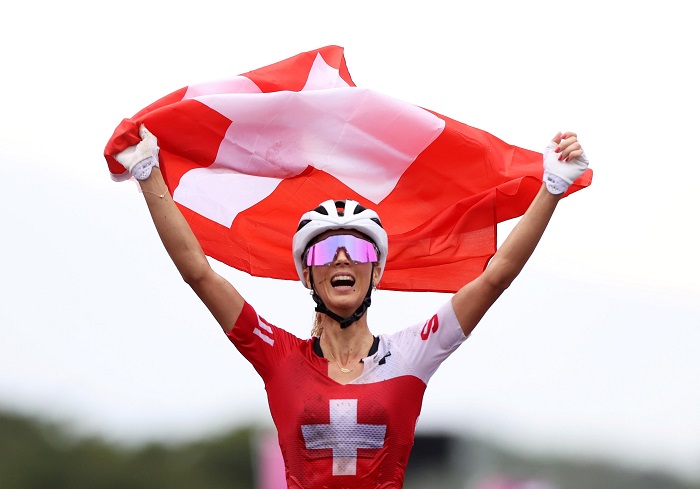 Tokyo 2020 Olympics - Mountain Bike - Women's Cross Country - Final - Izu MTB Course - Shizuoka, Japan - July 27, 2021. Jolanda Neff of Switzerland celebrates winning gold. (Photo: Reuters)
When Jolanda Neff crashed at high speed just before Christmas 2019 and ruptured her spleen, she thought her race-winning days were over, never mind her dream of Olympic gold in Tokyo.
But the Swiss mountain biker completed a remarkable recovery from her darkest moment to enjoy the biggest day of her career on Tuesday, romping to a sensational win on a treacherous and slippery Izu circuit.
The 28-year-old gave a masterclass in bike handling to lead a Swiss one-two-three - the country's first sweep at an Olympics since 1936 - by a whopping winning margin of one minute 11 seconds.
Tears rolled down her cheeks as Neff reflected on her journey back to full fitness after she struck a pile of logs on a training ride in North Carolina.
It was an accident that also left the 2017 mountain bike world champion and winner of multiple World Cup races with fractured ribs and a crushed lung.
Had the Olympics taken place as scheduled last year she might not have made it - but the extra year gave her a chance and she took maximum advantage to outclass the field.
Judo-Frenchwoman Agbegnenou wins women's - 63 kg gold in Tokyo
France's Clarisse Agbegnenou is one of the greatest champions in the history of judo and she proved that again when she beat the reigning Olympic champion in the women's -63kg class at Tokyo 2020. It was arguably her sweetest victory.
In a re-run of the Rio 2016 final, the five-time world champion and three-time European champion took sweet revenge on title-holder Slovenia's Tina Trstenjak, who beat her five years earlier into silver.
The 28-year-old came out fighting from the start and did not relent until the judo -63kg crown was hers at the Nippon Budokan in Japan's capital on 27 July.
But reigning European champion Trstenjak, 30, did not give up without a fight. The bout went to a golden score and it took a waza-ari for Agbegnenou to take down the 30-year-old reigning European champion.
The French judoka screamed and wept with delight at the end of the bout and even lifted her opponent in the air as her monumental achievement sunk in: she had now won every major title in her class.
Canoeing-Germany's Funk wins women's Kayak slalom gold
Germany's Ricarda Funk ended Australian Jessica Fox's bid to win two canoeing golds at the Tokyo Olympics by taking the women's kayak slalom title on Tuesday in a technically accomplished run down a challenging white water course.
It was Funk's first major title since winning the European championship in 2018 and the first time a German paddler has won the women's kayak slalom event since Barcelona in 1992.
Diving-China wins gold in women's 10 metres synchronised platform
China's Chen Yuxi and Zhang Jiaqi won gold in the women's 10 metres synchronised platform diving at the Tokyo Olympics 2020 on Tuesday.
Jessica Parratto and Delaney Schnell of the United States claimed silver, with Mexico's Gabriela Agundez Garcia and Alejandra Orozco Loza taking bronze.
Tennis-Japan's Osaka fails to handle great expectations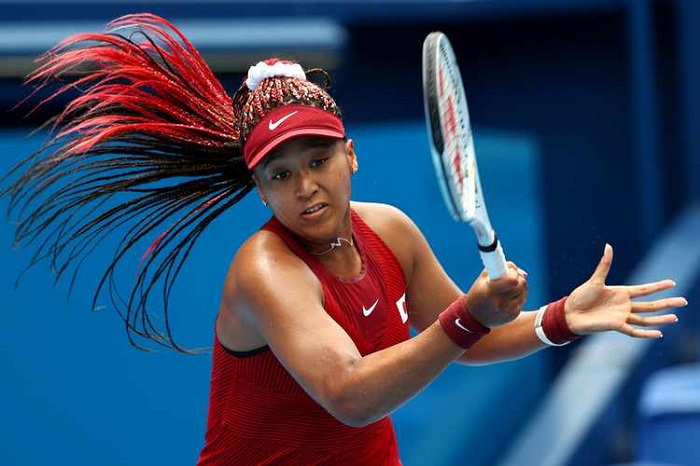 Tokyo 2020 Olympics - Tennis - Women's Singles - Round 2 - Ariake Tennis Park - Tokyo, Japan - July 26, 2021. Naomi Osaka of Japan in action during her second round match against Viktorija Golubic of Switzerland. (Photo: Reuters)
Naomi Osaka, Japan's great hope for tennis gold, lost in the third round of the Tokyo Olympics on Tuesday, saying she had not known how to cope with the pressure of the occasion.
The world number two was knocked out 6-1 6-4 by Czech Marketa Vondrousova in her first tournament since pulling out of the French Open in May when she said she had been suffering from depression for almost three years.
The women's tennis event has now lost both of its top drawcards after world number one and Wimbledon champion Ash Barty was beaten in the first round.
Kei Nishikori kept Japan's tennis medal hopes alive with a tough, three-set victory in the men's singles on Tuesday, hours after compatriot Naomi Osaka was eliminated from the women's event in one of the biggest upsets of the Tokyo Games.
Nishikori, who won the bronze medal at the Rio Games in 2016, said he was feeling confident on the court after his 7-6(5) 3-6 6-1 win over Marcos Giron of the United States in the second round.
Swimming: Dean and Scott deliver British one-two in 200m freestyle at Tokyo Olympics
Tom Dean powered to the gold medal in the men's 200m freestyle at the Tokyo Olympics on Tuesday, heading a British one-two with Duncan Scott taking silver.
Dean won in a time of 1:44.22 with Scott was just four hundredths of a second behind him. Fernando Scheffer of Brazil took bronze.
Swimming: Rylov breaks barren Russian spell with 100m backstroke gold in Tokyo
Russian Evgeny Rylov broke the country's barren gold medal spell in men's swimming on Tuesday, edging out rivals including American defending champion Ryan Murphy in a thrilling 100m backstroke race that was determined at the wall.
Hitting the wall with a time of 51.98 seconds, Rylov swam from an outside lane to beat fellow Russian Kliment Kolesnikov, who placed second with a time of 52.00 seconds and Murphy who came third with 52.19 seconds.
It is the first time that a Russian man has won a swimming gold in the Olympics since the Atlanta Games in 1996, when Alexander Popov and Denis Pankratov both topped the podium twice.
Swimming: Australia's McKeown wins 100m backstroke gold in debut Olympics
Kaylee McKeown of Australia powered to her first Olympic gold medal on Tuesday (Jul 27) after a stunning fightback in the women's 100m backstroke that was within a fingertip of her own world record.
Canada's Kylie Masse took a good lead from the start and held it at the halfway mark, but McKeown switched gears out of the turn and clawed back to win in 57.47 seconds.
Masse won silver in 57.72 seconds and Reagan Smith of the United States was third in 58.05 seconds.
The 20-year-old McKeown's time was just two hundredths of a second shy of the world record she set in the Australian trials in June.
Swimming-American teen Jacoby pulls off surprise win in 100m breaststroke
Lydia Jacoby would likely have been watching the Tokyo Games as a spectator had the event not been postponed by a year but on Tuesday the Alaskan teenager upstaged Olympic and world champions to win gold in the women's 100m breaststroke.
The 17-year-old pipped Tatjana Schoenmaker to gold, touching in a time of 1:04.95 with the South African 0.27 behind. Jacoby's team mate, Rio Olympic champion and world record holder Lilly King, was in the bronze medal position in 1:05.54.
Reuters, Tokyo 2020
TAG: