Djokovic becomes first player to qualify for ATP Finals after Wimbledon win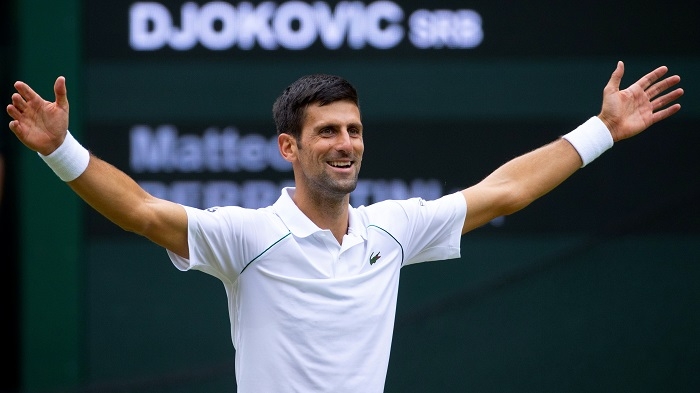 Tennis - Wimbledon - All England Lawn Tennis and Croquet Club, London, Britain - July 11, 2021 Serbia's Novak Djokovic celebrates after winning his final match against Italy's Matteo Berrettini. (Photo: Pool via Reuters)   
Novak Djokovic became the first player to qualify for this year's ATP Finals in Turin after the world number one tied Roger Federer and Rafa Nadal's record with his 20th major at Wimbledon on Sunday.
Greek Stefanos Tsitsipas, the 2019 ATP Finals champion, is next in line to qualify in the second position for the Nov. 14-21 event, followed by local favourite Matteo Berrettini. Rafa Nadal, Daniil Medvedev, Andrey Rublev, Alexander Zverev and Jannik Sinner all feature in the Top 12 with four months remaining in the regular ATP Tour season.
* Real Sociedad have signed Australia goalkeeper Mat Ryan from English Premier League side Brighton & Hove Albion on a two-year deal, the La Liga club said. After four years at Brighton, 29-year-old Ryan returns to Spanish football, having had a three-year stint at Valencia from 2015-17.
* Canada's Bianca Andreescu has decided not to compete at the Tokyo Olympics due to the COVID-19 pandemic, the former US Open champion said on Monday. Rafa Nadal, Dominic Thiem, Stan Wawrinka, Nick Kyrgios, Serena Williams and Simona Halep have already announced their decisions to skip the pandemic-delayed Olympics.
* La Liga champions Atletico Madrid have signed midfielder Rodrigo de Paul from Serie A side Udinese on a five-year contract, the club announced on Monday. Atletico did not disclose the transfer fee but British media reported that the deal was worth 35 million euros (US$41.50 million) for the 27-year-old Argentina international.
* Seven times Formula One world champion Lewis Hamilton has voiced support for the three black England football players who missed penalties in the Euro 2020 final on Sunday, after they were subjected to a torrent of racist abuse on social media. Marcus Rashford, Jadon Sancho and Bukayo Saka missed their spot-kicks as Italy won 3-2 on penalties following a 1-1 draw after extra time at Wembley Stadium.
* British Prime Minister Boris Johnson said on Monday he was hopeful that Britain and Ireland would win a bid to stage the 2030 World Cup, saying he believed they had a "very good case". England, which hosted and won the 1966 World Cup, failed in bids to host the event in 2006 and 2018.
* More than 30 million people in Britain tuned in to watch England's nerve wracking penalty shootout loss to Italy in the Euro 2020 final on Sunday night, the biggest TV audience since the funeral of Princess Diana in 1997. The BBC said 30.95 million people had watched the closing minutes of the game, while an average of 29.85 million sat through the match, which had finished 1-1 at Wembley.
* Former British Open winner Zach Johnson will miss this year's championship at Royal St George's in Kent after testing positive for COVID-19, the R&A said on Monday while announcing two more withdrawals. South African Louis de Jager has also been forced out due to a positive COVID-19 test, while last-minute qualifier Ryan Moore is recovering from a back injury and will not appear.
* England manager Gareth Southgate says he will pause before any decision over his future but that he currently intends to stay in charge of the team. Southgate is under contract until after next year's World Cup in Qatar but the Football Association has already expressed an interest in extending his deal.
Reuters
TAG: