FIFA encourages Vietnam ahead of important World Cup qualifier against UAE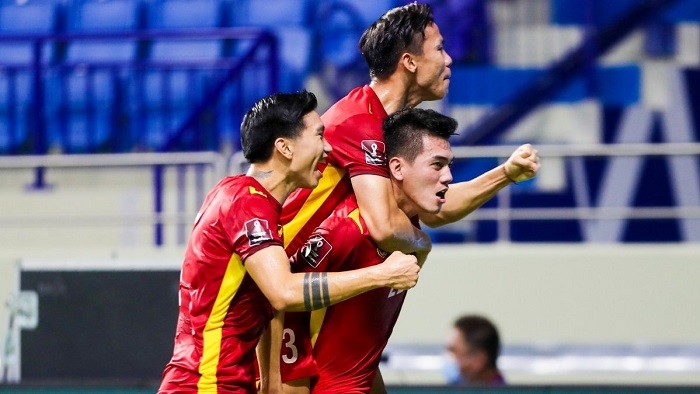 Vietnam are on the verge of making history with their first ever ticket to the final qualifying round of the FIFA World Cup. (Photo: FIFA)   
NDO – The world football governing body FIFA believes that the Vietnamese team has a huge opportunity to maintain their first place in Group G of the second round of the 2022 FIFA World Cup Asian qualifiers, thereby winning their historic ticket to the third qualifying round.
> UAE's attacking power not yet the best, says Park Hang-seo

> Vietnam prepare plans for pivotal World Cup qualifier against UAE

> Vietnam to advance in FIFA world rankings
At noon on June 14 (Hanoi time), the FIFA's official twitter posted a status in support of the Vietnamese team before their final Group G match against hosts UAE tonight (June 15).
"Few gave Vietnam a chance of winning Group G in the 2nd round of Asian World Cup qualifiers. A last-gasp win vs Malaysia nevertheless means that a point tomorrow will guarantee them a 3rd-round place for the 1st time ever. Some Monday motivation from the Golden Star Warriors," FIFA wrote.
The post with the #MondayMotivation hashtag and a photo of three Vietnamese players proudly celebrating their goal wants to spread positive energy for the start of the new week. This is clearly a great honour for the Vietnamese national team.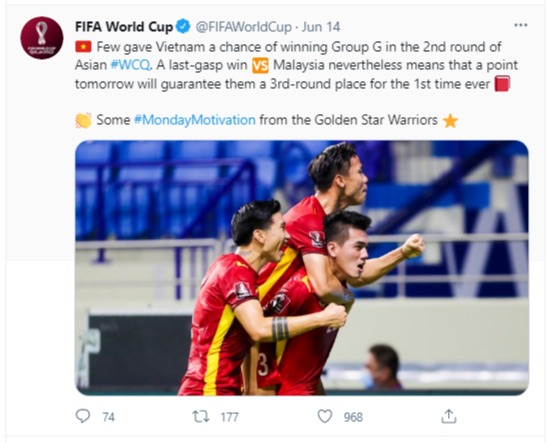 Vietnam have made a miracle in the second Asian qualifying round of the 2022 FIFA World Cup. Among the eight teams from Southeast Asia at the tournament, Vietnam are the only that has the great opportunity to go on to the final qualifying round, while the rest have all stopped.
Even, they have the right to self-determinate their own fate to go on. Therefore, coach Park Hang-seo's side has created a great effect and has received encouragement from the international football community.
In the UAE, Vietnam went through two matches with Indonesia (won 4-0) and Malaysia (won 2-1). This result helped Park's side maintain the top spot in Group G, while the UAE, from the penultimate position, rose to close to the top in the second place.
Two previous victories also helped Vietnam receive 13.4 additional points, thereby climbing up two places on the FIFA world rankings and becoming the No. 90 team in the world. The leading position in Southeast Asia remains unchanged for them after a series of impressive performances.
The final match against the UAE will decide the top spot of Group G. The Vietnamese team only need to have at least on point to secure a ticket to the third qualifying round. Even if they lose to the hosts, the Golder Star Warriors still have a great chance to move on.
UAE won a maximum of nine points in the last three matches, beating Malaysia 4-0, Thailand 3-1 and Indonesia 5-0.
Meanwhile, the Vietnamese team will not have coach Park Hang-seo on the coaching bench because the Korean strategist has received two yellow cards in this qualifying round and will be suspended. His assistant Lee Young-jin will take on the team tonight.
TAG: