World Cup Qualification Vietnam vs Malaysia – prediction team news lineups
Vietnam will extend their unbeaten run in the 2022 FIFA World Cup Asian qualifiers when they travel to Dubai to face Malaysia on Friday.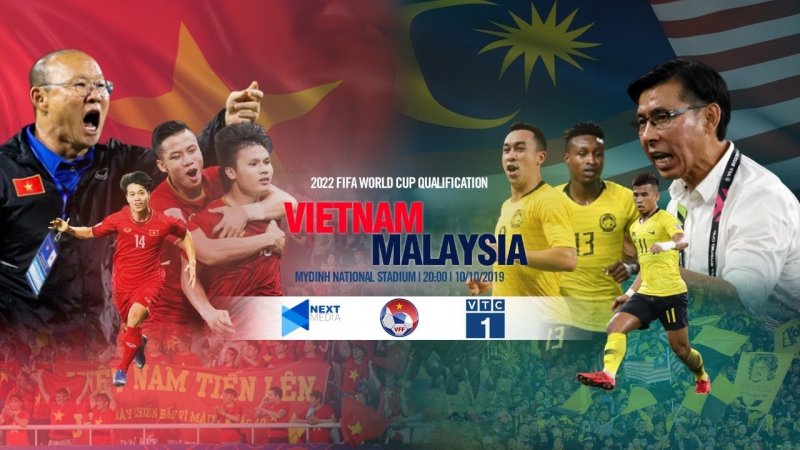 (Photo: Youtube)
The Golden Star Warriors have not lost any of their last seven international matches across all competitions. In contrast, the hosts have suffered defeats in four of their previous six games, as reported by Sports Mole.
Match preview
After losing 2-0 against Bahrain in a friendly fixture last month, Malaysia restarted their World Cup qualification campaign in the worst possible manner, losing 4-0 away at the United Arab Emirates.
The Malayan Tigers were only trailing 1-0 heading into the final seven minutes of the match and were pushing to score an equalizer. However, a late brace from Brazilian-born midfielder Fabio Virginio de Lima and a strike from Ali Mabkhout secured all three points for the hosts.
That result leaves Malaysia fourth in Group G, three points behind the UAE, who currently sit in second place, occupying one of the four best runners-up positions.
Head coach Tan Cheng Hoe – who has been in charge since 2017 – is not giving up hope of progressing to the next round of qualification, although his side potentially needs to win both of their final two games to be in with a chance.
Vietnam is one of eight Asian teams that sit top of their group and are also unbeaten after their first six games.
The Golden Star Warriors have drawn twice and won the other four, including a convincing 4-0 victory to Indonesia on Monday.
Second-half strikes from Nguyen Tien Linh, Nguyen Quang Hai, Nguyen Cong Phuong, and Vu Van Thanh helped secure all three points for Park Hang-seo's side, who remain two clear points of the UAE summit of Group G.
Vietnam has an impressive record against Malaysia, winning eight of their last 10 meetings against them, scoring 13 goals, and keeping six clean sheets in the process.

(Photo: Captured)
Malaysia vs. Vietnam Head-To-Head
Vietnam has been the superior side in this fixture, claiming 12 wins from 21 meetings with Malaysia.
The hosts have picked up six wins, while three games have ended all square.
Score predictions
Malaysia vs. Vietnam Prediction
Ranked 92nd by FIFA, Vietnam head into this tie with a stronger and more experienced squad than their opponents. Malaysia, which is ranked 173rd, is currently out-of-sorts and struggling for results.
"We predict Vietnam will continue their dominance in this fixture and claim the win to move one step closer to a place in the 2022 FIFA World Cup," Sports Keeda said.
Prediction: Malaysia 0-2 Vietnam
Meanwhile, the Top 10 list betting said, "The 4-0 victory of the Vietnamese team against Indonesia is compelling. The next opponent of this team in Malaysia. Malaysia just lost 0-4 to the home team UAE. Their next-door is probably closed. When the Golden Star Warriors need a win to maintain the top position before the decisive battle in the final round."
Malaysia vs. Vietnam: Top 10 list's team comparison
Malaysia's next door is getting narrower and narrower when the two leading teams gradually create a safe distance for the next ticket. Including the opponent in this match. Meanwhile, intending to win in 1 of 2 matches also makes Vietnam more determined. Because in the last match they will face the UAE, the highest-rated team in the group.
Back in the day, Malaysia was unable to stand up to the strong UAE. They were defeated quickly with a score of 0-4. In theory, the tigers still have a chance to compete for the next spot. They have the same 9 points as the 3rd place team, Thailand, and have played less than 1 match. Malaysia is 3 points behind the second-placed team, UAE. Malaysia's strength is very formidable when the 4th and 5th matches have surpassed Thailand and Indonesia.
Vietnam highly appreciates this match. If they win 3 points, they will be sure of the ticket to continue without caring about the last match. Moreover, the defeat of Indo in the previous match with a 4-0 made them even more excited in this match. And it seems that the sun in the UAE does not make their determination falter. Coach Park Hang Seo and his students always know how to overcome difficult times, the news outlet wrote.
Team News
Malaysia goalkeeper Farizal Marlias – who is just two appearances away from his 50th international cap – is expected to start ahead of Farnborough-born stopper Samuel Somerville and Khairulazhan Khalid.
Experienced center-back Aidil Zafuan Radzak is set to keep his place at the heart of the defense alongside FC Midtjylland defender Dion Cools. At the same time, 35-year-old forward Norshahrul Idlan Talaha could be brought into the first XI at the expense of Guilherme de Paula.
As for Vietnam, midfielder Nguyen Trong Hoang – who is 13 appearances away from becoming the nation's most-capped player – was not in the squad that beat Indonesia earlier this week. The 32-year-old remains doubtful for Friday's game.
Vu and Phan Van Duc are set to keep their places in central midfield as a result, while Tien Linh is likely to start up front after scoring on Monday.
Malaysia possible starting lineup:
Marlias; Davies, Cools, Zafuan, Corbin-Ong; Azih Azam, Krasniqi, Kutty; Rashird, Sumareh, Talaha
Vietnam possible starting lineup:
T.T. Bui; T.D. Bui, Do, Que; Phong, Vu, Phan, Tuan Anh; Quang Hai, Tien Linh, Van Toan
Vietnam has a 78 percent chance of World Cup qualifiers advance
According to football statistics site We Global, Vietnam's chance of advancing in the World Cup qualifiers has increased by 4 percent after Thursday matches.
We Global simulated remaining matches in this second World Cup qualifying round and combined results of previous games. It concluded Vietnam had a 77.88 percent chance of entering the final qualifying round. The team's chance is only lower than Japan, Australia, Syria, South Korea, Saudi Arabia, Oman, Iraq, and Lebanon. Of these, Japan is the only team to have already secured a final qualification round.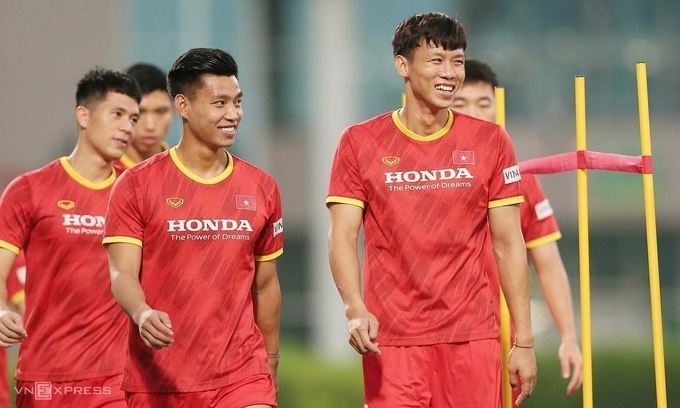 Vietnam national football team at a training session in Dubai, May 2021. (Photo: VNE)
Other group G teams like UAE have a 65.72 percent, Thailand a 6.40 percent, and Malaysia a 1.36 percent chance of advance. Indonesia has already lost its chance despite earning the first point against Thailand from a 2-2 draw Thursday.
Vietnam's chance stood at 74.20 percent before the matches played Thursday.
The Golden Dragons are still at the top of the group with 11 points. UAE, Thailand, and Malaysia are behind with nine points each, but only Vietnam and the UAE have three matches left, while the other two only got two.
Vietnam will remain atop Group G if they can get seven points in the remaining three matches, against Indonesia on June 7, Malaysia on June 11, and UAE on June 15.
Thailand and Malaysia have fallen behind, so Vietnam can still finish second if they fail to retain first place. However, they can enter the final qualifying round for the World Cup if they finish among the five best second-placed teams.
We Global is a football statistics site based in the U.S. that regularly makes predictions based on simulations of international matches and FIFA rankings, as reported by VNE.
Malaysia coach seeks to exploit every opportunity against Vietnam
Coach Tan Cheng Hoe of Malaysia aims to end his team's poor record against Vietnam in their World Cup qualifier Friday.
"Although we did not win in the last four meetings, I'm sure we are aware of the tactics and style of Vietnam. Therefore, we must make full use of every opportunity presented before our eyes. We know the strength of Vietnam is speed and their cohesive attack; therefore, we have to work doubly hard to seal off space wherever possible," Tan told Malaysian news agency Bernama.
The game on Friday will be the fifth encounter between the two teams since Tan took over as Malaysia's head coach. In the previous four matches, Vietnam won three and drew one.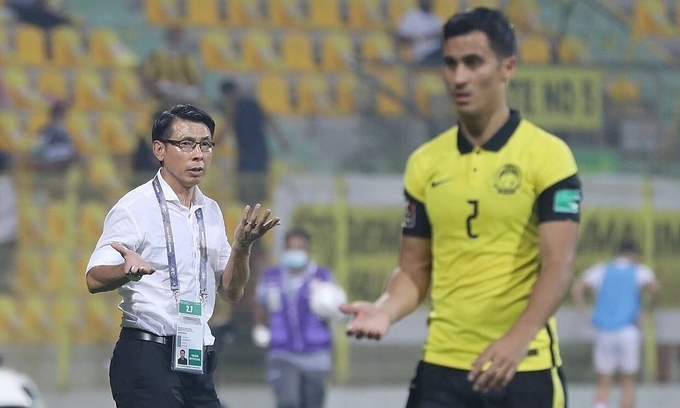 Coach Tan Cheng Hoe (L) in the World Cup qualifying game between Malaysia and UAE on June 3, 2021. (Photo courtesy of Football Association of Malaysia)
"In every encounter with Vietnam, we had our chances at goal; as such, we need more lethal finishings to make the difference," Tan told media after a training session Tuesday.
Vietnam is on top of Group G with 14 points, while Malaysia has nine. After the 0-4 loss against UAE last week, Malaysia has no choice but to defeat Vietnam to advance to the final World Cup qualifying round. Vietnam also needs three points to hold the top position, meaning the game will prove crucial for both teams.
"Vietnam is said to have the best defense in the group, but we are confident each of our players is more than capable of earning a much-needed win," Tan added.

The match will occur on Friday, June 11 at 11:45 p.m. (Hanoi time) and will be reported live on VTV5; VTV6; Facebook, Youtube issued by Next Sports, VFF Channel; VnExpress International.
Jasmine Le
TAG: