Vietnam Football Federation announces national team's schedule in FIFA World Cup qualifiers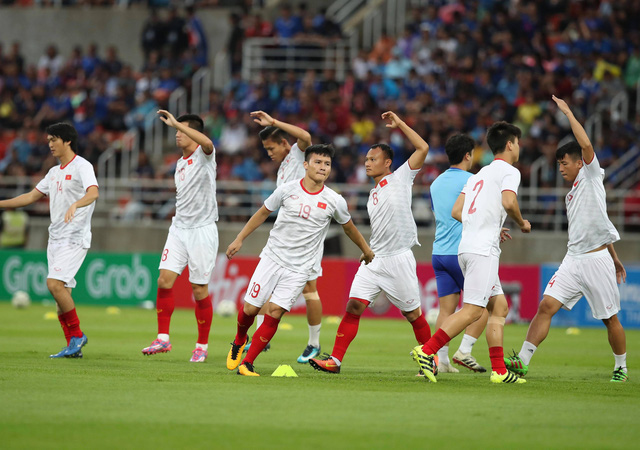 The Vietnam Football Federation (VFF) announced on Thursday the dates and venues of the games that the national men's football team will play in the 2022 FIFA World Cup qualifiers in the United Arab Emirates.
As per the Asian Football Confederation's confirmation in March, the UAE have been selected as the host for Group G, which consists of Southeast Asian challengers Vietnam, Malaysia, Thailand.
The VFF further informed the press of Vietnam team's schedule in the qualifiers on Thursday.
Accordingly, Vietnam will compete against Indonesia at Al Maktoum Stadium on June 7, Malaysia at the same venue on June 11, and the UAE at Zabeel Stadium on June 15.
All of these three matches will take place at 11:45 pm (Vietnam time).
Next Media, a Vietnamese digital content provider, exclusively owns the broadcasting rights of the matches on all platforms.
The Asian qualifiers for the 2022 FIFA World Cup in Qatar are in its second round, played by 40 teams drawn into eight groups of five to play home and away round-robin matches from September 5, 2019.
The remaining games in the qualifiers, which also serve as the road to the 2023 Asian Cup in China, have been pushed back twice due to the ongoing COVID-19 pandemic.
Currently, Vietnam are leading Group G with 11 points from five matches, followed by Malaysia with nine, Thailand with eight, the UAE — who are one game behind — with six points.
Indonesia are in the bottom of the group with zero points after five matches and stand no chance of advancing to the next qualifying round.
Vietnam aim to maintain the first place and reach the third qualifying round for the first time in the country's football history.
In preparation for the upcoming three important games, the national team members will gather for a call-up on May 10.
From then to May 18, the squad will undergo training in Quy Nhon City, located in south-central Binh Dinh Province.
A friendly game with Topenland Binh Dinh FC on May 17 is also in the schedule for the team.
They will continue training in Hanoi from May 19 to 26 before leaving for the UAE on May 27.
The VFF is coordinating to set up a friendly match between Vietnam and an undecided team in West Asia before the Golden Dragons officially enter the qualifiers.
TAG: