Winners of 2020 Vietnam Golden Ball Awards announced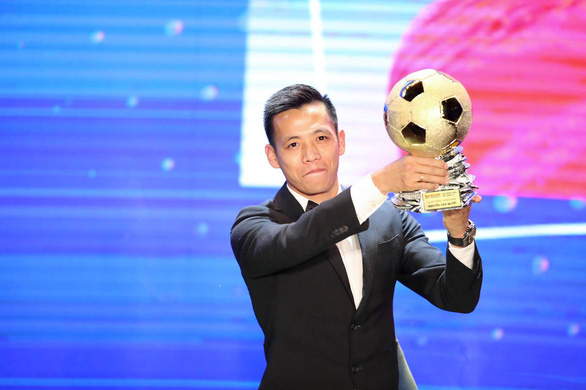 Forward Nguyen Van Quyet of Hanoi FC and striker Cu Thi Huynh Nhu of Ho Chi Minh City Club were named winners of the 2020 Vietnam Golden Ball, the country's most prestigious individual football awards, on Tuesday.
Quyet won the first Golden Ball Award of his career for his major contribution to Hanoi FC's achievements in their second-place finish at the 2020 top-tier V.League 1, and winning at the year's National Cup as well as the recent .
Two defenders of 2020 V.League 1 champions Viettel FC, Bui Tien Dung and Que Ngoc Hai, finished second and third after Quyet in the men's competition for the honor.
Cu Thi Huynh Nhu won the women's Golden Ball Award for the second consecutive year and the third in her career, followed by Pham Hai Yen of Hanoi FC and goalie Tran Thi Kim Thanh, Nhu's teammate at Ho Chi Minh City Football Club.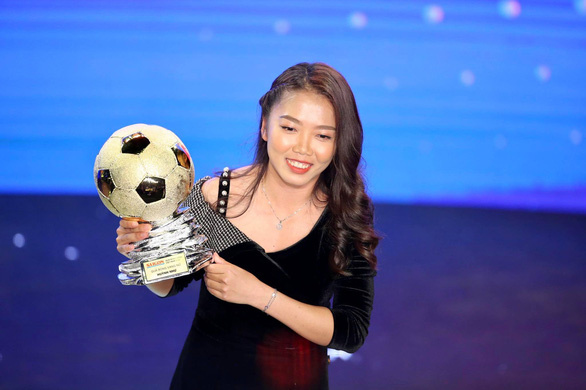 Striker Cu Thi Huynh Nhu of Ho Chi Minh City Football Club reacts after receiving the 2020 Vietnam Golden Ball Award in Ho Chi Minh City, January 12, 2021. Photo: N.K. / Tuoi Tre
The Golden Ball Award in futsal went to Nguyen Minh Tri of Thai Son Nam FC, who triumphed at both the 2020 National Futsal Championship and the National Futsal Cup. 
The 2020 Golden Ball Awards also named Hanoi FC's Bui Hoang Viet Anh and Ngan Thi Van Su the best young male and female players, respectively.
Bruno Cantanhede, who was among the key players of Viettel FC, was named the best foreign player.
The Vietnam Golden Ball has been given annually by the Sai Gon Giai Phong (Liberated Saigon) daily since 1995 to recognize the efforts of players who have contributed to the popular sport in the Southeast Asian country.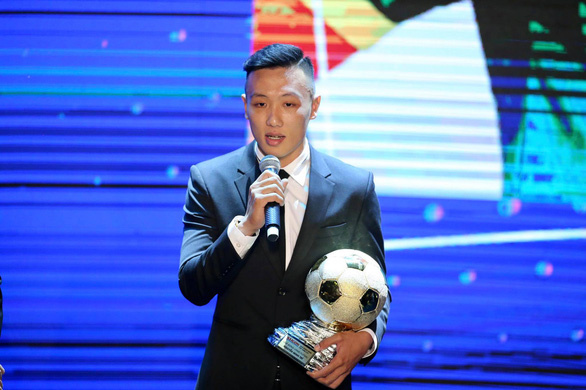 Nguyen Minh Tri of Thai Son Nam FC speaks after receiving the 2020 Vietnam Golden Ball Award in futsal in Ho Chi Minh City, January 12, 2021. Photo: N.K. / Tuoi Tre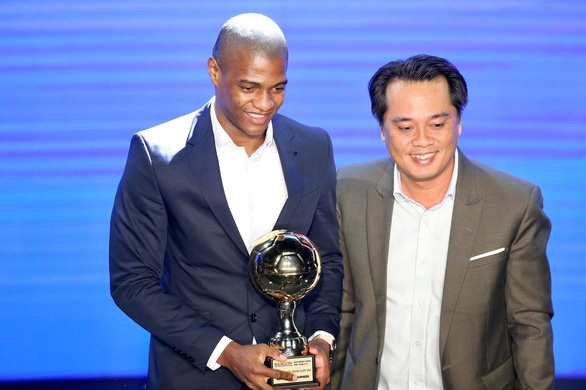 Bruno Cantanhede of Viettel FC reacts after receiving the 2020 Vietnam Golden Ball Award for the best foreign player in Ho Chi Minh City, January 12, 2021. Photo: N.K. / Tuoi Tre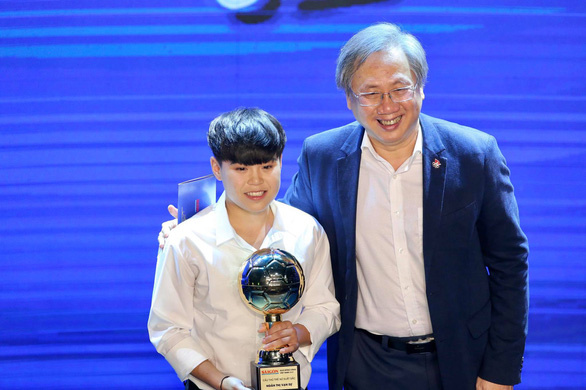 Hanoi FC's Ngan Thi Van Su (left) reacts after receiving the 2020 Vietnam Golden Ball Award for the best young female player in Ho Chi Minh City, January 12, 2021. Photo: N.K./ Tuoi Tre
Hanoi FC's Bui Hoang Viet Anh (left) reacts after receiving the 2020 Vietnam Golden Ball Award for the best young male player in Ho Chi Minh City, January 12, 2021. Photo: N.K. / Tuoi Tre
TAG: