S.Koreans come to Khanh Hoa on chartered flight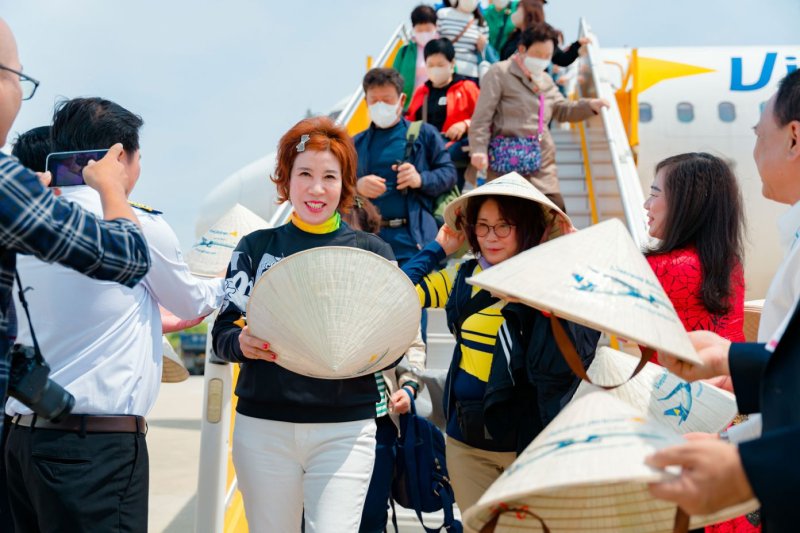 HCMC – The south-central province of Khanh Hoa yesterday, March 18, welcomed South Korean tourists on board a chartered flight operated by Vietravel Airlines.
Flight VU1329 is the first among a dozen chartered flights that will carry thousands of guests from the Northeast Asian country to Khanh Hoa Province in the coming time.
Vietravel Airlines said the flight that departed from Daegu, South Korea is one of 11 chartered flights operated by this airline in coordination with its partner in South Korea.
From now until May 7, the airline will operate one chartered flight every five days, carrying over 2,200 guests to Khanh Hoa Province. Vietravel Airlines would add more chartered flights if demand rises.
Vietravel Airlines now operates five local routes connecting Hanoi and HCMC with other big tourist cities such as Danang, Phu Quoc and Quy Nhon. For international services, it has 14 weekly flights between Hanoi and Bangkok and between HCMC and Bangkok.
With the South Korean market, Vietravel Airlines will also coordinate with Vietravel to sign agreements with several partners to operate chartered flights between Vietnam and China in the near future.
The carrier will focus on exploiting the routes between China's big cities and Khanh Hoa, including Hangzhou-Cam Ranh, Changzhou-Cam Ranh and Kunming-Cam Ranh.
TAG: