Scaling up OCOP product consumption network
Quang Ninh OCOP Program has made significant contributions to the reorganization of the agriculture industry toward value chain growth over its nine years of implementation.
OCOP Program has 189 economic units and organizations and 500 products. 267 products have been awarded the OCOP star certification and marketed on digital commerce platforms like as Voso.vn and Postmart.vn.
Quang Ninh province has a target of promoting all standard OCOP products on an e-commerce platform that facilitates the easy, quick, and efficient purchase of goods by consumers wherever, and at all times.
Several years ago, Quang Ninh began promoting the development of OCOP products by constructing and implementing numerous programs on key product development at the provincial level, meeting demands on quantity, added value, high standard requirements, and international export standards.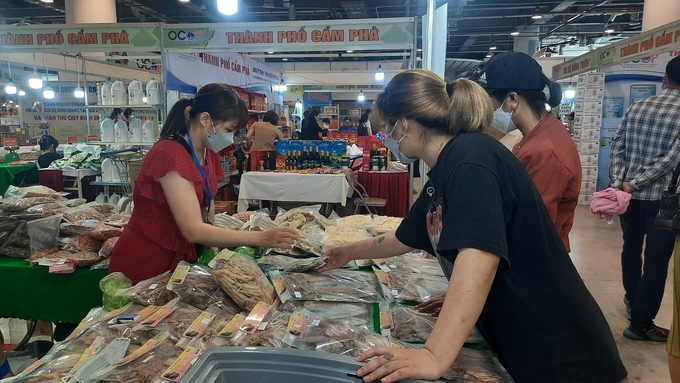 In addition to proposing strategies on manufacturing technology and design updates, emphasis has been paid to the construction of an administrative system to administer the OCOP program in order to combine economic objects joining the OCOP.
The province also adopts current mechanisms and policies for supporting product development, tourism development, science and technology, trade promotion, etc., in order to promote product development among economic organizations participating in the OCOP program.
Active trade promotion efforts for OCOP are performed. The department of Industry and Trade of Quang Ninh province instructs and supports organizations and individuals participating in the OCOP program to build facilities that meet prescribed standards; organizes, manages, and coordinates trade promotion activities; and connects the consumption of OCOP products within and outside the province through fairs and exhibitions.
In addition, through the connection of product consumption, the modern retail system within and outside of the province actively contributes to the consumption of OCOP products in the province... ensuring that Quang Ninh's OCOP products continue to be widely promoted and reach various markets.
A further feature of the expansion of OCOP product consumption on the market is the selection of potential provinces and cities for product marketing.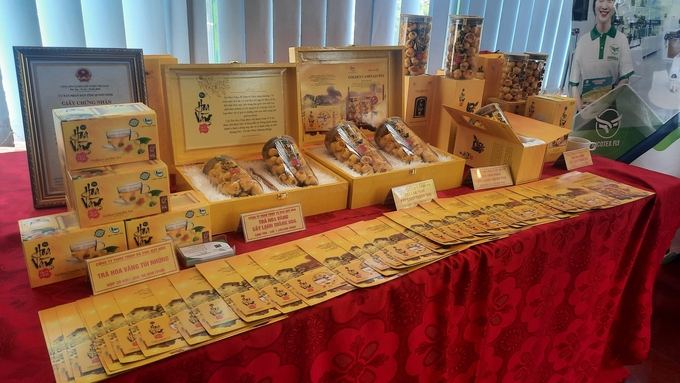 Many OCOP products of Quang Ninh province have been sold in many provinces and cities, and have even achieved high sales and popularity, including Ha Long hand-pounded squid cake, Ba Che yellow flower tea, salted shredded oysters, and Van Don fish sauce.
Mr. Pham Van Thanh, Vice chairman of Quang Ninh provincial People's Committee and head of Quang Ninh's OCOP Steering Committee, stated that the OCOP fair is a designated activity to develop a local brand, setting a premise for promoting services in the province and exporting Quang Ninh OCOP products to other countries in the region. OCOP supports to the realization of the "Vietnamese people give Vietnamese products priority" campaign.
Recently, trade promotion activities into foreign markets have been implemented by the province such as OCOP promotion programs at ASEAN - China Trade Fair, Vietnam - China International Trade and Tourism Fair among others, or scaling up the promotion into other foreign markets such as Laos, Cambodia, Thailand... Following the events, numerous OCOP firms have received orders and propositions for collaboration and supply items for their markets.
Mr. Nguyen Kien, Director of Director of Quang Ninh Industry and Trade Promotion and Development Center, noted that the promotion and market growth for OCOP goods have always been focused on by the Center.
In the next period, the center will focus on the organization of the year-end OCOP Fair, participate in promotion activities, and OCOP displays at markets outside the province. Concurrently, building programs, seeking and engaging in promotional activities of potential overseas markets, and progressively scaling up exports to better promote the province's OCOP products.
Quang Ninh is currently the leading locality in the country in terms of the number of OCOP products with 502 products, of which 272 are rated from 3-5 stars.
The province has 31 locations and shops introducing and selling OCOP products. Sustainable development of OCOP products is a proper direction for Quang Ninh to promote the potentials and advantages of localities within the province. Located in the northeast of the country, Quang Ninh boasts many unique regional products and specialties.
By the implementation of the One Commune One Product (OCOP) Program, Quang Ninh always focuses on ensuring product quality in association with local advantages, thereby promoting market network, creating sustainable economic development for each OCOP product.
Authors: Nguyen Thanh - Cuong Vu
Translated by Linh Linh
TAG: