HortEx Vietnam exhibition to return in 2023
HortEx Vietnam has achieved impressive numbers in terms of exhibition scale, number of exhibitors as well as the number of trade visitors through last editions. The show has attracted more than 200 exhibitors from about 30 countries around the world and welcomed about 6,500 domestic and foreign visitors, with a display area of about 4,500sq.m in each exhibition.
HortEx Vietnam has become the largest professional meeting place in Southeast Asia for businesses and experts in horticultural and floricultural industry, and helps Vietnamese businesses access advanced technology in the world and expand export markets.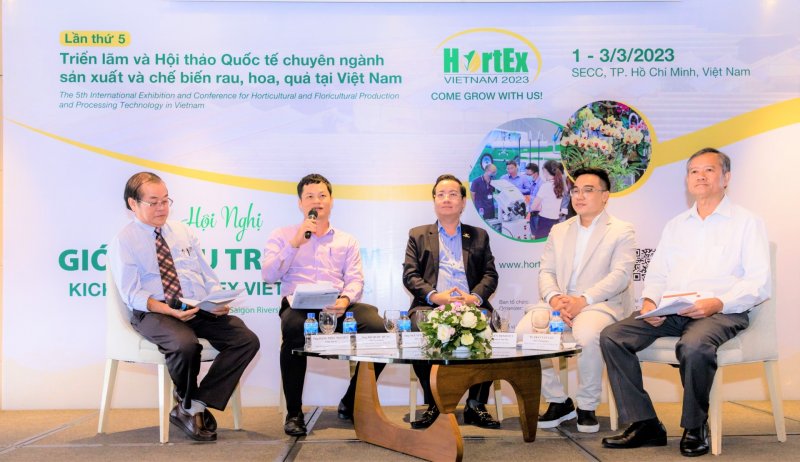 The conference introducing HortEx Vietnam exhibition 2023 was organized on October 11, 2022 in Ho Chi Minh City
Dang Phuc Nguyen, Secretary General, Vietnam Fruit & Vegetables Association (VINAFRUIT), said: "According to experts, Vietnam has the potential to become one of the major fruit exporters for the world. Vietnam has an area of 1.2 million hectares of fruit growing. The country's total output is about 12 million tonnes of harvested fruit products. Vegetables & Fruit export turnover is over US$3.5 billion per year."
The HortEx Vietnam exhibition is jointly organized by Minh Vi Exhibition & Advertising Services Company Limited (VEAS) and Nova Exhibitions BV Company (Netherlands). The Netherlands is the Partner Country at HortEx Vietnam exhibition 2023.
Ingrid Korving, Agricultural Counsellor, Netherlands Embassy in Vietnam, said: "The Netherlands has the knowledge, expertise, techniques and the Dutch companies are ready to work with you. During the HortEx, they will show you the latest techniques and innovations, not only to increase volume and quality of your production, but also taking into account the sustainability. In this 5th edition of HortEx Vietnam, I am glad to share with you the new concept of the Netherlands Pavilion which we call "sustainable booth". Our sustainable booth has 100 percent recycle materials which is unique in Asia".
HortEx Vietnam 2023 is expected to strongly attract businesses, experts and visitors from all over the world. The exhibition will have many interesting activities such as: specialized seminar series; export forum and business connection; potential buyer program (VIP buyer); flower display area, etc.
HortEx Vietnam 2023 expects to welcome 250 exhibitors from 30 countries and about 7,000 trade visitors.
My Phung
TAG: