Joint efforts needed to protect aquatic resources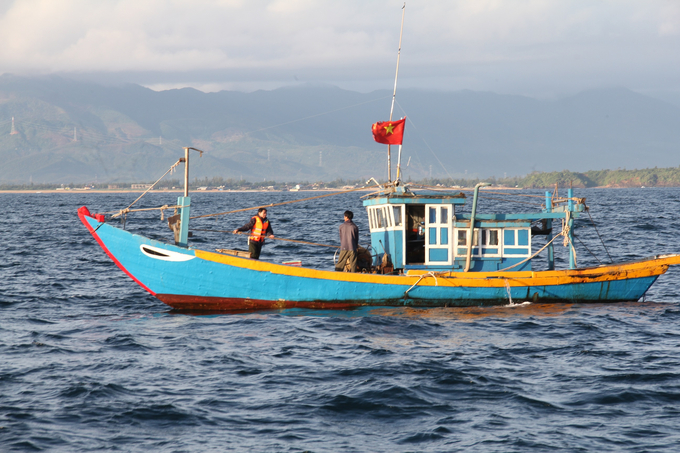 A delegation including Fisheries Inspection Department  under Quang Nam Province's Fisheries Sub-Department, Squadron 2 under Quang Nam Border Guard started a sea patrol at 11 pm.
This is the 4th time this year, the forces have coordinated to inspect fishing activties to handle illegal fishing vessels. The patrolling area is mainly in the coastal area, six or seven nautical miles from the shore.
According to a representative of the Fisheries Inspection Department, in the coastal area in Quang Nam province, fishermen still kept old fishing methods that could extremely destroy aquatic resources. People are not aware of the need to protect coastal resources for tourism development.
In the past, fishing vessels with a capacity of 90CV or more were qualified for off-shore fishing. However, since the Fisheries Law 2017 took effect, such fishing vessels with the length less than 15 metres are only allowed to operate in on-shore or coastal areas, resulting in the fishing ground here under higher pressure.
During the previous patrols, the main violations of fishing vessels  included fishing near the shore, exploiting the fish that they were not allow to catch, using electrofishing equipment or using explosives to exploit fishery in coastal areas of Quang Nam (Tam Tien Reef, Ban Than Reef).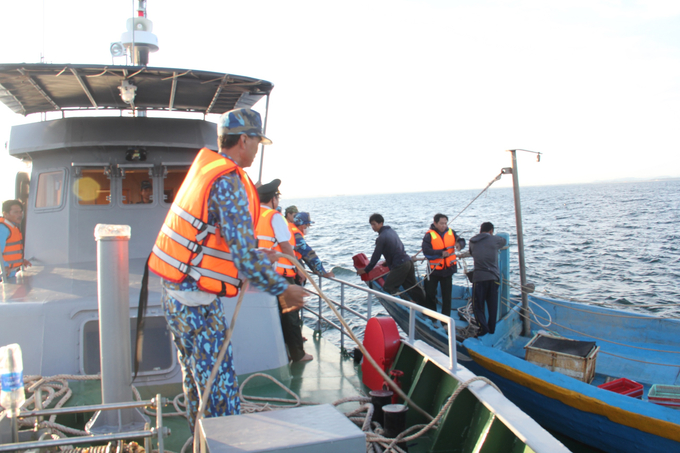 "From the beginning of this year, we have coordinated with many forces such as Squadron 2, Cu Lao Cham Marine Protected Area Management Board and local units to detect, handle violations and collect a total fine of over VND200 million. Most of them committed the above-mentioned administrative violations in Decree No. 42/ND-CP dated May 16, 2019", Representative of Quang Nam Fisheries Inspection Department said.
Captain of the inspection boat Nguyen Van Hung said that their patrols were ususallu unplanned, so it was inevitable  to avoid bad weather.
Illegal fishing vessels had tricks to deal with authorities's patrols. Once seeing inspection team left the wharf, some subjects will notify the fishing boats to avoid or temporarily stop going to sea.
"Therefore, we often choose to depart late at night to avoid being tracked. However, when patrolling and detecting violations, many fishing boats do not comply with orders. They flee when the competent forces approach and even throw away all fishing tools to remove evidence," he said.
During this patrol, rains and thunderstorms appeared, causing difficulties for patroling team.
At 6:30 am, the team discovered a small fishing vessel using bottom trawling in the waters of Bai Rang in Tam Quang commune, Nui Thanh district, Quang Nam province.
Approaching the vessel, patrol team  found two crewmembers operating the vessel and a bottom trawler. The vessel owner Bui Thanh Tuan residing in Binh Thuan commune, Binh Son district, Quang Ngai province admitted that the fishing vessel Qng. 50967TS just carried out fishing activities for about 15 minutes when it was caught.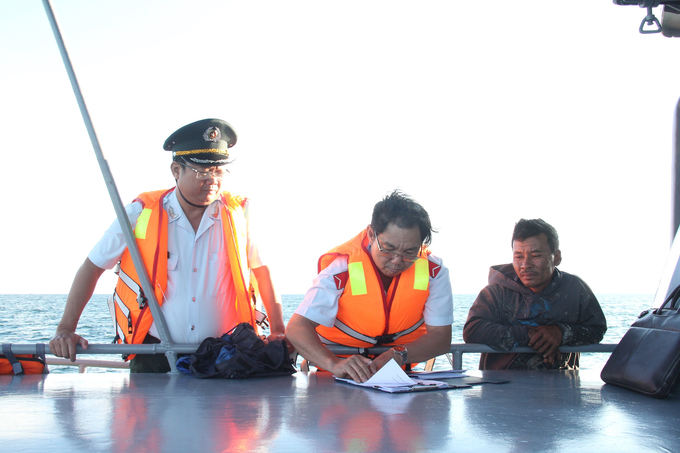 With the act of using bottom trawling in onshore fishing area, Tuan's fishing vessel was operating in the wrong area. According to Nguyen Huu Truong, Head of Fisheries Inspection Department, the handling of such violating fishing vessels is force majeure.
The local fisheries sector has determined that the main goal is to promote communication, thereby raising the awareness of fishermen, so that they understand and comply with fishing regulations.
"The protection of aquatic resources belongs to competent agencies, but the engagement of community, the work will be more efficient," he said.
For the fisheries industry to develop sustainably, it is necessary to switch from destructive fishing to protective fishing  together with tourism development. With this orientation, Quang Nam province is currently implementing the MCD project programme in Tam Tien commune, Nui Thanh district.
Under the project, people are supported to gradually protect quatic resources, and help local fishermen develop community tourism from the preservation of the reef. ", Truong said.
Author: Le Khanh
Translated by Hien Anh
TAG: